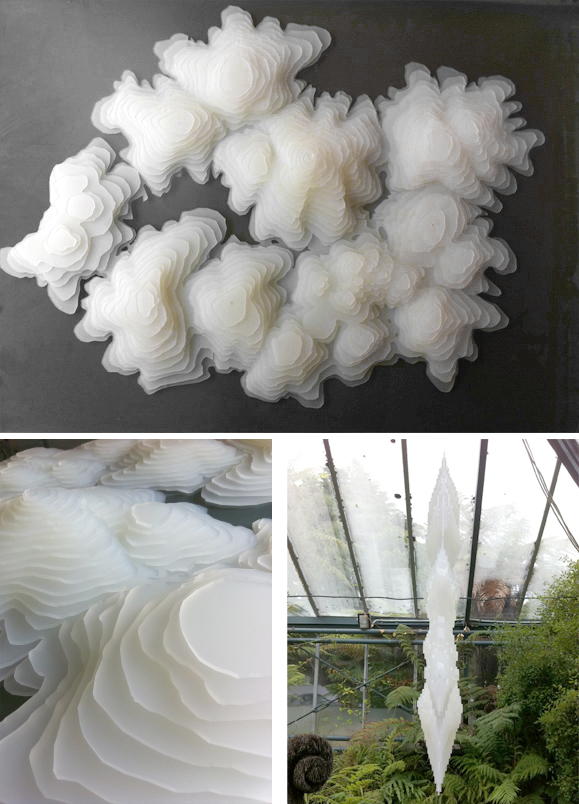 Ponoko-made project by Helen Reynolds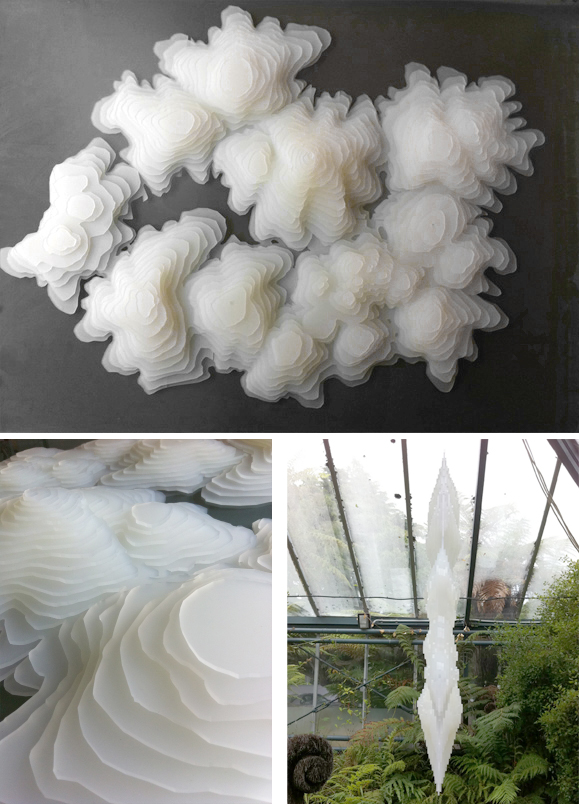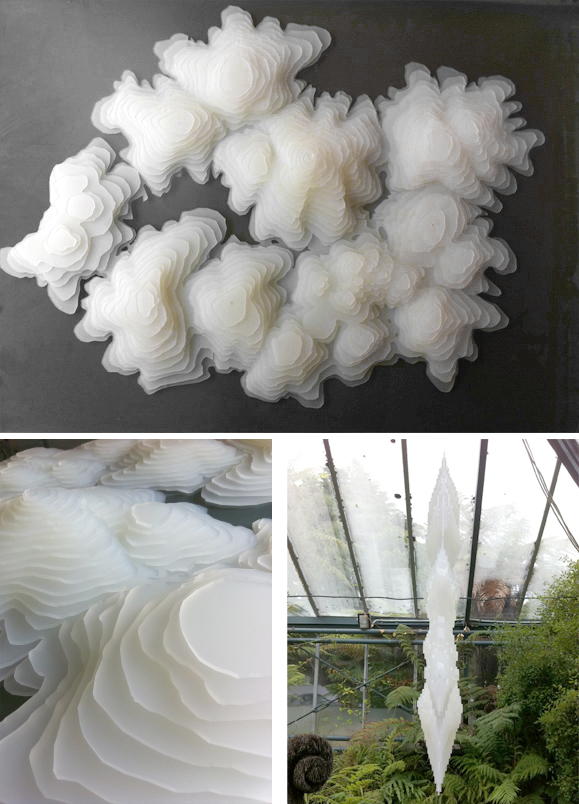 "Clouds are such a beautiful expression of the way landscape systems function" says Helen Reynolds, an artist and instructor of landscape architecture in Wellington, New Zealand. Last year she began a series of work exploring cloud shape and formation, including a sculptural installation she created with the help of Ponoko's laser cutting service.
"Changes in the landscape make changes in the cloudscape, and I love that connection," Helen explains of her initial interest in the subject. "They're the responses of water vapor in the contracting or expanding atmosphere and castles in the sky."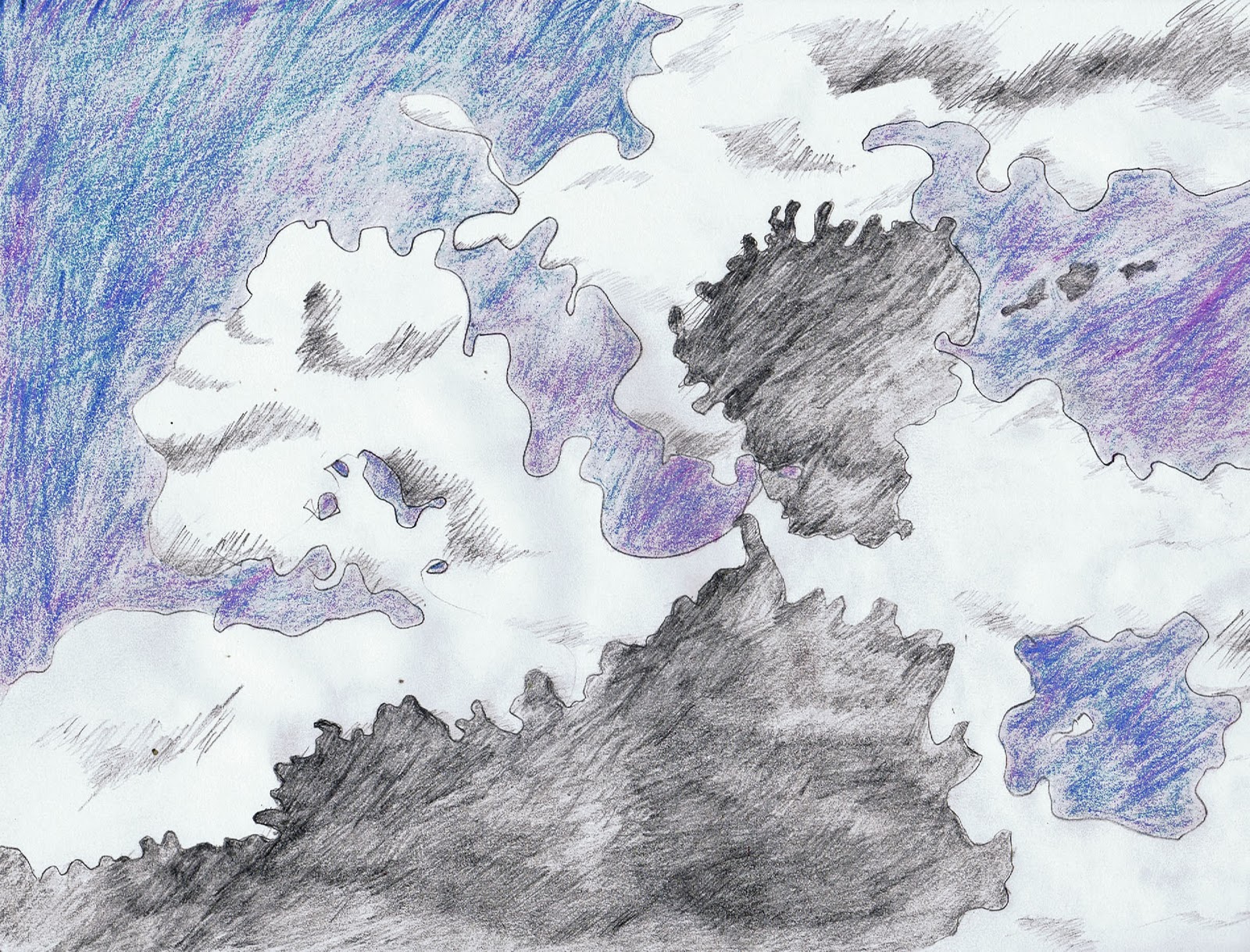 After creating several drawings and hand-cut cloud sculptures, Helen decided to use laser cutting for a project proposal that had been accepted for exhibition at the Dowse Museum of Art.

"I knew I wanted to make a cloud out of semi-translucent material… and my drawing process is about layers," she says. Ponoko has a large selection of laser cuttable materials available, and for this project she chose the opal acrylic shown below.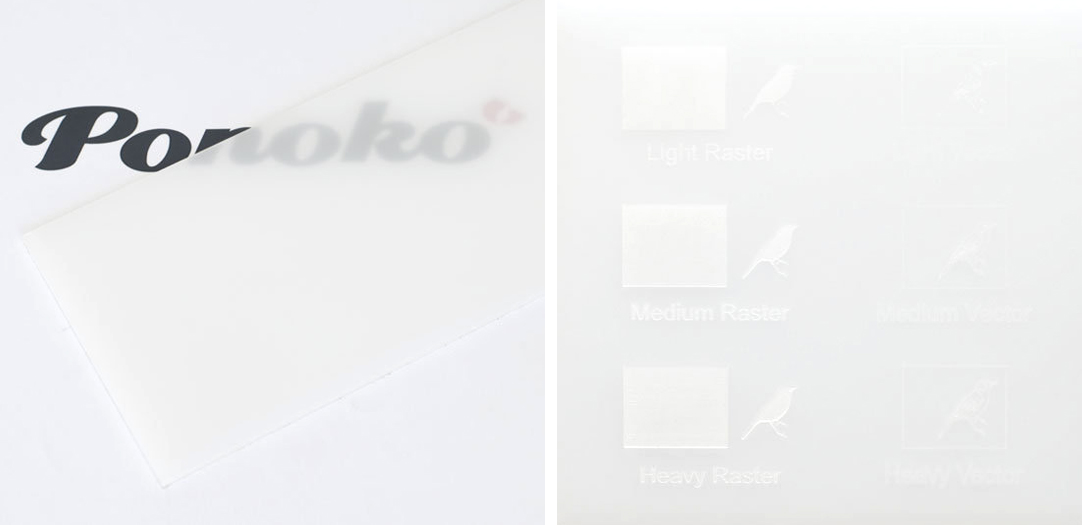 When I ask about her process, Helen tells me it's complicated: "I start off by making a hand drawing that follows a specific algorithm — almost as if I am a computer myself. I draw an initial line, then follow that with another line that slightly exaggerates each bump or flaw in the first line… and so on (for a long time!)"
So what's the advantage of doing the drawing by hand? "I don't have to programme some randomness into the algorithm," she says "being human means I have lots of natural random flaws to use!"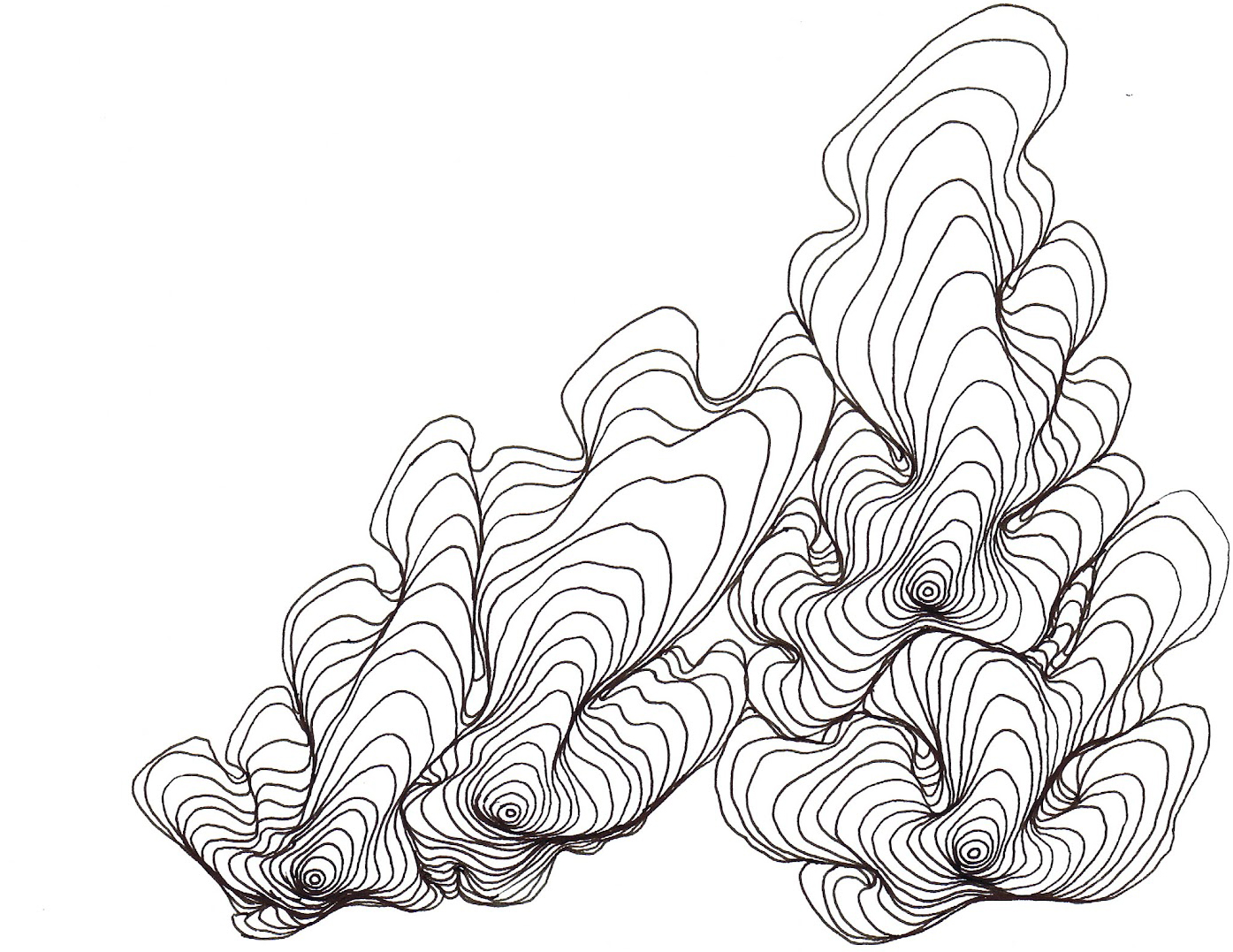 The next step is converting the hand drawing into a vector design. Helen creates a 3D render to visualize how the layers will look stacked. "If anyone saw my slow, cumbersome way of using 3-D software, they would find it very pitiful," she says light heartedly, "but I bet trying to keep up with new software helps prevent Alzheimer's."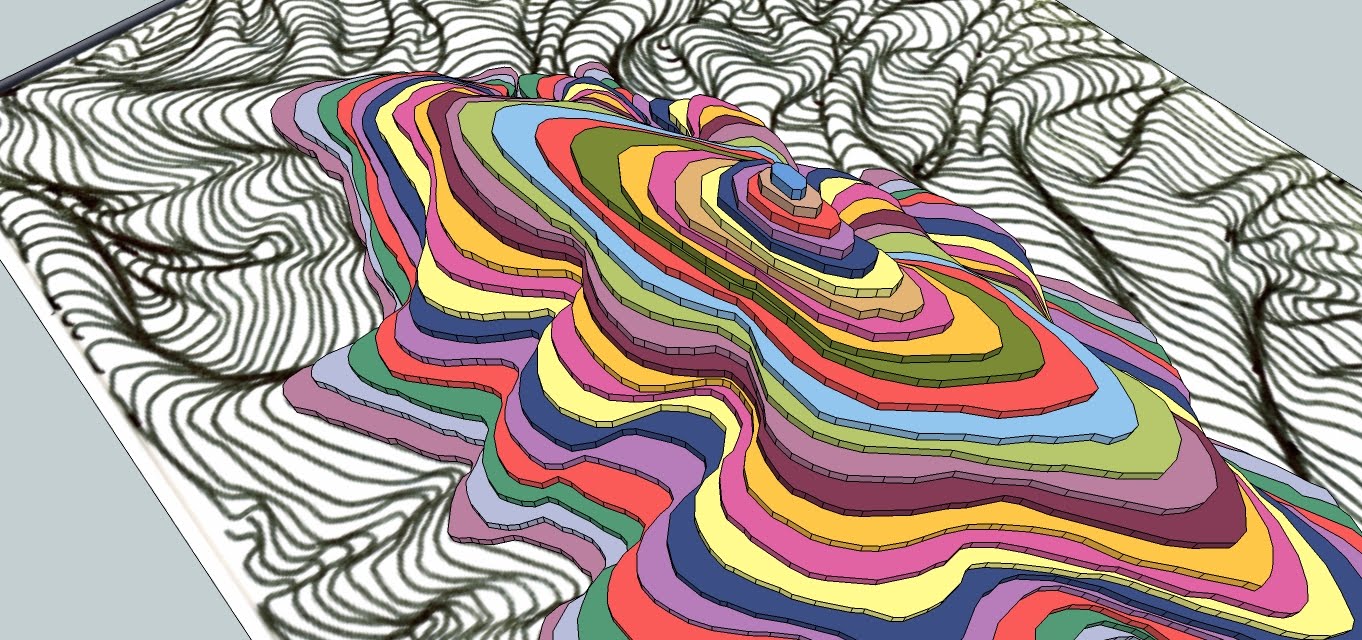 She then separates each layer for laser cutting and arranges them on Ponoko's templates in the most economic way possible. Once she receives the laser cut sheets, she stacks and glues the pieces accordingly.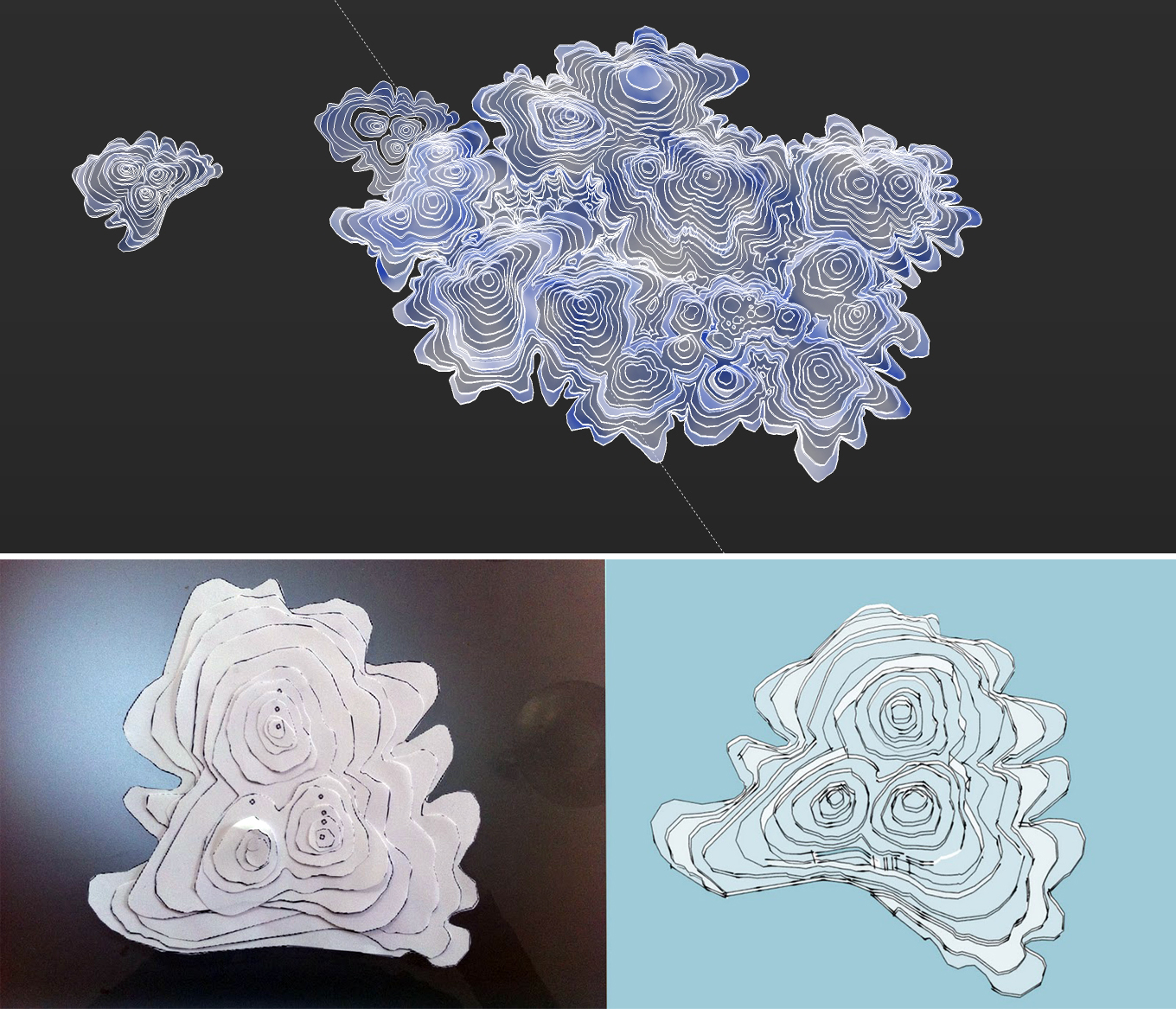 The final works are often part of group exhibitions, but Helen also independently manages and represents her art. "I'm not represented by galleries in the traditional way," she says. "I often organize my own exhibitions — hiring a venue, doing the PR, and all the rest of it."
"I think there is that same big shift in art going on that went on in the music industry, with changing channels of distribution via the internet and digital reproduction. I didn't really plan to be part of it, but I found working this way to be natural and easy," she tells me.
Her work is available for sale at these self-organized exhibitions as well as online at Artshow.co.nz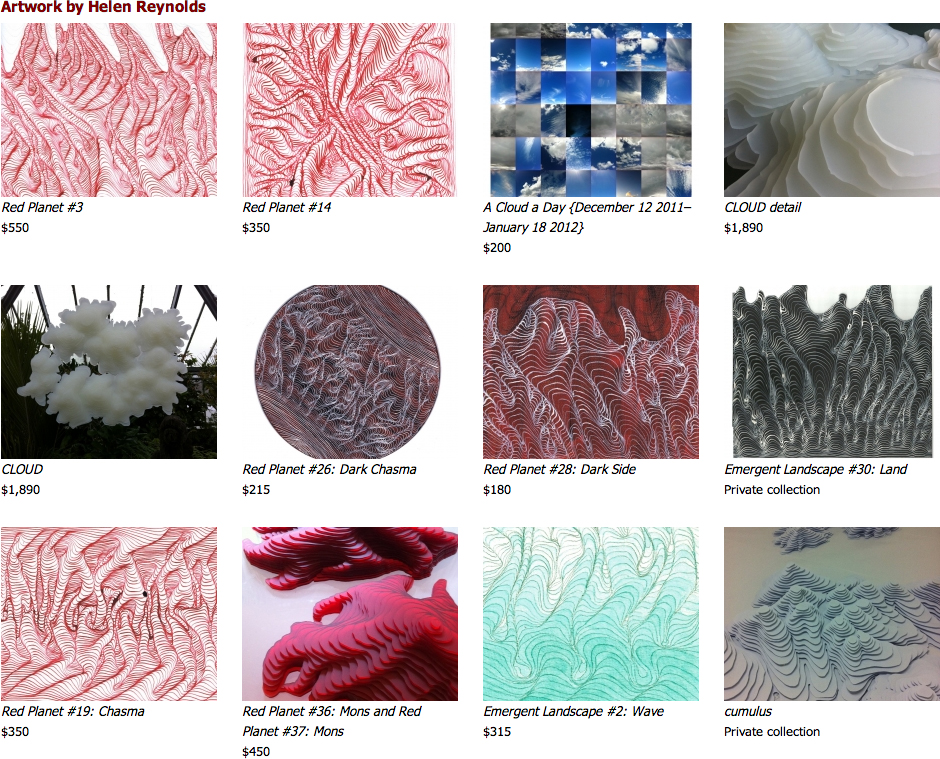 In fact, you can purchase her laser cut CLOUD sculpture for $1,890 NZD.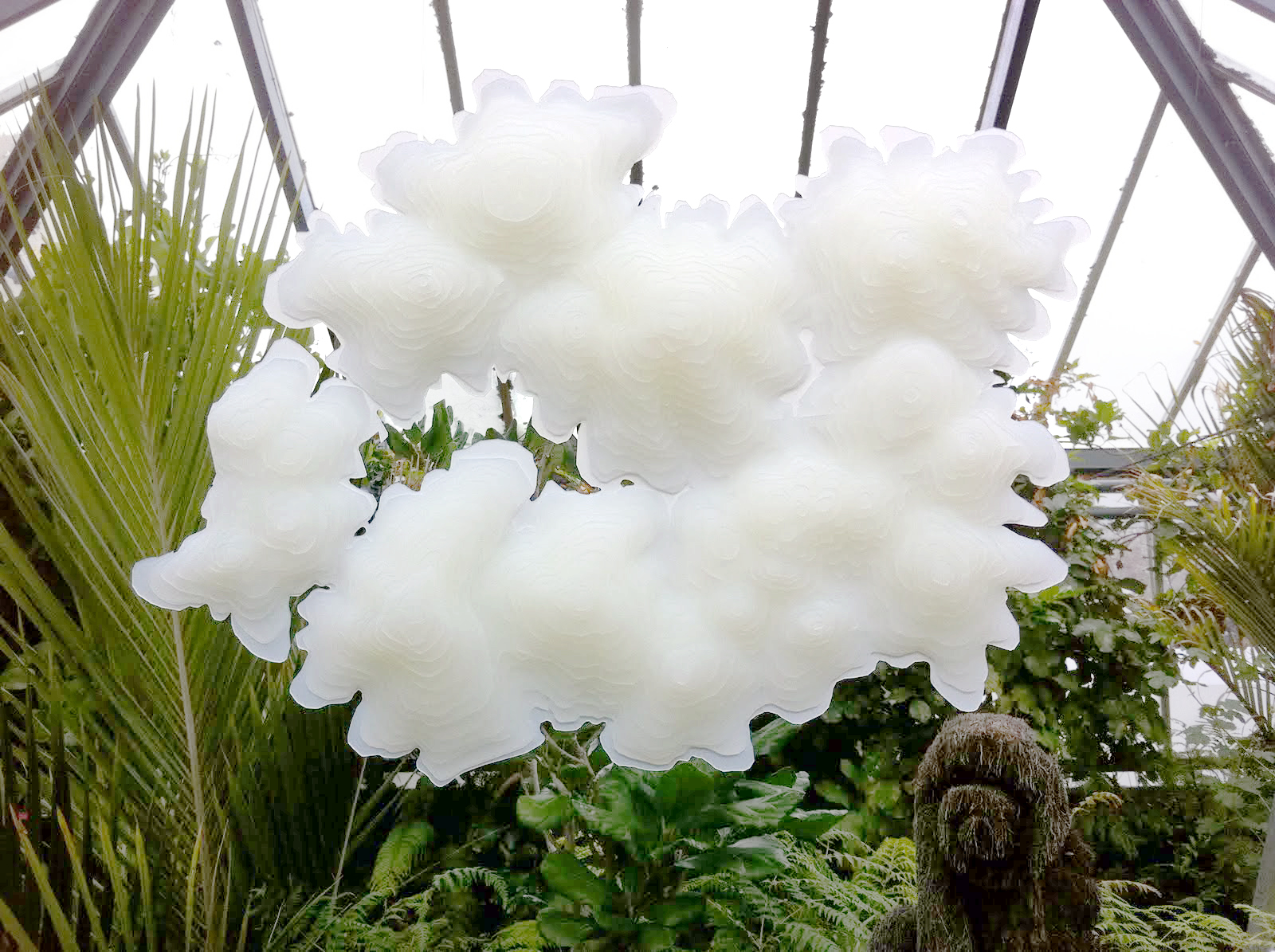 When asked if she has any advice for other artists who want to explore the potential of laser cutting, she points out the amazing precision of the technique. "Laser cutting provides a way of getting intense detail, so it's fabulous," she says.
The technique is so precise, that it was a bit uncanny: "One thing I found startling was how precisely I could know how the finished laser cut work would look. For this piece, I made a composite photo of my digital model set in the proposed exhibition site. It was weird to see the finished piece end up looking exactly like the proposal."
Helen brings up another conceptual point, "I think you have to figure out what is the different between 'art' and a 'product' when the work can be re-made an infinite number of times by a machine — but that issue has been around in the art world for a while now."
As for Helen's future plans with digitally fabricated art: "I'm really keen to work on a 3D printed project next."