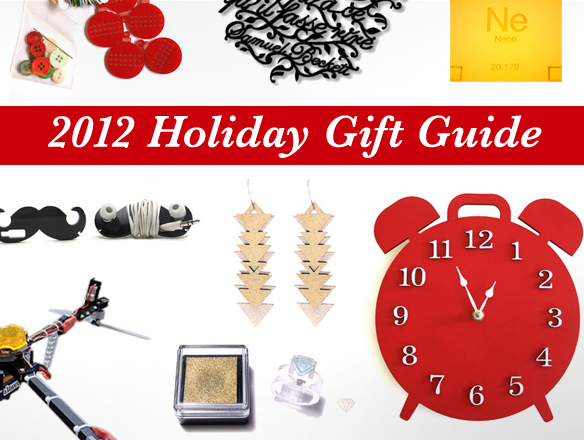 Ponoko-made presents!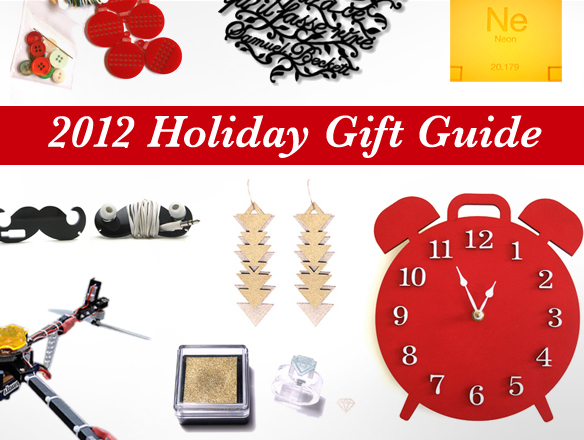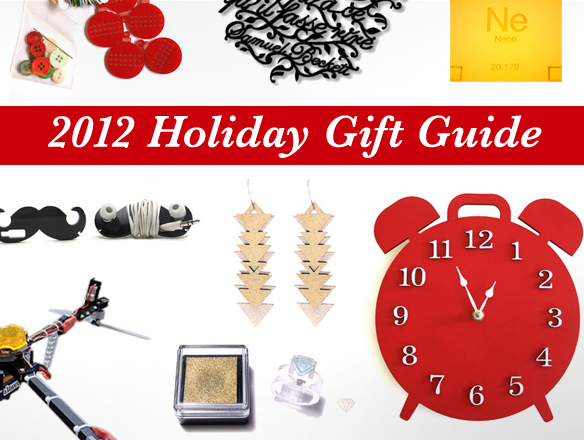 Our 2012 Holiday Gift Guide features a range of jewelry, home decor, gadgets, and holiday goodies all made by our creative customers.
We've featured gifts to fit any budget, from $5 moustache earbud wraps to custom computers starting at $259. Whether you're looking for something for a geek, biker, gamer, crafter, hostess, or girlie girl, we've got you covered.
Keep reading to see the 32 products featured or jump to our Holiday Gift Guide on Pinterest.

1. los angeles wall clock by iluxo $40 (other cities available)
2. red retro alarm wall clock by Decoylab $58
3. midcentury modern inspired wall clock by CoMod $119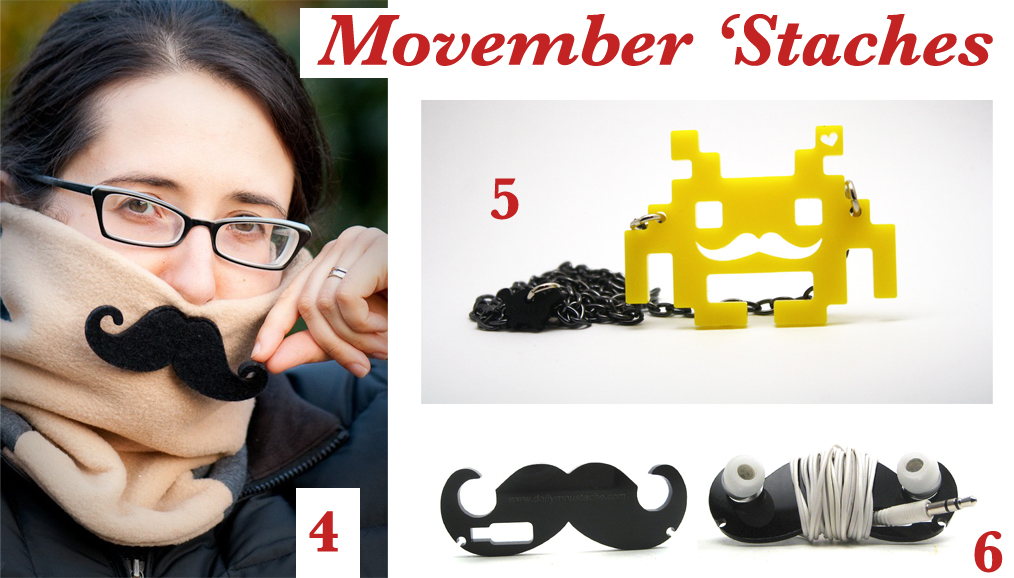 4. mustachioed fleece neckwarmer by Haha Bird $22
5. invasion of the moustaches by Planet RAWR! $24
6. moustache earbud wrap by Alvin Art and Design $5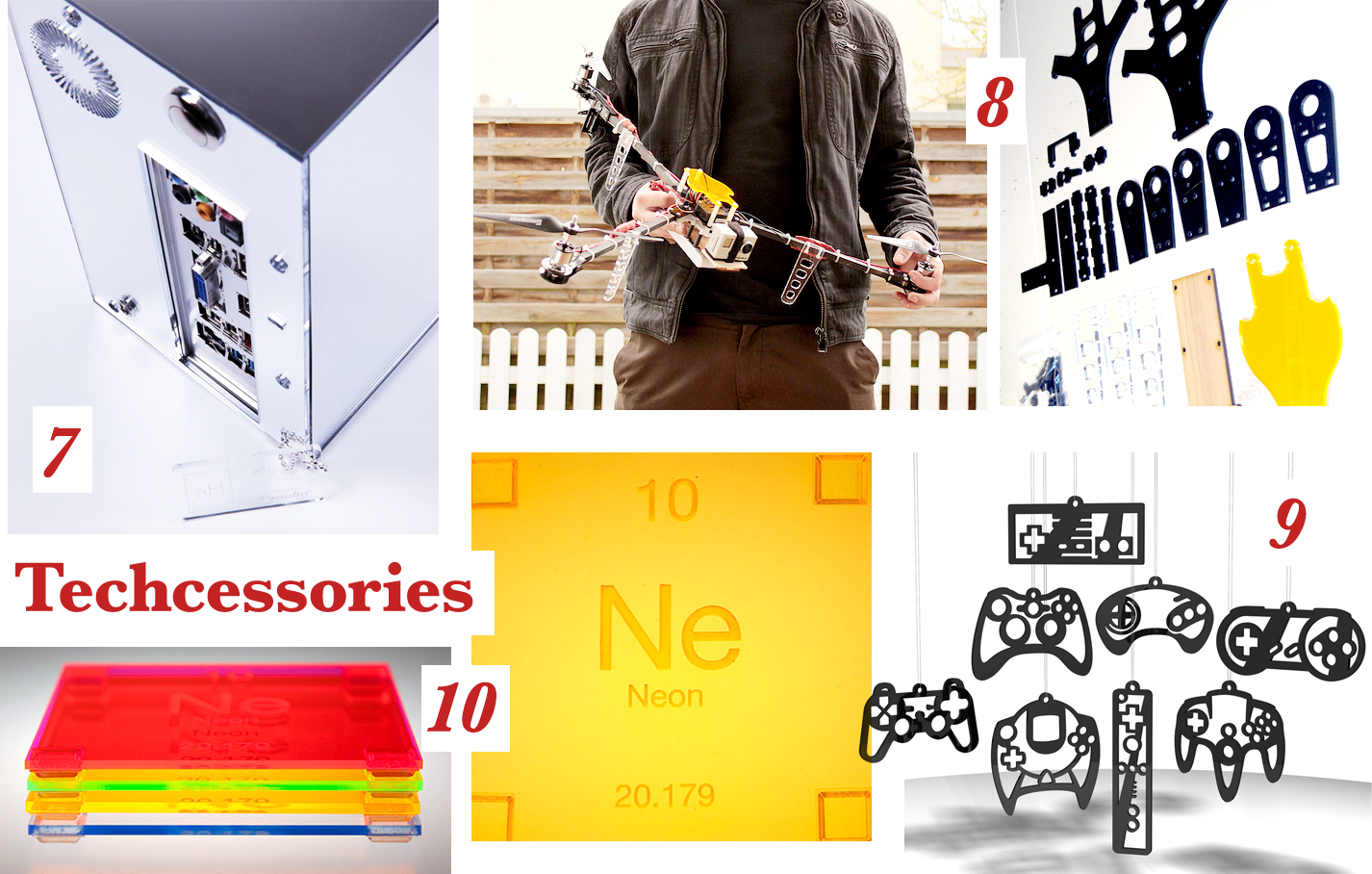 7. custom computers (shown in mirror enclosure) by Niridia starting at $259
8. pro tricopter delrin kit by FPV Manuals $95
9. video game controller ornaments by Use Your Digits, set of 8 $30
10. neon chemistry coasters by B+ Shop $19.99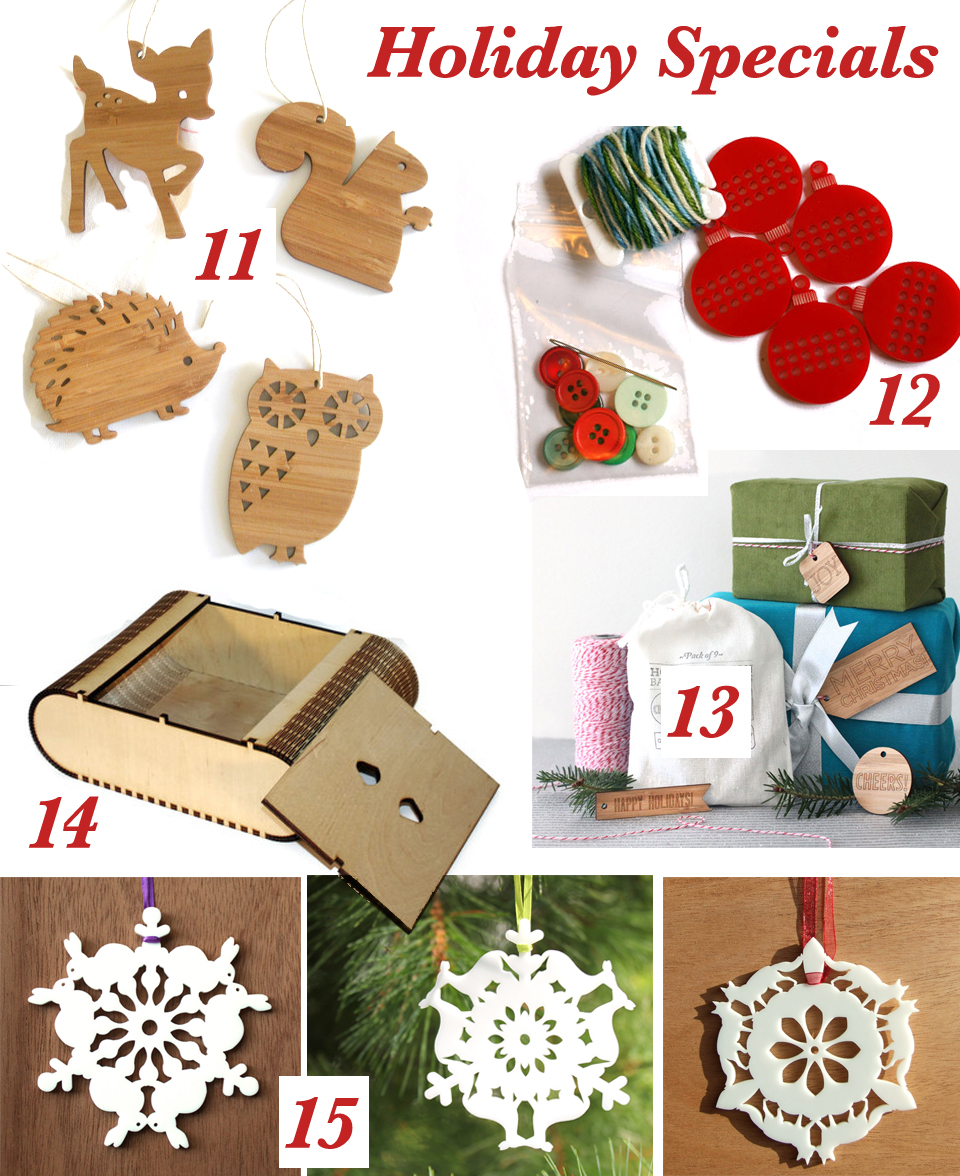 11. woodland creatures tree ornaments by Decoylab $25
12. DIY cross stitch ornaments by Girl on the Rocks $15
13. bamboo gift tags by Pepper Sprouts, set of 9 for $15
14. living hinge keepsake box by Catter Wallin $95
15. animal snowflake ornaments by Pepper Sprouts $10 each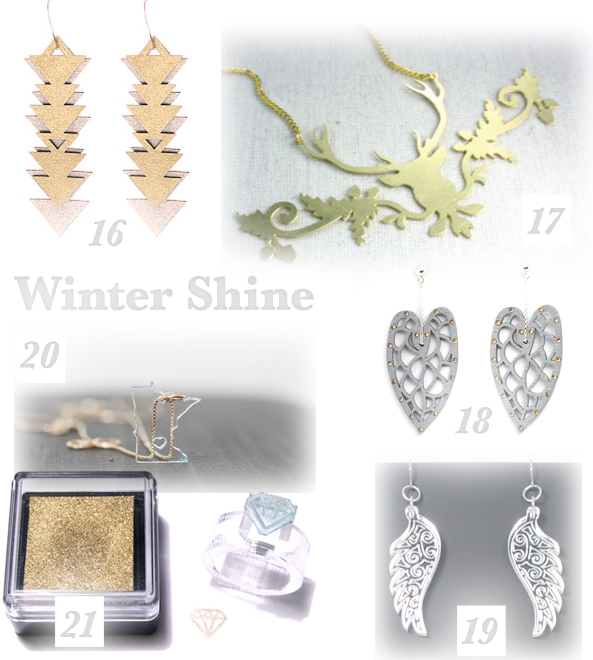 16. ganado earrings (shown in beige) by Feistyelle $36
17. brass deer necklace by Carmen West Creative $52
18. organic cell leaf earrings by Grays Crafts $56
19. silver mirror wings earrings by C Westbrook Designs $23
20. i heart state necklaces (Minnesota shown) by Truche $34
21. diamond stamp ring by Plastique $20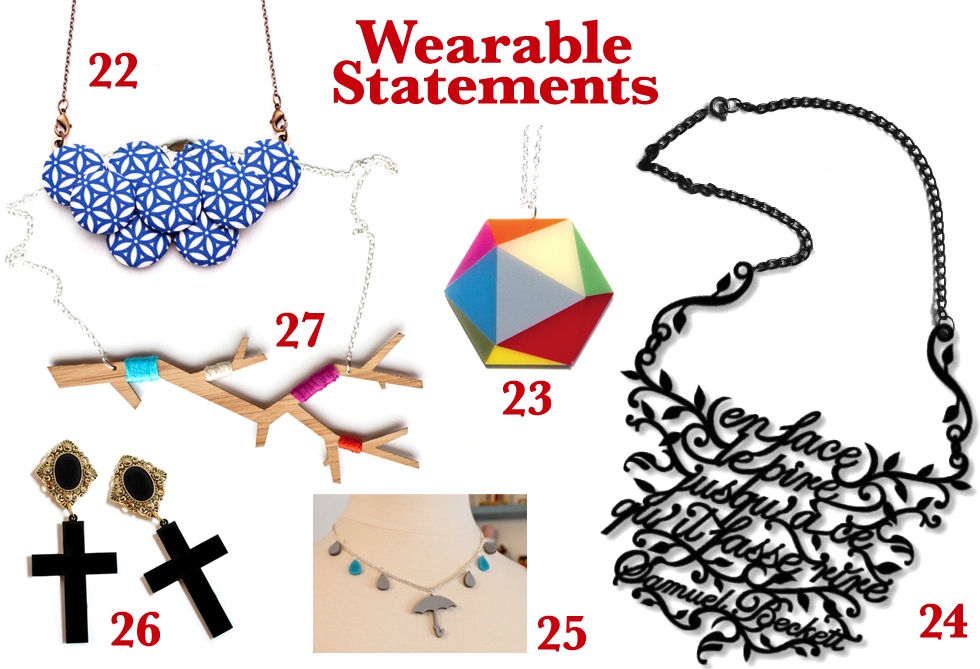 22. blue blossom sutro park necklace by Vivi Dot Accessories $40
23. 10 sided necklace, limited edition by Plastique $38
24. samuel beckett poem necklace by Victoria Contreras Flores € 80 EUR
25. rainy day necklace by Cheshire Kat $15
26. black cross earrings by Honey B Gold $50
27. thread wrapped branch necklace by EVRT studio $38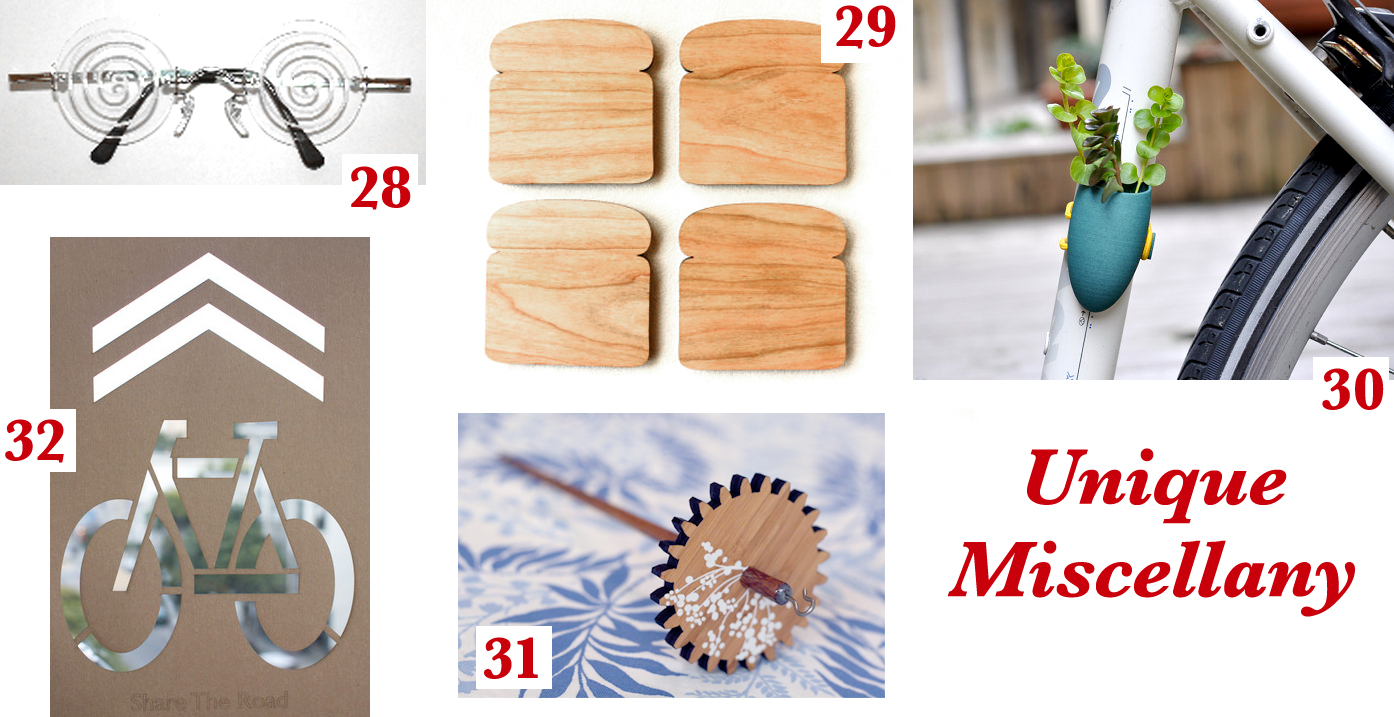 28. swirl lens glasses by Akujin Corps $22
29. toast coasters by Geek Modish $23.50
30. 3D printed bike planter by Wearable Planters / Colleen Jordan $45
31. top drop spindle by Dawning Dreams $25
32. sharrow stencil by Dotmatrix Design $15
Check out this guide on Pinterest.