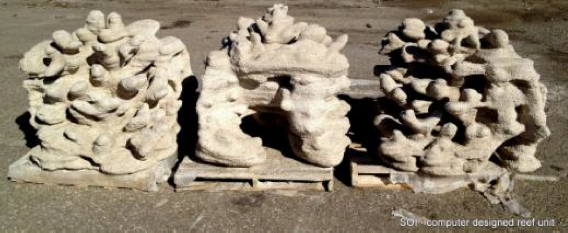 3D printing sustainable ocean blocks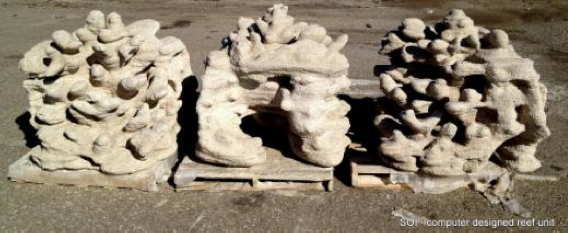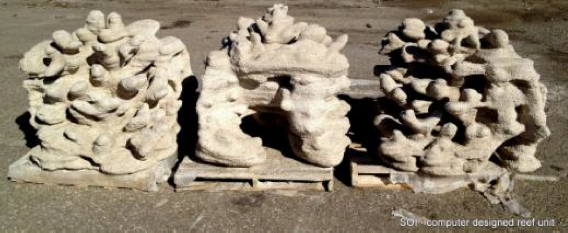 An Australian company Sustainable Oceans International, has become the first in the world to develop artificial reefs using large construction size 3D printers.
Demand on global fish stocks, pollution, increasing ocean acidification and climate change are all making their impact on ocean life and reef systems around the world. Notable in Australia, is that the Great Barrier Reef has already lost half of its coral. As reefs provide an important home for marine life in the world's oceans there is an increasing awareness of the need to protect these unique systems.
Existing artificial reefs use pre-cast concrete, but these lack the complexity of form that naturally grown coral provides for marine life to shelter and make their homes in. For tourism and recreational divers, they also lack any sort of realism.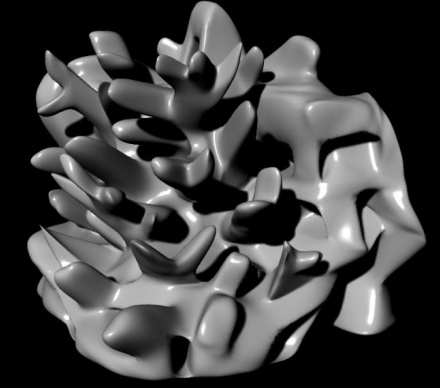 The first 3D printed reef units have been printed with a sandstone material they are 1m tall and weigh about 500Kg each. The design team lead by Architect James Gardiner has developed a system so that every reef unit can be generated in 3D to be different from all the others. David Lennon, director of Sustainable Oceans International claims that "We currently use one of the most natural looking concrete and mould systems available to build our reefs, but these 3D printed units are amazing in comparison. You can't tell the difference from real rock and the advantage is that we can engineer them to have very specific features that suit target marine species."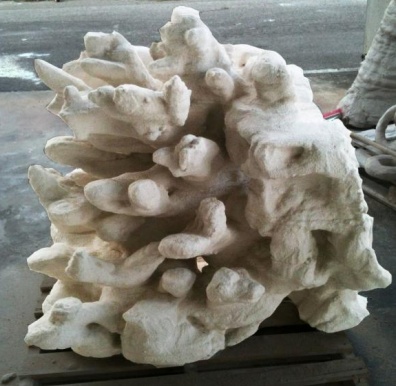 Sustainable Oceans is working with Reef Arabia on a trial for the first two 3D printed reef units to be installed off the coast of Bahrain alongside 270 conventional reef units.
---
David is an industrial designer from New Zealand. He contributes a weekly article on personal fabrication for Ponoko. Follow him on 
Twitter!