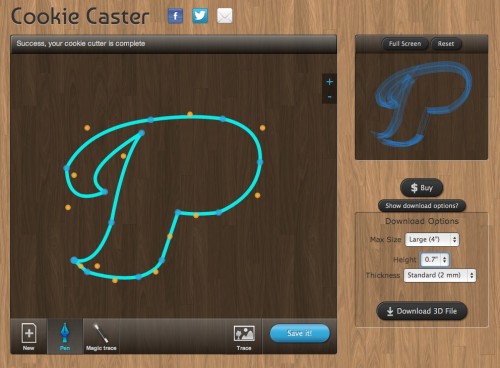 Custom cookie cutters!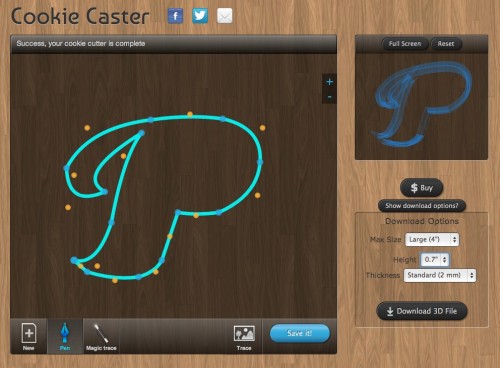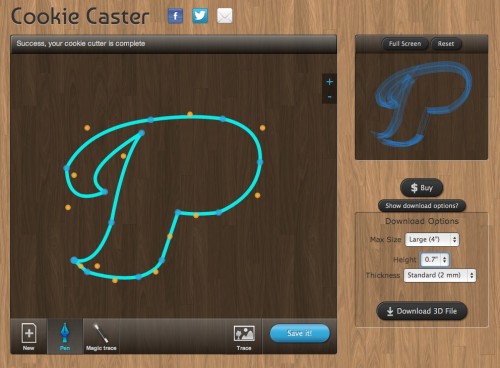 C is for Cookie, or so a friendly blue monster once sang while tossing great big round cookies into his mouth. But we all know that a chocolate-chip cookie is no less delicious, whatever shape may it may be. With Cookie Caster, a 3D printing initiative from Dreamforge, the rounded cookie is a thing of the past.
Cookie Caster enables you to design, share and print custom cookie cutters. The site hosts a neat little web-based vector app that makes it really easy to create a 3D model of your own cutter that can then be printed and delivered to your door. Designs are gathered in a steadily growing gallery, where they can be shared with others and even purchased by fellow cookie enthusiasts.
For those who have a 3D printer at home, your Cookie Caster model can be downloaded for free as an .stl file to print at your leisure.
A lot of effort has gone in to making the creation of a custom cookie cutter a seamless, versatile and fun process. It only takes a few minutes to whip together your unique shape using the simple drawing tools… as can be seen in the P for Ponoko pictured above.
If you're feeling a craving coming on, click through to the source and get creative with Cookie Caster!