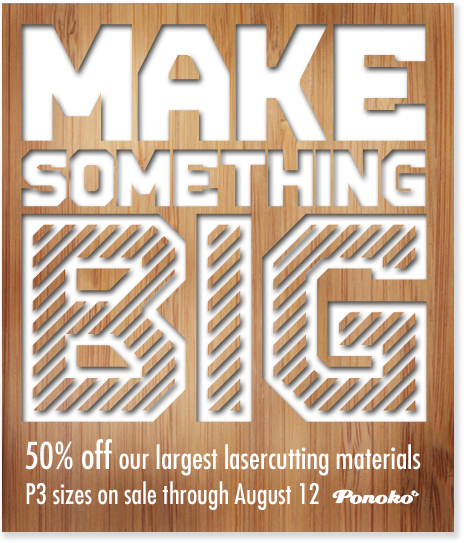 Major savings on P3 sizes through August 12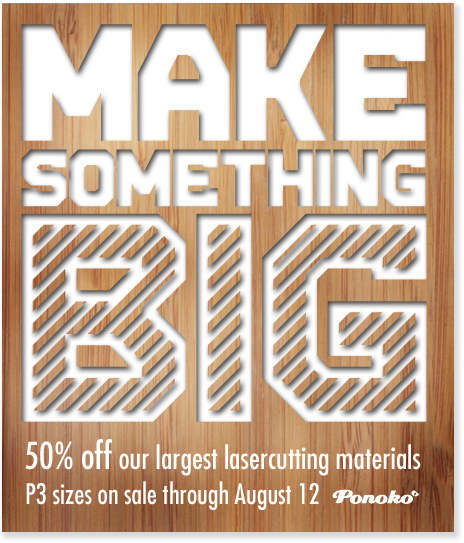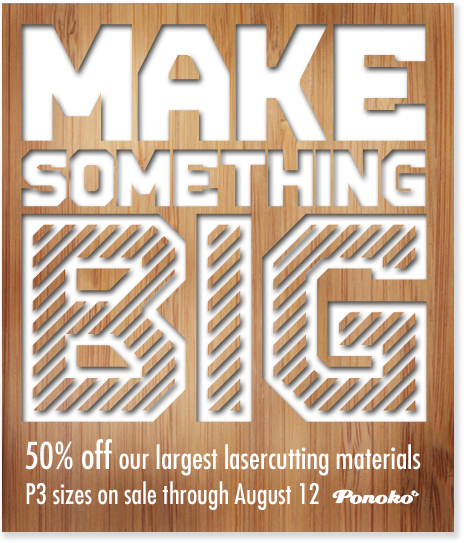 When it comes to materials for our lasercutting service, we've got 'em in 3 sizes: P1, P2, and P3.
P3 is our biggest sheet size at 31.1″ x 15.1″ / 790mm x 384mm. It's also our most expensive with most of them around $20 – $30 a sheet and some, like rubber and leather, at closer to $100.
While there isn't a Ponokoan out there that doesn't love a good looking lasercut coaster, sometimes you gotta make something BIG. For others, you might just want to fit a lot of stuff on a single sheet. Here's your chance.
50% off P3 lasercutting materials

Prices for each P3 size material have already been reduced. And they will stay at 50% off through August 12, 2012.
Promos always have a catch, and this one's got four.
1. Only good at Ponoko US and Ponoko NZ making hubs.
2. P3 sizes are 50% off *while supplies last*. First come, first serve.
3. Promo does not apply to metals or polarizing film.
4. You must make a genuine lasercut design that makes use of most of the sheet. Do not put a little doodad in the corner in effort to just get the material. These promotions are made possible by legitimate orders. We will be file checkin', and we reserve the right to cancel and refund orders which appear to be for the material only.