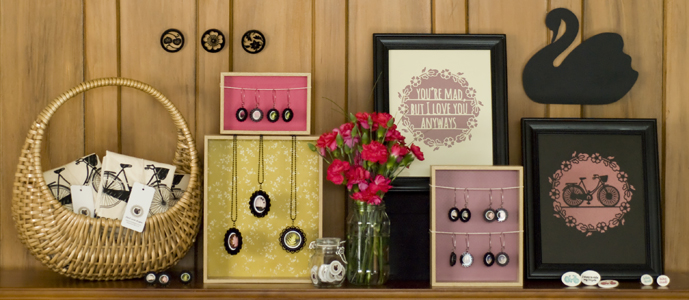 Victoriana of the Long White Cloud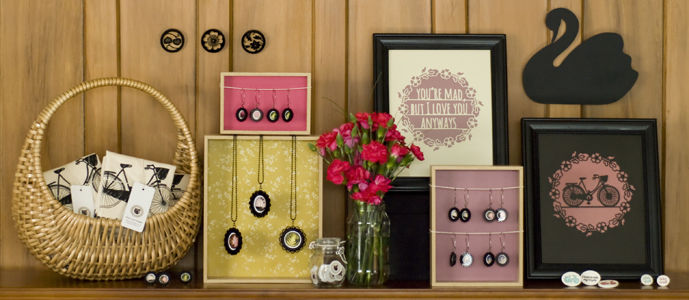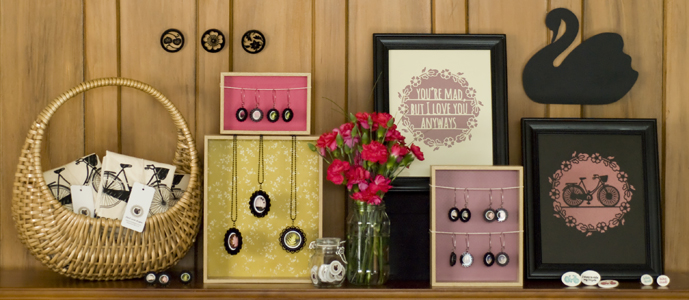 Black Swan Designs re-emerged after the Christchurch earthquake at Mel's post-quake office (aka home). Fortunately, outsourcing fabrication (especially when the design files are in cloud) means that even a natural disaster can't stop the Maker wheels from turning. The Black Swan aesthetic is strongly inspired by the Victorian era – a vintage and ornate style that lends itself to traditional jewelry making techniques. However, Mel found that even with her jeweler background, creating the desired aesthetic using conventional jewelry making methods would result in the finished product being priced out of the local market.
Mel decided to try laser cutting to fabricate the Black Swan Designs line of necklaces, earrings, brooches and rings. Most of the highly detailed jewelry is cut from bamboo and black acrylic, and there are plans to introduce paper and 3D printed ceramic into the range, as a shift towards more eco-friendly materials. Once the laser cut pieces arrive at her door, Mel farewells her manicure and diligently removes the backing paper from all the tiny parts. Afterwards the pieces are painstakingly glued together, and findings are attached.

A few words from the designer after the jump:
How would you describe your creative process? Usually I have ideas late at night when I'm trying to get to sleep, or at the most inconvenient times, from there follows the mad dash to get something down on paper before I forget, and then when time allows I start playing around on the computer making up the cutting files.
Have you been surprised by anything in the Ponoko process? With my previous laser cutter I always spent hours poking all the tiny little negative shapes out of my pieces, but when I switched over to Ponoko I was amazed with how little of this I had to do anymore!
Do you have any tips for other makers? I find it's good to print out your designs on paper first before sending them off to cutting so you can get a better idea of sizing.