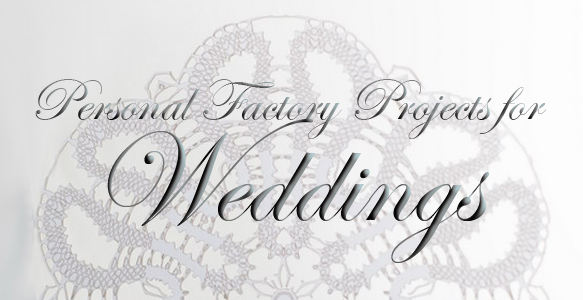 Plus Make Your Own wedding stuff with FREE design files!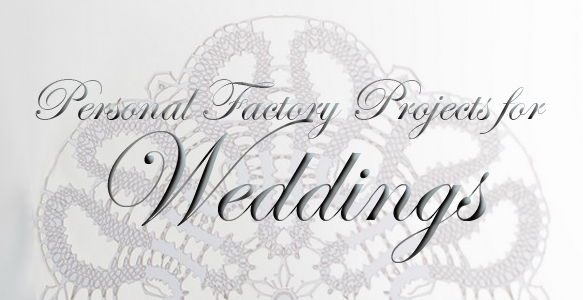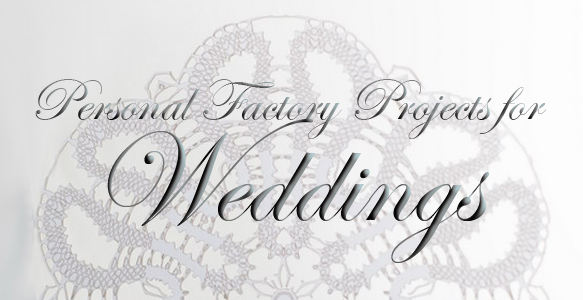 Summer is traditionally the time for weddings. Apparently, back in the day people would marry in June because that's when they had their annual bath. Bridal bouquets have similar origins – they were used to mask body odor. Seeing that June is nearly here, and the thought of the long awaited annual bath is probably as exciting as the upcoming nuptials, it's time to roll out some wedding ideas.
Some people dread having to attend a wedding, and if their experience has been that of banal cookie cutter ceremonies, then the sentiment is pretty reasonable. The weddings where the contents of the bar are the main highlight for most guests are a sad abomination and are especially repelling for those with a creative streak.
Often, a lavish wedding doesn't guarantee an iota of personality, and at the dinner table you find yourself daydreaming about being let loose with a permanent marker or a box of felt pens to escape the whitewash austerity. Of course, then you'd have to answer to the mother of the bride, and you can be pretty certain that there's a weapons arsenal hidden under her feathered hat. It's best to keep drinking quietly, while imagining how amazing this wedding would have been had it been you designing it.
"Amazing" is exactly the type of wedding you can magically concoct with some DIY imagination, regardless of the budget. Creative genius will do more with a stack of cardboard and some string than what you'd get from an overpriced generic package. At Ponoko we regularly see designs for wedding related fabrication, and it's fantastic to come across unique and fully personalized ideas.
Not surprisingly, the availability of digital fabrication services has translated into customised designs for weddings. While fashion design star Iris van Herpen doesn't specifically aim to address that niche, her elaborate 3D printed dresses can certainly inspire avant-garde wedding gown design.

Check out loads more wedding project ideas after the jump:
3D printing can take personalized design to a new level. There is a factory in Japan (where else!) that will 3D print your scaled down clone from 3D scans of your face and body. Scan the bride, scan the groom, print them both, dress the clones in miniature versions of the couple's ceremonial attire, and plant them atop of the wedding cake. Then when the kids come along, the cake toppers can be turned into rather creepily familiar/familial action toys. Pulling limbs off these dolls will possibly be slightly concerning for the parents. Yoni Binstock's cake figurines are modelled from photos and offer a pretty high degree of likeness. Jewelry, too, can be uniquely personalized. Fluidforms have made wedding rings incorporating couples' fingerprints.

Generally weddings start with an invite. In the such a digital age, the idea of a printed invite should be quite quaint, but apparently, this is one of the few cards that people hold on to for a while. It seems that Facebook events aren't entirely appropriate for all occasions. Ponoko showroom has a few card designs suitable for this occasion: Flower Lace, Heart and Lace. These files are FREE to download or add to your Personal Factory and are designed to be laser cut from card stock.

An established design feature at weddings is placeholders. These can be as simple as a named card, or they can serve a dual purpose of containing a tasty treat and locating one's seat. The examples below are lids custom cut to fit old medicine bottles filled with sweets (hopefully the bottles were sterilised first). The engraved tops were cut from Veneer MDF and glued to stoppers cut from Cork. The custom wedding favour boxes were made by Sid Gupta from Bamboo, which is a popular material choice for wedding related designs.

Another commonly agonised over element is the table centerpiece. Usually it will be in a form of a massive bunch of flowers and possibly a table number. Of course, there are plenty of alternatives. Blimpcat designs monogram-based centerpieces, cut from Eurolite Poplar plywood in this example. Luxecuts create various custom wedding designs, including table numbers cut from Walnut Veneer MDF. If real flowers aren't your cut of tea, why not fabricate something more unusual? How about bouquets that outlast any marriage cut from Stainless Steel and mounted in laminate acrylic cubes.

One of the largely unavoidable wedding experiences is eating way too much cake. No reason not to sweeten the deal with some custom cake toppers. Simply Silhouettes and Blimpcat both offer those, and figurines and monograms are the available options that can look very elegant.

With all the interior decorations taken care of, let's not forget the personal adornments. There's always jewelry, which can feature laser cut or 3D printed elements. Some other examples include a bridal bouquet made from laser cut stainless steel "flowers", and a miniature top hat with Polypropylene detail (Styrene and PETG can also be used). Incidentally, the hat was made from Wool Felt that was covered with fabric. Jessica Hinel went as far as making a wedding gown that features laser cut detailing. Laser cutting fabric is an established garment production process – the laser beam seals the edge, preventing fraying. Fabric options are in the pipeline for Ponoko material catalogue.

One of this month's free MIY wedding designs is for a laser cut Acrylic Wishbone candle holder. No breaking required for good luck. The other featured design is a set of Ball'n Chain cake figurines for 3D printing in Stainess Steel. The featured initials are an example of a couple's initials that can be personalised. Get downloading and get making!