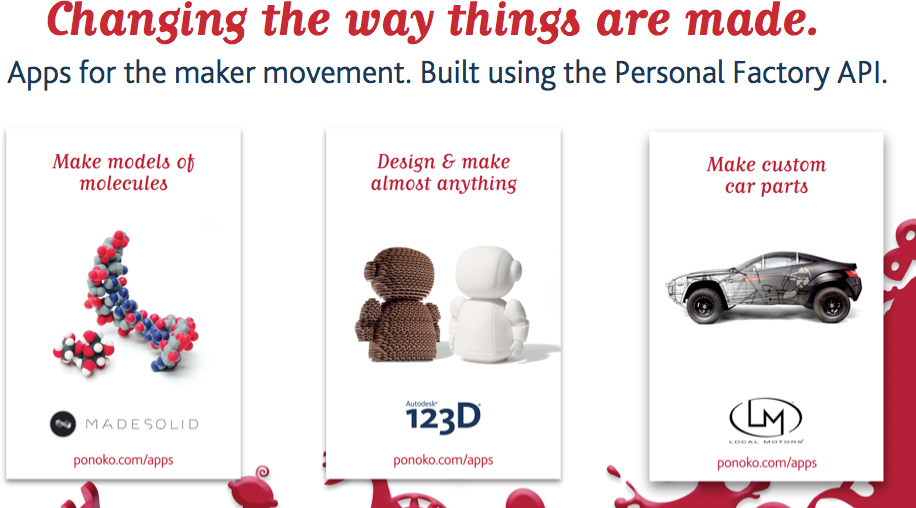 Changing the way things are made.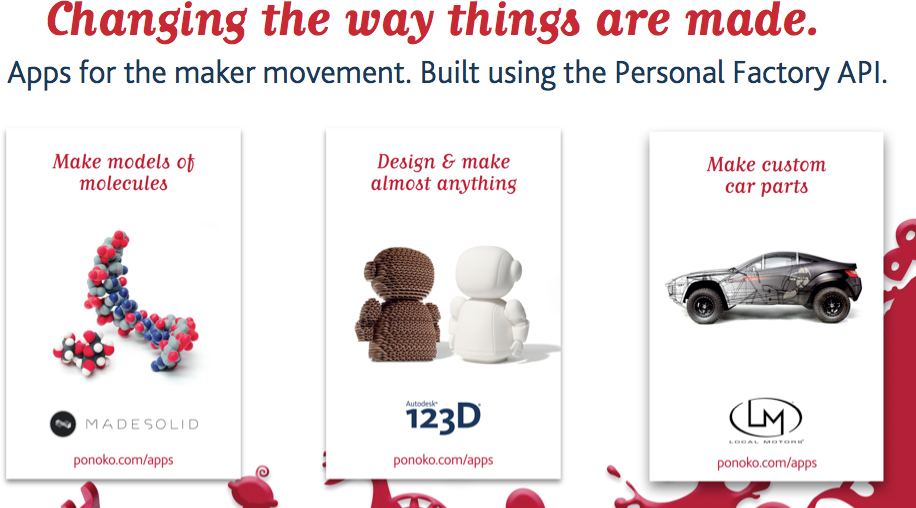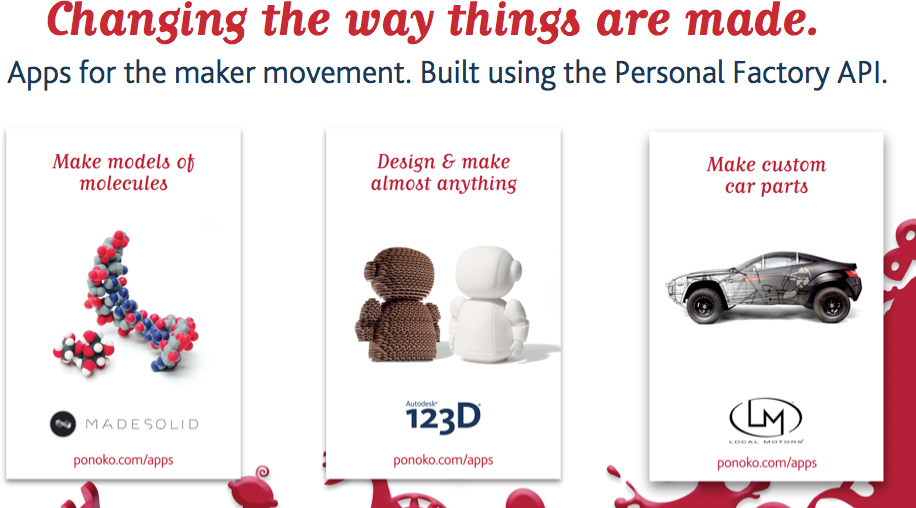 Last weekend at Maker Faire, Wired editor-in-chief and Ponoko advisory board member Chris Anderson took center stage to talk about the new industrial revolution and the next phase in that revolution: apps.
Just as the personal computer, the desktop printer, and software applications came together to democratize the printing industry, this same combination is democratizing manufacturing.
This democratization of manufacturing is what Ponoko is working towards. We're on a mission to make it easier to make things. And the key to empowering everyone to make their own products is a new market of product creations apps.
To enable this market, we released the Personal Factory API. Our API allows developers to integrate Ponoko's manufacturing solutions into all kinds of applications.
Announcing 4 apps that will change the way things are made.
We are proud and endlessly excited to announce the first four apps to be built using the Personal Factory API.
Local Motors Fab Shop
---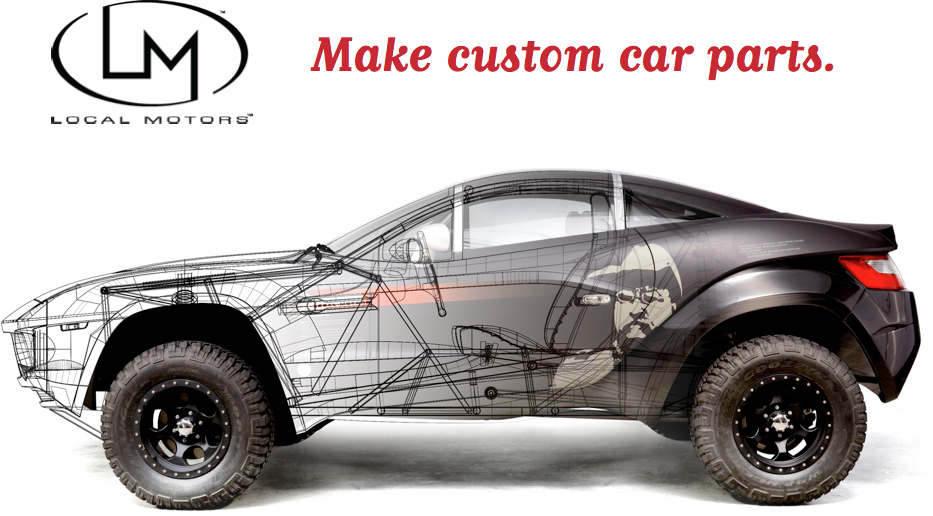 Make custom car parts with the Local Motors Fab Shop. Design your part with Solid Edge Design 1 or other CAD software. Upload your design to the Fab Shop, and Local Motors manufactures your custom part with precision waterjet cutting. Knocking down the barriers between you and the car of your dreams. Find the Local Motors Fab Shop in the Personal Factory App Gateway.
MadeSolid
---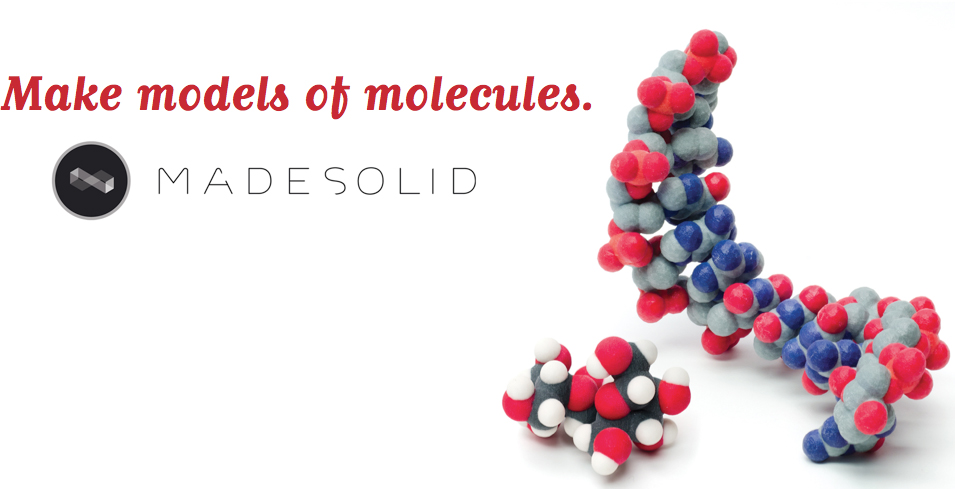 MadeSolid is an app for scientists to create research-grade, physical models from scientific data. It generates a virtual 3D model from scientific data which can then be priced out as a physical model and 3D printed thanks to the Personal Factory API. The result is a data visualization that you can hold.
Find MadeSolid in the Personal Factory App Gateway
Formulor
---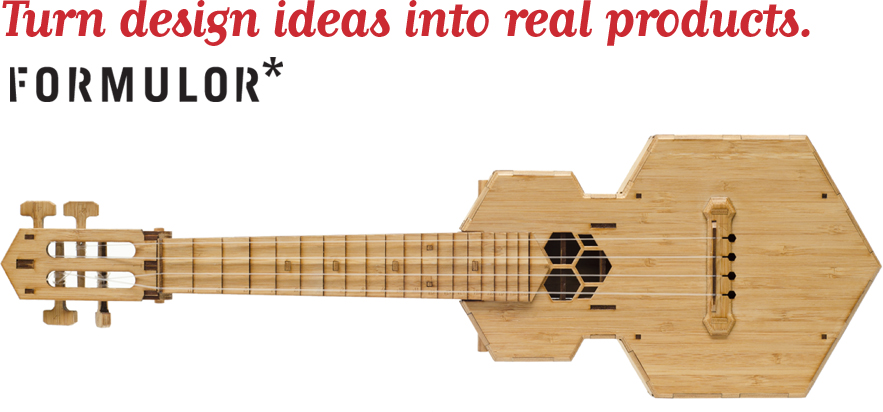 Formulor, our laser-cutting partners in Germany, began licensing our Personal Factory software in 2010. Tomorrow, Formulor will officially launch their new website built using the Personal Factory API. The new site features an online design tool to draw your product right on the screen, the ability to combine several designs in one order, and pricing and payment in Euros.
Find Formulor in the Personal Factory App Gateway.
Autodesk 123D
---
Autodesk 123D includes a suite of apps that let you design almost anything you can think of. Upload those designs to the 123Dapp website, and you can have your designs made with laser-cutting or 3D printing — or both!
Find Autodesk 123D in the Personal Factory App Gateway.
Learn more about these awesome apps:
Each week in June we'll publish a feature on one of the new apps. We'll get more in-depth on how the apps work, show some inspiring images of products created with the apps, and highlight stories from beta users.
In the meantime, you can watch the official announcement of these apps at last weekend's Maker Faire.
Introduced by Wired's Chris Anderson and Ponoko CEO David ten Have, "Apps for maker movement — 3D fabrication from molecules to motorcars" features MadeSolid founder Lance Pickens, Autodesk strategy director Aubrey Cattell, and Local Motors CEO Jay Rogers each talking about how their apps are changing the way things are made.

Apps for Makers: The Power of 3D Fabrication from Maker Faire on FORA.tv