And don't miss our big announcement on Saturday!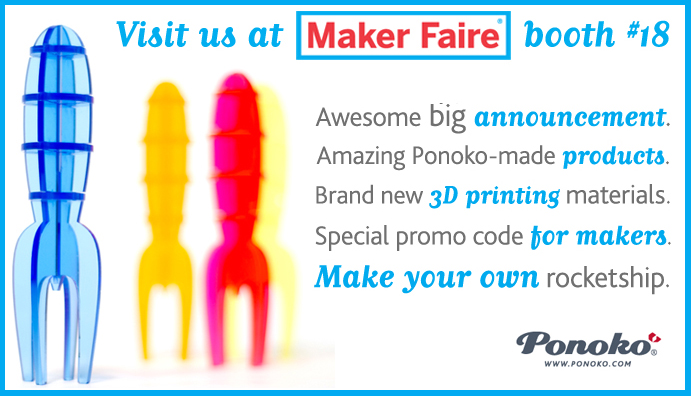 The 7th annual Maker Faire Bay Area is going down this weekend in San Mateo, California. It's the biggest gathering of makers, hackers, inventors, and DIY geeks in the world!
Ponoko will be lookin' good at booth #18 all weekend and causing a stir on the center stage on Saturday at 4pm.
Join us for a big awesome announcement:
Apps for the Makers: 3D Fabrication from Molecules to Motor Cars
Saturday May 19 at 4pm, center stage at Maker Faire
Featuring five leaders who are driving the Maker Movement including Wired editor-in-chief Chris Anderson, Ponoko CEO David ten Have, and three other special guests. We'll be tweeting live from the presentation: @Ponoko
Visit Ponoko booth #18:
Get up-close and personal with some of the amazing products created by the Ponoko community. Check out our brand new 3D printing materials. Maybe score a Ponoko promo code. And make your very own lasercut rocketship!