The white knight of model making


Styrene, or as sometimes it likes to be formally addressed – High Impact Polystyrene Sheet (HIPS) is one of the most ubiquitous plastics around, even though it's too humble for most of us to pay any notice to.  Like PETG, it's commonly used in food packaging, where it's thermoformed for specific applications.
When it comes to laser cutting, fabricating components for model making is where this material truly shines.  Prefab laser cut model kits are already available for the likes of railways, trucks, aeroplanes and buildings.  Styrene's properties make it an excellent material choice for these applications.  While it doesn't cut as precisely as acrylic, it is easily sanded or scored with a craft knife, which is perfect for leaving sprues (little "bridges" of material) to hold parts in place.  Partially laser cut parts can be easily snapped off the kit sheet and sanded back for a clean edge.  Styrene is not the only flexible plastic that can be laser cut.  There's also PETG and polypropylene.  When it comes to model making, styrene has significant advantages over both of those.  It can be easily bonded to itself with solvents (no heat welding required), and it takes on various paint finishes so can be painted to resemble other materials such as metals or wood.  Styrene also thermoforms better than the other plastics, and thinner pieces can be formed to a mold with a hairdryer.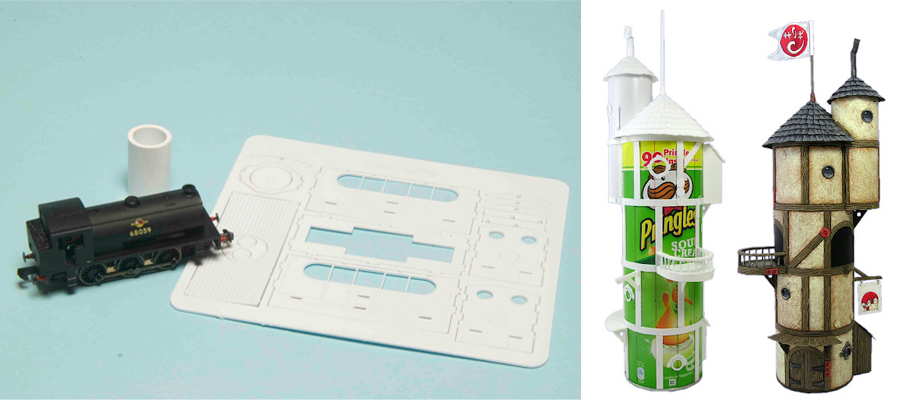 Styrene's flexibility, ease of finishing and bonding have seen it used in prosthetics, jewellery and even a Vanilla Design coffee cup holder.  Some of the material's limitations are its fragility in delicate pieces and its inability to hinge.  Any score line compromises the structure of the sheet, and applying force to that area will snap the material.  Of course, this can also be an advantage with laser cutting – using heavy vector engraving instead of cutting right through noticeably reduces kerf, while still allowing for the cut piece to be snapped out of the sheet.  This approach works with long straight lines and simple, open shapes, and prototyping is necessary for optimum results.

The white styrene can also be used in lighting design.  Its glossy finish makes it more reflective than propylene.  However, because it has a low melting point, only fluorescent and LED light sources can be used.  Featured designs (clockwise): Middle C by Sherman Warren, Lotus by David Knott, Warp by Alienology, Urchin by Fabripod, Tumbleweed by Del Jackson, Carbon by Cindy Hartnett.  Carbon is also this month's FREE file for download.  Make your own Carbon light!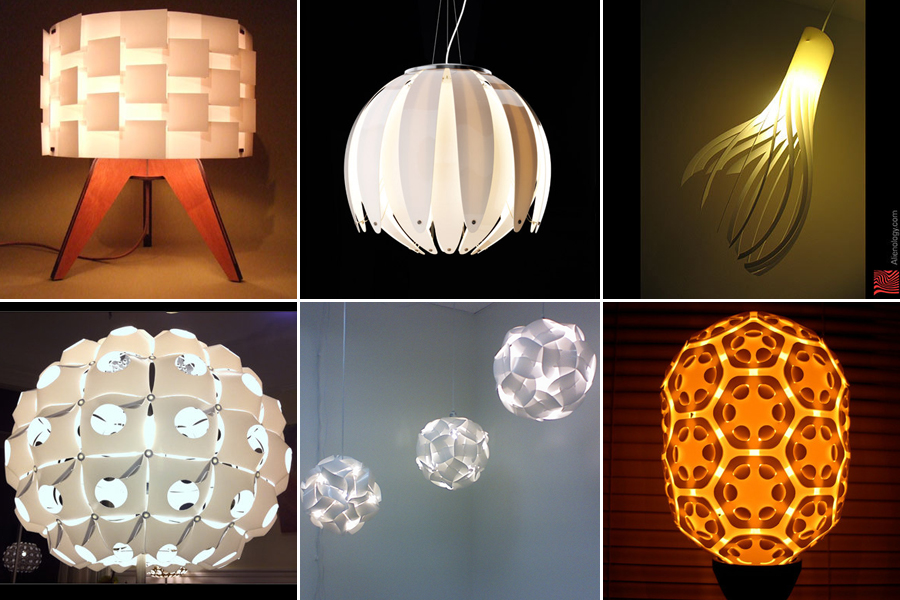 Styrene is available from Ponoko US and Ponoko NZ, and there are also US and NZ material samples to give you a better idea of cutting and engraving finish.