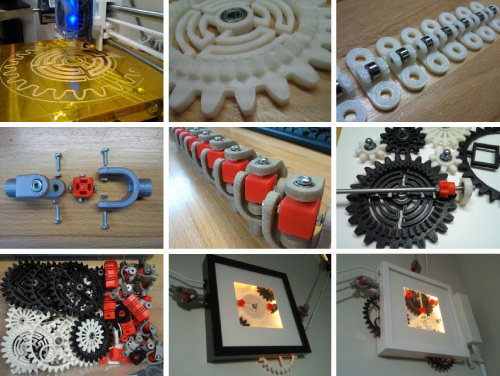 3D printed kinetic sculptures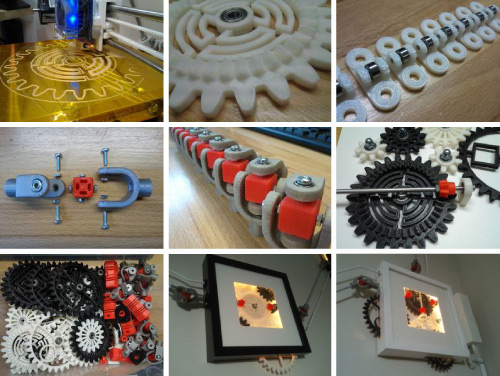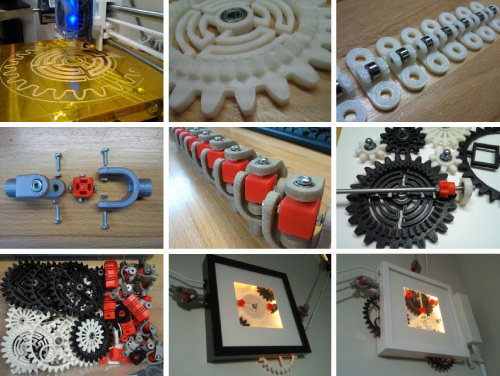 For Erik Pettersson, learning the ropes on his new eMaker Huxley 3D printer was an opportunity to get creative. Taking inspiration from Thingiverse users producing gears and kinetic objects, Erik set out to create something unique that could spread across the wall in his stairwell (and meet his wife's approval).
What emerged was a set of six framed pieces, which are connected by mechanical transmissions. A motor in one of the hubs kicks off the motion, which is transferred through some 120 different 3D printed parts across the frames.
The original Gear Painting certainly taught him a lot about using Sketchup and the potential (and quirks) of his 3D printer. With Gear Project 2, some 91 hours and 316.65 metres of filament later, it would seem that Erik is well placed to take on his next 3D printed challenge.
Read all about Gear Project 2 in this thorough worklog. Not only does he include an impressive number of in-process pictures, but also many valuable insights that popped up during the exploration. Did his wife approve, in the end? You'll have to click through to find out!