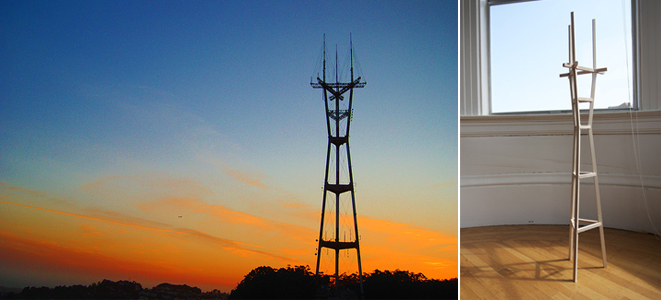 SF Bay Area – a Design Inspiration for little and big things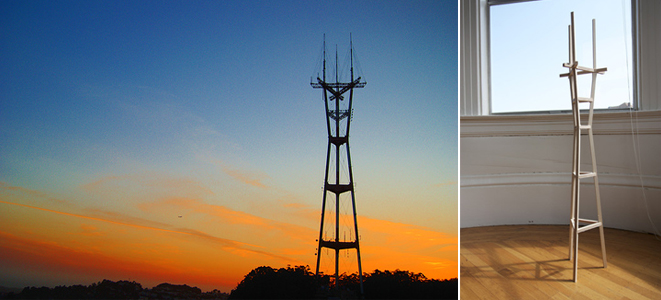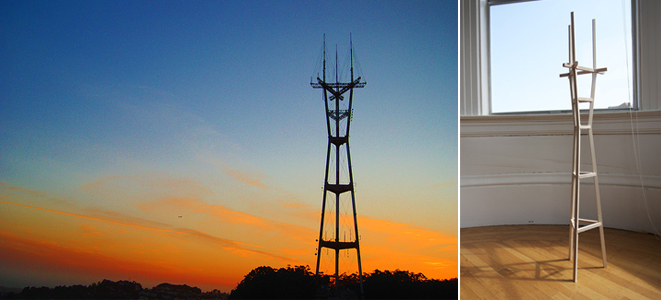 We're used to seeing locations and landmarks serving as inspiration for design and art around us. Think how much influence the Eiffel Tower, for example, or anything NY has had on so much of the styling we are exposed to. As a designer you may be particularly influenced by design styles of places you've travelled to or your own city that you commute through every day. One US designer has chosen his place of residence – San Francisco as a catalyst for his creative endeavours.
David Nichols of Dotmatrix Design takes major inspiration from various infrastructure and industry around the Bay Area. Conveniently located in same area, Ponoko has helped shape his creative process. David's first project was a human scale model of SF Sutro Tower, "a local landmark TV tower that pokes through the fog of the city most days of the year". He had the tower CNC routed out of plywood, and it will be making its way to Maker Faire next month as part of the Ponoko display.
David likes the challenge of using interlocking to produce 3D objects out of 2D shapes, so laser cutting and CNC routing are his ideal precision fabrication methods. He'd made a tiny model of the container cranes in the Port of Oakland and also laser cut maps of the Bay Area. Most of the objects he created are fabricated out of wood, either in plywood or composite form. Hardboard and MDF are some of David's favourite materials to work with. The material choices allow for minimal finishing and easy assembly that doesn't require adhesives.

A few words from the designer after the jump:
How did you make products before Ponoko? What I really love about Ponoko is that it's opened up the possibility for me to make products at all. Focusing on creative design and accessing fabrication services with the click of a button online really lowers the threshold of difficulty, time, and cost that's necessary for me to create physical products. I'm pretty busy and although I like to get my hands dirty from time to time, Ponoko's resources allow me to sustain a business that would otherwise be impossible.
How would you describe your creative process? I find that chasing down ideas is the best way to lead to new perspectives. If I get the notion that a birdhouse would be cool, I HAVE to make one. What I learn in the process of making that birdhouse will kick off 4 or 5 other ideas to track down. Sometimes it leads somewhere interesting, sometimes not, but the key is to keep moving.
Have you been surprised by anything in the Ponoko process? Every time I open a box from Ponoko with a new design there's going to be a surprise. Luckily, most of my surprises have been great because the design looks so much cooler in person than on a screen!
Do you have any tips for other makers? Making things is a learning process, and learning often involves making mistakes. If you're willing to ask lots of questions and feed that knowledge back into what you're doing, you get better and better. Now that I think of it, this applies to everyone. Please tell this to everyone.
Tower image via Flickr