a showcase of garden projects + free downloadable files


Sooner than you know it, summer will be on your door step.  That is unless you're in the Southern hemisphere, in which case you just had your summer (or some semblance thereof), so it's time to have other people have their fun. 
Hopefully the upcoming summer will yield something delicious or ornamental from your garden of veggie patch.  But as the saying goes, you reap what you sow, and sowing time is getting near.
In this final week of March, we bring you some garden-friendly designs to inspire green fingers.
Make it yourself with free design files: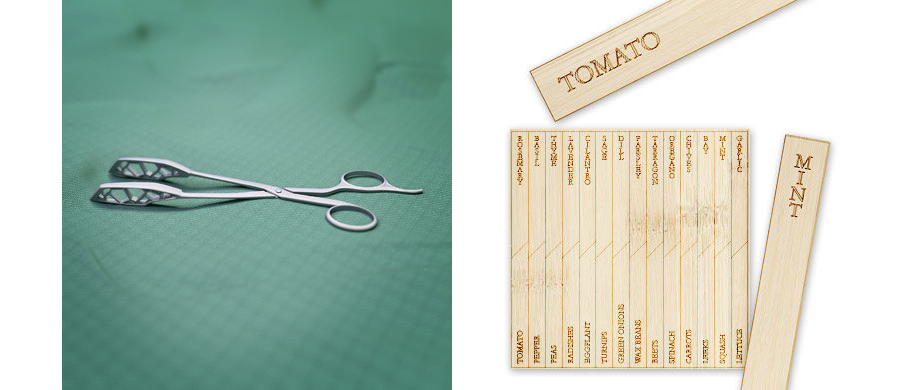 For active gardeners, download these elegant Bugceps designed by Ponoko's own Rich Borrett.  This 3D printed tool is perfect for removing bugs from plants without getting stung, or relocating a valuable insect without accidentally dismembering it. 
Unlike the bugs which seem to know exactly what plants are growing where, some of us would benefit from handy herb markers. Download these customizable garden markers designed by Shopping Zen. 
Ponoko-made projects for inspiration:

Keep annoying bugs in check by enticing some birds into your garden.  Bird houses are quite handy for this.  Jee Bundy provides an elegant solution with her laser-cut barrel bamboo house, and Wood Marvels has a couple of bird feeder designs available for plywood.
Hanging planters are a fantastic addition to indoor and outdoor gardening where space is at a premium.  Pollen's plywood Endoplasm and acrylic Ectoplasm planters are as decorative as they are functional.  Colleen Jordan's wearable planters 3D printed from Durable Plastic are possibly the ultimate in miniature gardening.  You can be living in a shoe box and still make some space for one.  How about a wearable nursery with some alpha sprouts?

Apparently some people grow stuff not meant for eating – such as flowers.  Some people also like picking this decorative vegetation and displaying it inside their home.  Evidently vases are considered to be more appropriate flower receptacles than say, buckets or jars. Check out Colin Francis' Boiled Over vase, Dizingof's 3D printed Gyroid vase and Flatpackables Fin vase.