Exploring form and space in 3D printed jewelry


Texan designer Melissa Borrell has an interest in sculptural geometry, and the aesthetic is evident in much of her work.  We've already featured some of her work on the blog.  She's certainly not new to digital making and has worked with fabricators on material experiments for various projects.  Her work has been recognized by Enterpreneur magazine, where her company Melissa Borrell Design was named as one of the "100 Brilliant Companies to Watch" in 2010.
Currently Melissa uses Personal Factory as part of the fabrication process for her jewelry.  Initially she experimented with laser cutting, producing a lace neckpiece out of felt.  Most recently, her focus has been on creating 3D printed pieces that reflect a strong formalist approach.  The jewelry is printed in Durable Plastic, then the pieces are dyed with fabric dye and finished with findings and sometime silver and gold elements.  Melissa's choice of the material is very deliberate:
I love it because I can create things that are too delicate to cast in traditional jewelry making techniques or make things that are linked or have moving parts that are made all in one piece.  I think this is very exciting and has so much potential!

A few words from the designer after the jump:
How would you describe your creative process? I'm inspired by shapes that I see around me, shadows, light, and mis-perceptions that I think are something and they end up being something else and then I want to make what I first thought I saw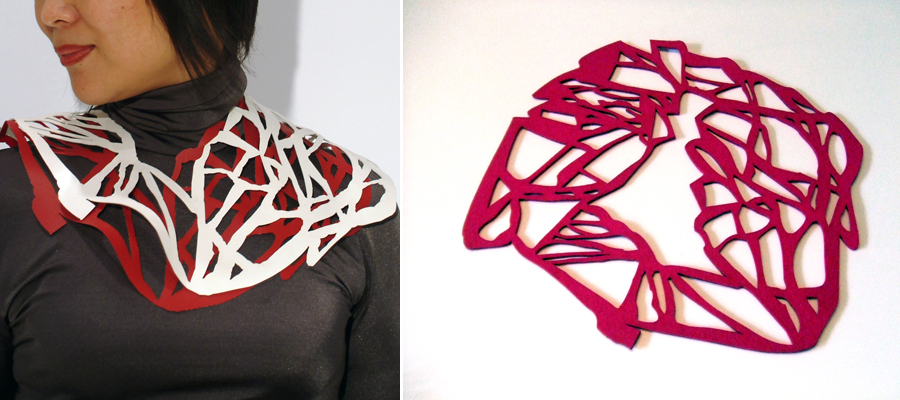 Have you been surprised by anything in the PF process: It is a learning process- I've been really impressed with how strong the material is even when it's very thin and looks fragile, it all depends on how you build the shape
Do you have any tips for other makers? Just try it!!