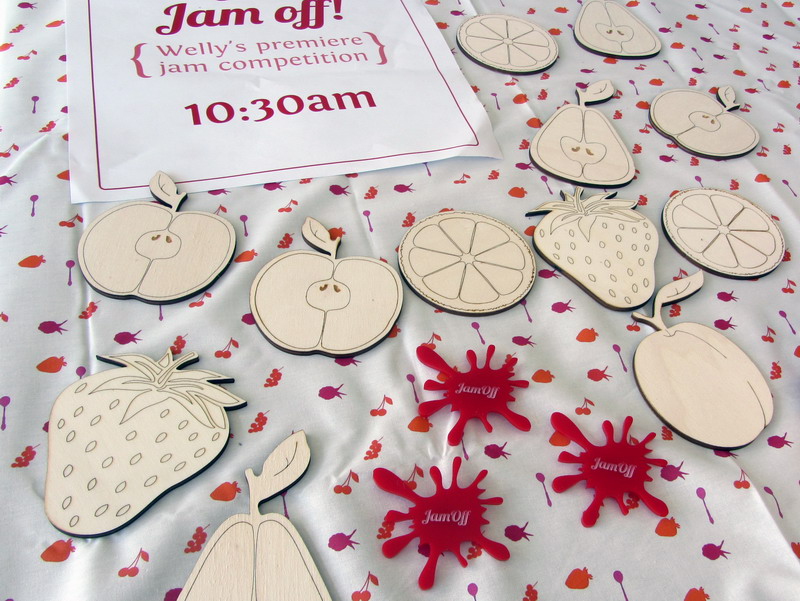 Ponoko getting its fingers into something sweet again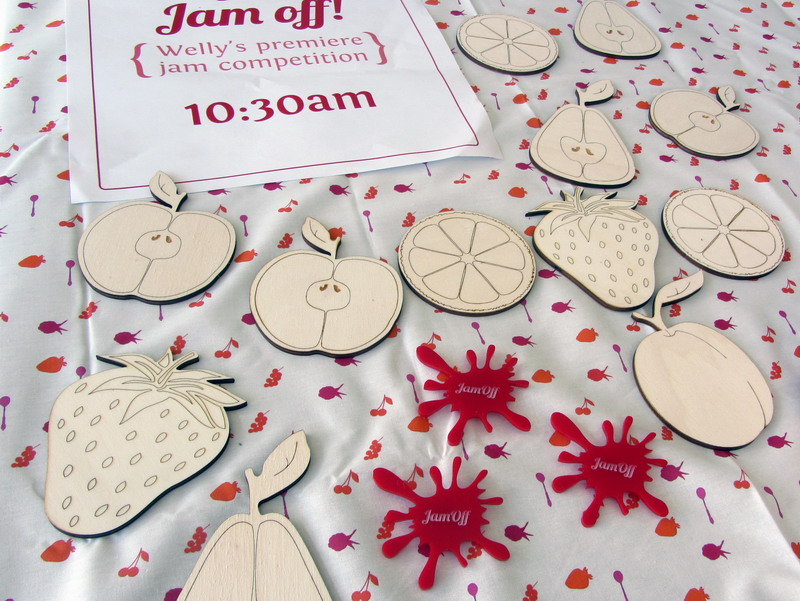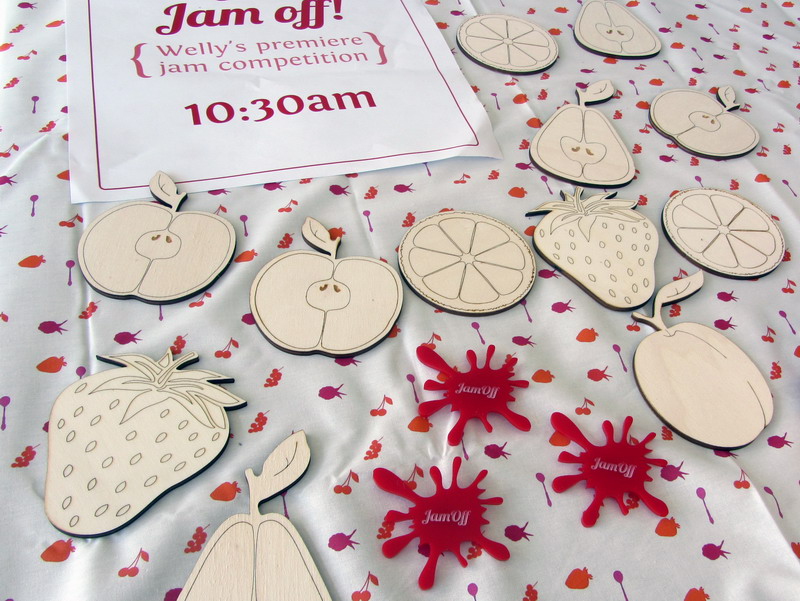 Following the sugar-crazed stampede that was the success of the 2011 JamOff, the 2012 addition, organised by Ponoko's Catherine FD, attracted even more participants.  This time around the public queued patiently to sample the long line of jams, and the icecream stick shanking was mostly avoided.  The range of jams and the resulting spectrum of colours was impressive: from the crowd favourite deep bordeaux plum& manuka to one of the delicate yellow lime marmalade.  The overall selection represented a delicious variety of berries and fruit.  Although apparently, bacon falls into nether category.  Yes, there was a bacon jam, much to the vocal horror of one unsuspecting vegetarian, and it was also one of the judges' finalists.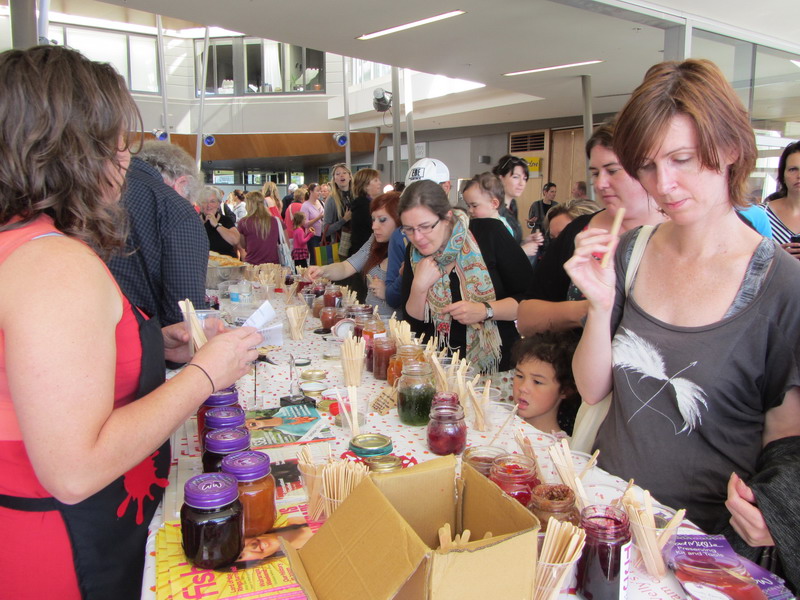 In Wellington, wherever the MIY outlook is celebrated, Ponoko is seldom far away.  For JamOff, Personal Factory unleashed itself mostly in form of prizes.  Once again the signature jam splatter red acrylic badges made an appearance, and the MC proudly announced that his and the judges' were bigger than the participants'.
More after the jump: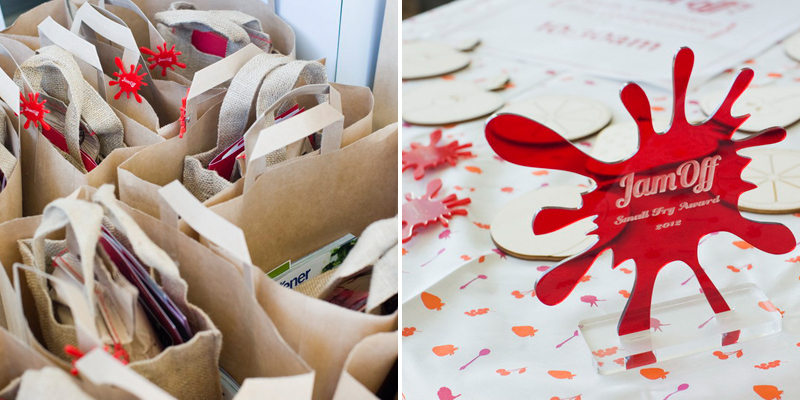 The Small Fry trophy was awarded to a couple of delighted siblings.  The older brother insisted that his apple and rosemary jelly was deserving of the red tint splatter, while his little sister who made a spectacular quince and cardamom jam would have to find a use for the clear acrylic base.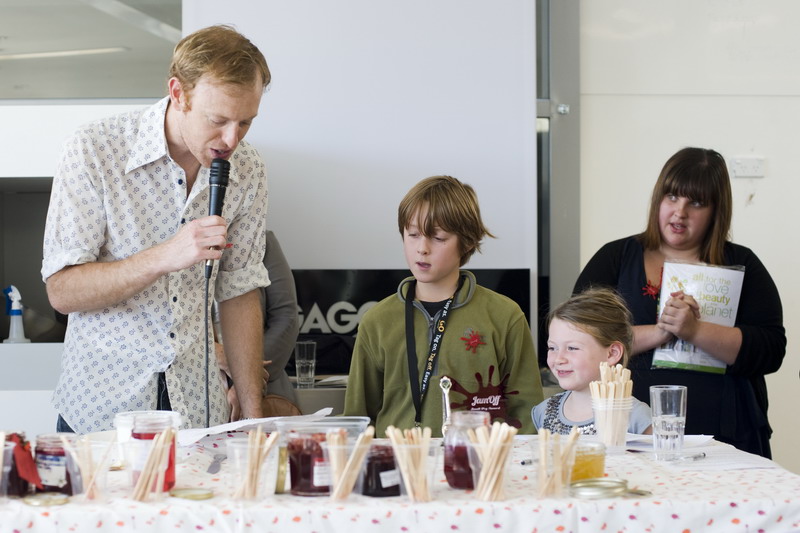 The members of  judging panel were gifted fruity coasters cut from poplar.  They were quite possibly relieved at not being presented with any jam, as the thick, sugary glaze over their eyes would have taken a while to wear off.   The event organisers wore aprons embellished with the JamOff logo cut from fire felt.  General felt reminder is that it needs to be cut well in advance to making an appearance in public, so it has time to air out; especially when it's to be used in a culinary environment.