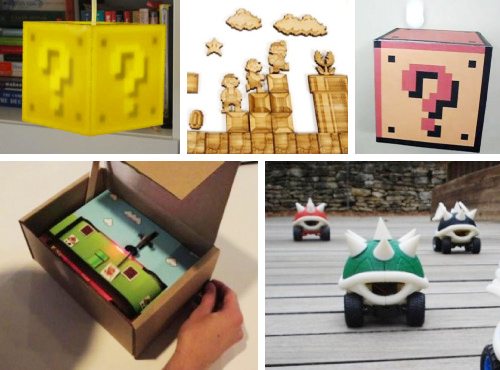 Coin blocks, laser cutting and 3D printing – Super Mario in the Digital Manufacturing Age.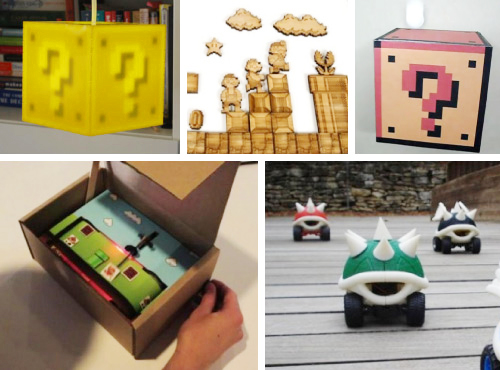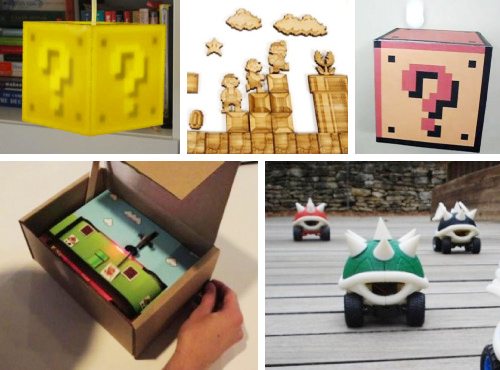 For those of us who grew up with the ringing chimes of Super Mario coins in our ears, the clever tinkerers in the Digital Manufacturing community continue to provide nostalgic treats to satisfy all those retro-gaming cravings. Today we look back at five of our favourite Super Mario inspired projects.  
Bryan Duxbury's Question Mark Block Lamp (available in kit form or fully assembled from his Etsy store) features laser-cut plexiglass with a custom PCB mounted inside that hosts an ATTiny microcontroller and LED array.
I designed this Super Mario Question Mark Block lamp to behave as much like the "real" thing as I could without having it eject coins. The bottom is capacitive-touch sensitive, and when you trigger it, the lamp toggles its light and plays the classic coin sound.
The addition of a 1up sound after multiple toggles is a nice touch, making the interactive element one step closer to the 'real' thing.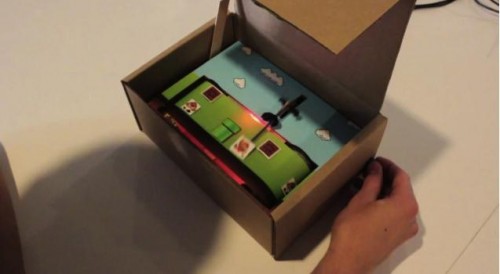 Continuing on the theme of using retro-gaming nostalgia to demonstrate the latest in DIY technology, Adam Kumpf and the guys from Teague Labs put together this brilliant mechanical version of Super Mario Bros.
Click through for some excitable video gameplay action.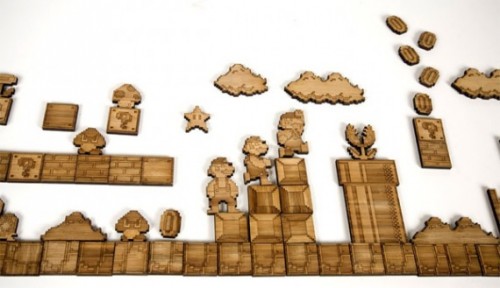 Laser etched in all the pixellated glory you would expect from an arcade aficionado, the Super Mario Brothers Sprite Magnets from Travis Chen pay homage to the iconic graphics of this much-loved gaming classic.
One of the more impressive Mario physical incarnations floating about, Michael Curry's Turtle Shell Racers would make an excellent side-project for anyone with their own 3D printer and a need for speed. With all the .stl files available on Thingiverse, the challenge is out to see who can become the fastest racer, for real. Just watch out for the dreaded blue shell!
Going on a similar theme to Bryan's Mario Block Lamp (featured earlier in this article) comes this well deserved Grand Prize winner in the game.life challenge over at Instructables.
Surely it won't be long before someone combines the two Block projects, recreating the exultation of shiny coins springing forth from those floating cubes…