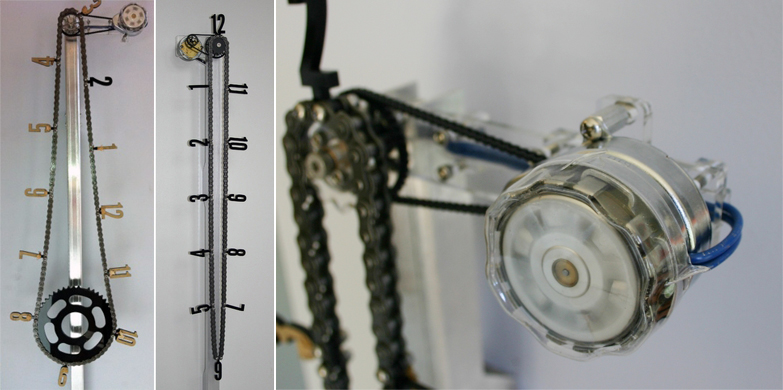 The mechanics of time keeping on your wall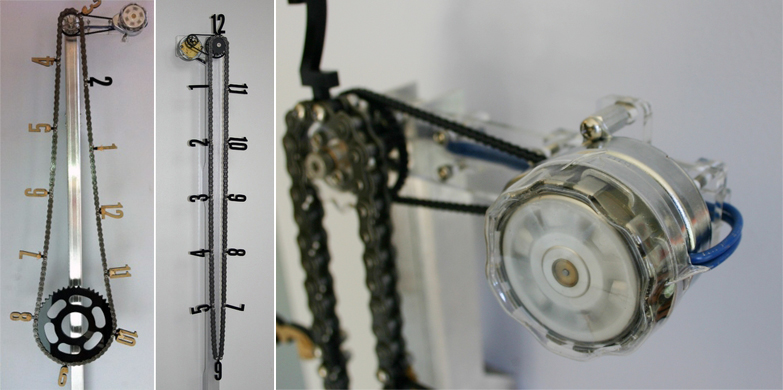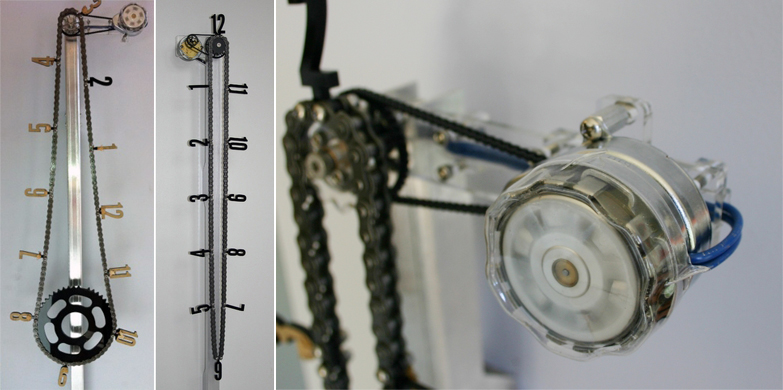 Ponoko showroom has seen its fare share of fantastic laser cut clocks: from digi-faces to cutesy animals.  Laser cutting and clock faces are natural process + application companions.  Then came The Timing Chain Clock.  No, time didn't quite stop for it, but there was a lot of Oooh Aaahh Woww finger pointing and excited Liking.  The man behind this original creation is Henry Stafford from Northern Virginia, and amazingly this design is his first "real project" worthy of an audience.
Complex mechanical systems are very much Henry's cup of tea since he's a mechanical engineer by training.  It's not hard to imagine the intensity of the cogs and cams inside the head when it comes to design tinkering.  And tinkering he did, albeit, as Henry puts it, "poorly".  He experimented with materials from home improvement stores using hand tools.  The results were perfectly adequate for personal use, but they weren't refined enough as products.  The clock required precision fabrication methods, and Henry's search of laser cutting services led him to Ponoko Personal Factory.
Still it wasn't all smooth sailing.  Henry's first hurdle was learning Inkscape for the first time in order to submit his designs.   Fortunately he found the software tutorials extremely helpful, both inside Inkscape and on Ponoko forums.  The next challenge was sourcing mechanism components, and you can read more about that and Henry's process after the jump:
How would you describe your creative process? I wanted to create something that was just complicated enough to be interesting, but simple enough to be reliable and uncluttered.  I went through several designs on paper, and then started researching the mechanisms I'd need to create the clocks.  I ended up scrapping a good number of designs, since I discovered there are limited options commercially available when it comes to motors, gear sets, sprockets, and the like.  I ended up working backwards from the components I could order, which is where the flexibility of designing ponoko-produced parts really enabled me to come up with a finished and polished product.
Chosen materials? I've strictly been using acrylic, since it's durable, available in a variety of colors and thicknesses, and just looks great.  I would like to try out the CNC routing with plywood or MDF, since I have a project or two in mind that are too large for the laser-cut materials.
What, if any, finishing is involved after you receive the parts from PF? The product I'm producing is assembled from both ponoko-produced parts and other suppliers, so my "finishing" would be to assemble the laser-cut pieces and the other items together.  The laser cutting really doesn't require any finishing.

Have you been surprised by anything in the PF process: positives/negatives? I was initially surprised by how finely detailed and accurate I could cut parts.  Cutting parts to within tenths of a millimeter is Star Trek territory for somebody who's done a lot of carpentry work.   If I had to point out a negative, it would be the lag time between submitting a design, and having it at my doorstep.  It's understandable, since the factory can only work at a certain speed, but can be an annoyance when several revisions of a prototype are required. [Ed: ask our service team about expediting your making process with a Prime account].
Do you have any tips for other makers? Print your designs out actual size and test them when possible.  This helped me to catch a few errors before I submitted my designs.  Also, when prototyping, use clear acrylic, assuming that your design is acrylic.  Using clear will help you see where things are or are not fitting together properly, and any cracking is easily visible.