Personal Factory big softie
In a forthright expression of bias I announce that wool felt as one of my favourite materials to work with.  It's dense and soft at the same time, it's very durable and it laser cuts very nicely.  Like quality leather, it ages with grace.  It's stable, non-fraying and has a consistent texture.  There are colors for every taste, and they are deceivingly non-toxic and UV-resistant for their vibrant hues.  The 100% merino wool is a sustainable resource that comes from cuddly fluffy sheep.  Every spring they are relieved of their heavy woollen coats, some of which end up felted on an industrial scale.
It's a good idea to laser cut any felt item well in advance of them being used, as the felt has a strong burnt wool smell after cutting.  The smell dissipates with time, and you can speed up the process by cleaning the felt or leaving it in fresh air.
Some of the most popular applications for felt are jewelry, accessories and homeware.

Pictured: Feisty Elle earrings and brooch, Chromatophobic coasters.
Of course, felt doesn't have to stay flat.  Its soft, flexible quality lends it to 3D forming using sewing or other fastening methods, as seen in the Nervous necklace, the DS4 Design charging stand cover and the Chromatophobic satchel.

Felt products are incredibly lightweight, which is very useful for items like earrings and also saves on shipping.
Felt can also be stiffened to become rigid, and this can be achieved with very little other than common wood glue and some patience.  Josh R's clock faces experiment is a great example of material manipulation.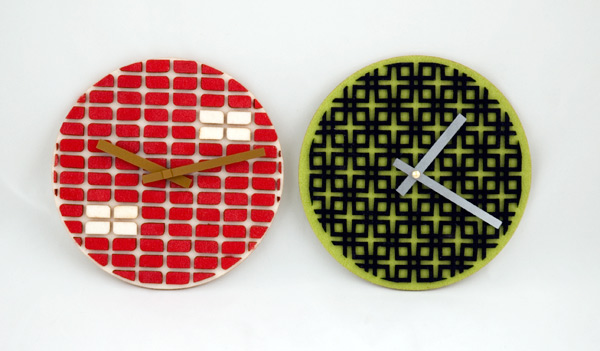 For the month of November, you can get 50% off selected felt!
Wool felt is available from Ponoko US, Ponoko NZ, RazorLab and Formulor
You can also get your own samples of different colours from both the US and NZ sample store.