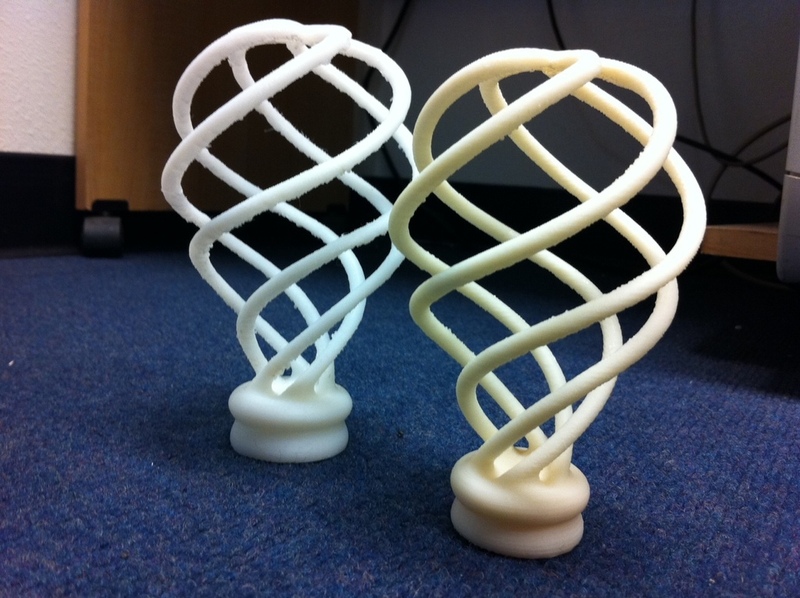 "New Art, New Ideas"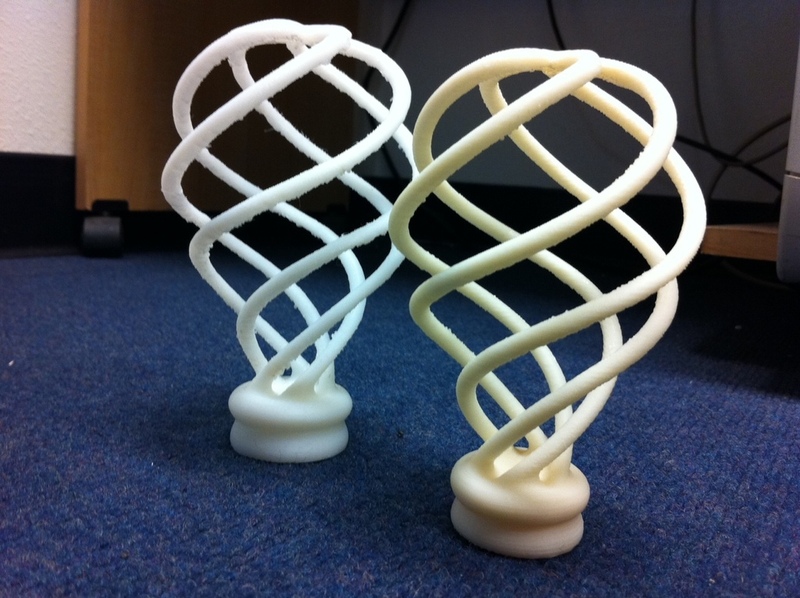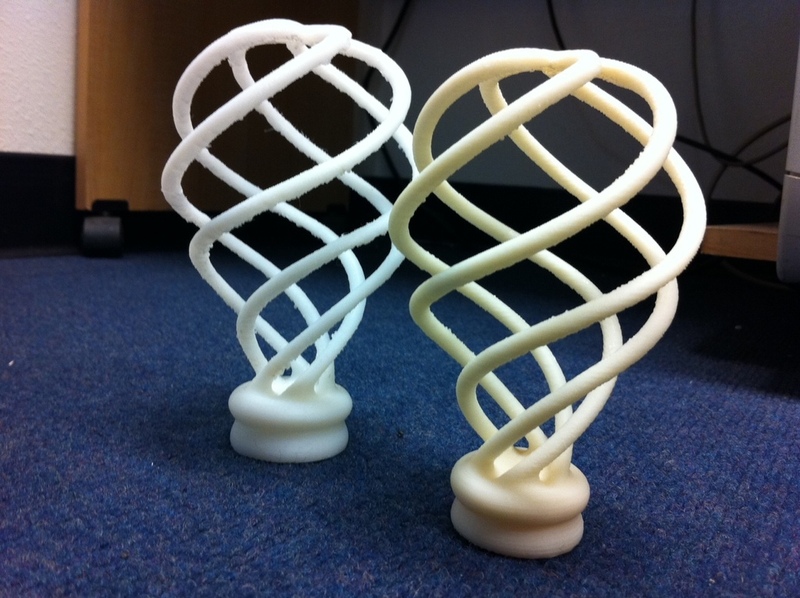 The New Museum MakerBot Challenge is ending soon, so I thought I'd take a look at some of the entries tagged for the contest on Thingiverse. Some of the entries have already been covered here, such as Joseph Larson's 3D printed recorder and TeamTeamUSA's Project Shellter.
The Challenge is meant to solicit designs printable on a Thing-o-Matic that play with existing conventions and personalize/improve them in some way. Objects can be tagged with "NewMuseumChallenge" on Thingiverse without any say from the designer, so it's not 100% clear what is and isn't in the contest, but here are three great designs that were so tagged:
Spiral Lightbulb Sculpture by benglish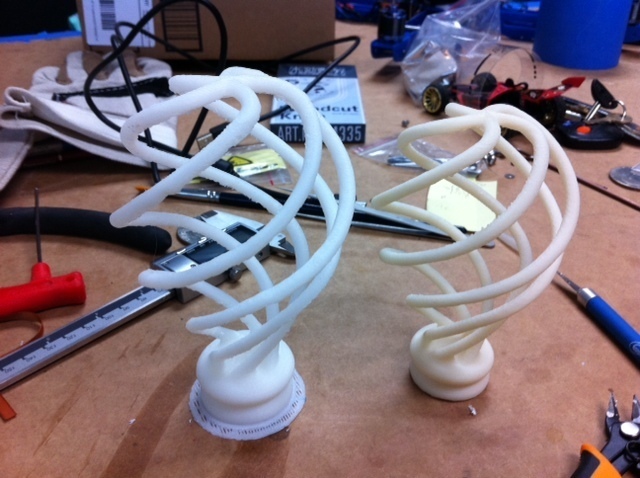 I love the way that the arms snake to form the lightbulb shape, coming together at the top. I'm printing this one myself right now, and it reminds me a little bit of Zomboe's Thing1 eyeball monster. If you're using a non-stepper extruder, expect to clean up a lot of stringy bits. (I'll be using some acetone for a smooth finish.)
Cord Spool For MacBook Power Supply by Steve Jarvis (aka jarvis)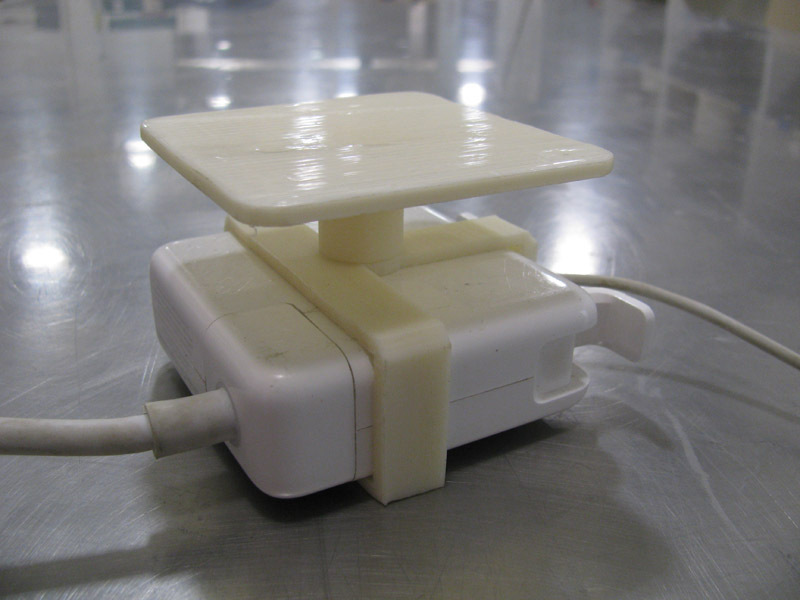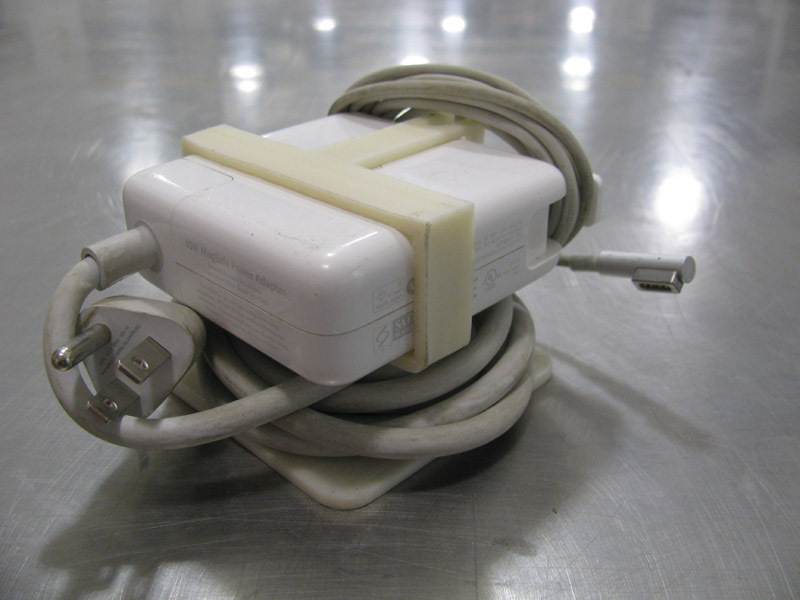 If you've ever had to take a MacBook somewhere, you know exactly why this is necessary. The AC adapter is annoying enough to pack that I generally do without it whenever I can.
Flexible Bracelet by Emmett Lalish (aka emmett)
This is the kind of project that I love. Not only is the bracelet flexible in a material associated with sturdiness, but the OpenSCAD script used to create it is included so that everyone can generate their own unique design.
If you've got a design that you'd like to submit, the New Museum MakerBot Challenge is still accepting entries up to October 31st.
---
Derek Quenneville is a 3D printing evangelist who posts weekly on the Ponoko blog. Follow him on Twitter @techknight.