A very userful abbreviation.

You may not realise this, but PET is one of the most ubiqutous plastics around.  Chances are you've got it within arm's reach.  I'm talking about plastic bottles.  PETG is essentially the same polymer, but with a lower melting point, and it's extruded in sheet form for commercial applications.
PETG has none of the glamour of acrylic.  It doesn't come in bright colours, it doesn't feel substantial, the engraving quality on it isn't amazing.  So why bother? PETG is very impact resistant.  Unlike acrylic, it won't snap or shatter if you drop it.  You can heat form it, you can cold bend it, you can rivet it and most relevantly, of course, you can laser cut it.  It is available in conveniently thinner-than-acrylic thicknesses of 0.5mm and upwards.  PETG is also recyclable, so it's better than a Hummer.  Although that's not saying much.
So what's it good for?

The combination of flexibility and durability makes thin PETG a suitable choice for packaging such as the box above from Chris Lee.  Joe used this material to design and make a surface protector for a turntable, keeping it free from dirt and scratches.  Clear acrylic would be a less suitable choice for this application because it's brittle.  Thin PETG is a great material for stencils because its transparency helps with the registration.  It is also a perfect choice for flexi-rulers, such as the surfboard-shaping template above from YakasDesign.  It should be noted that engraving somewhat compromises the structural integrity of the material, and that needs to be taken into consideration during the design stage.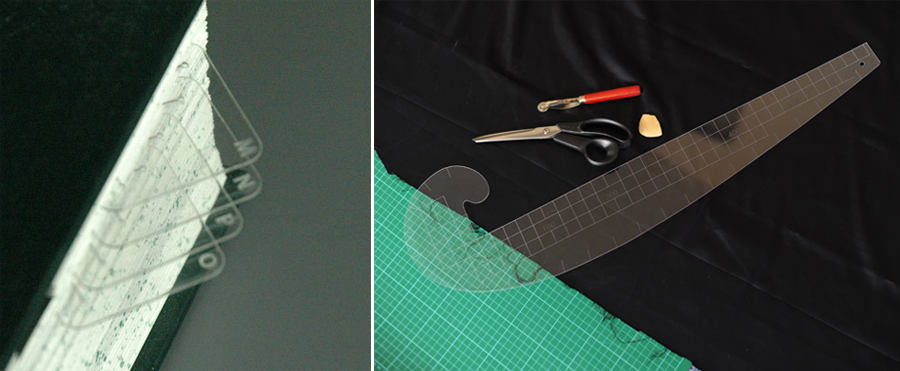 Josh Reuss designed very useful bookmarks for people who still prefer to read on paper.  These tiny but mighty corner tags will keep books free from unsightly pig's ears.  The files for these are free to download, so you can make your own with Personal Factory.  These are little, so lots will fit on a P1, and you can make a corner tag for everyone in you book club!  Another free PETG download is a vary-form garment ruler.  This is a standard version, but it can be easily customised to create a ruler for specific proportions that are not catered to by generic pattern drafting equipment.  The engraving can be filled in to make the markings more visible.
PETG is available from Ponoko NZ, Ponoko US and Formulor.