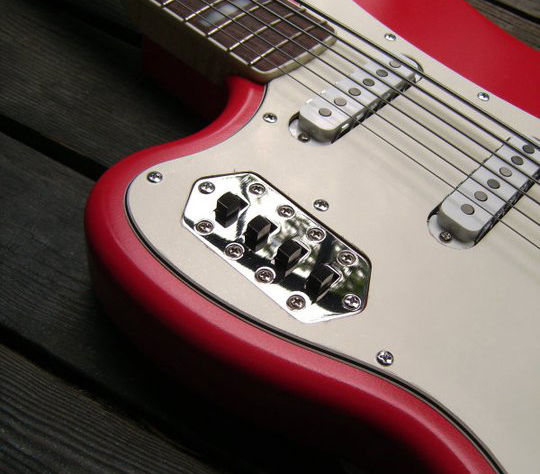 When digifabbing rocks your socks off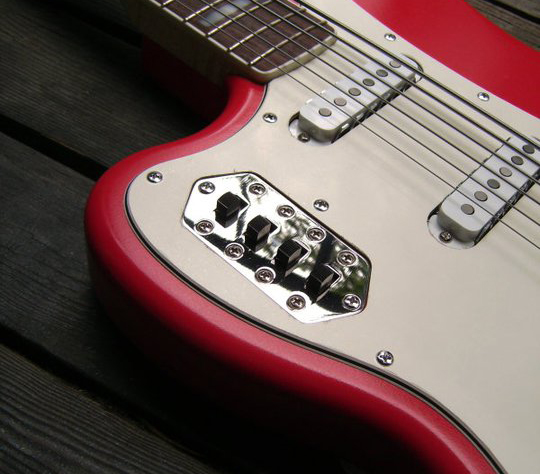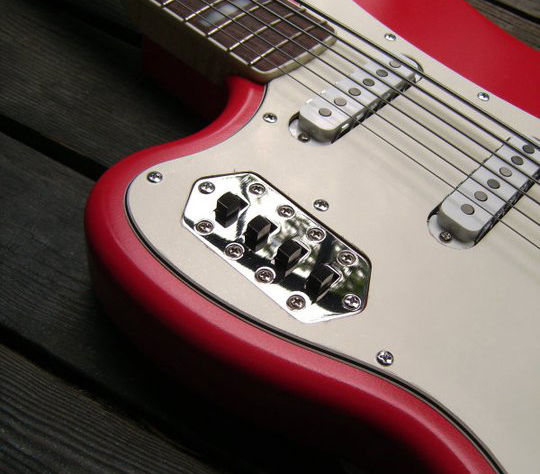 Paul Rhoney has been building custom guitars for a while, and as a professional guitar maker, he prides himself on crafting top quality instruments.  Guitar building is a very hands-on practice, but even here there is an opportunity to digitise some of the fabrication process.  In Paul's case, laser cutting has enabled him to create precise, durable routing templates for various guitar components.
The transition from hand cutting to laser-cutting with his Personal Factory required little effort. 
Being a graphic designer, Paul started off designing his guitars on computer and creating full scale digital drawings, so he already had the cutting files.  All that was required was waiting for the perfectly accurate cut-outs to turn up on his door step. 
Up to that point, making the templates was a laborious task.  Paul would print out the full scaled drawings in reverse, tape them face down on the plywood, transfer them onto the material with a toner transfer pen, cut out the outline and sand the edge by hand.  This method would take days, and frustratingly, the result was never 100% true to the original drawings. 
After working like this for a while, Paul decided to look for a more precise and less labour-intensive way of creating the templates, and started searching online for the nearest CNC service.  Then someone suggested laser cutting as a more suitable fabrication method and directed Paul to Ponoko Personal Factory. 
Paul describes this discovery as "a dream come true" for him.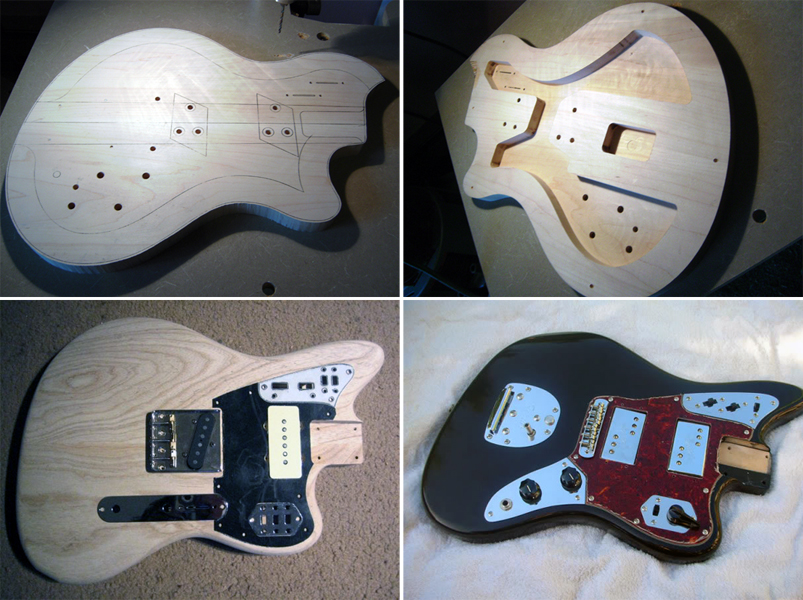 Most of the routing templates are made from 0.25"/6.4mm MDF. Turns out there was an unforeseen advantage to using laser cutting: the burnt edges are denser and more durable than a sawn surface, and there is no need to soak the laser cut edges in super glue for strengthening.  
His laser-cut templates are ready to use and cheap to make, so the cost saving is evident.  Clear acrylic is another of Paul's favourite materials and is used for the custom fret slotting templates.  Aside from templates, there are the very popular custom switch plates and other guitar parts made from stainless steel, which get thoroughly buffed pre-assembly.

More from Paul after the jump:
Where are you based? Currently I'm in Sacramento, CA.  I just moved here from Portland, OR.  I moved for family reasons, but it's been beneficial to my business as well.
How would you describe your creative process? Well surely it starts with some inspiration, and that usually comes in the form of some obscure, funky old guitar.  I love all kinds of guitars, and I seek out the ones that have a flair of their own.  One of my favorite websites is fetishguitars.com.  It showcases hundreds of 1960's European guitars.  Most of the really well-made classic guitars from the sixties were made in the US, but the Italian guitars had a style all their own.  I will get a general concept in my head of what sort of style I want to emulate (usually it's a combination of a couple of guitars I've been into lately), and then start drawing.  I will literally stare at my computer screen for hours and only make minor tweaks to the curves until I feel like it's just right.  Beyond just the aesthetics though, I'm often just chasing a sound or a feel from a guitar, so I'm thinking of whatever I can do to achieve that.  I might want a lighter weight instrument or one that sounds really meaty or mellow.
Have you been surprised by anything in the PF process? Designmake Prime was a surprise and one of the coolest things ever.  It made something that I was already using more affordable, so that was huge for me.  Ponoko's seemingly never-ending commitment to new technologies and ways to make it easy to have unique products made is wonderful.
Do you have any tips for other makers? I could probably rattle off a dozen tips about guitar-building-specific things, but I think what I do with PF is pretty unique.  I don't know of anyone else doing what I do with it, at least not on the scale that I am.  I guess if there's any advice I'd have it's to sign up for Prime and put up a Showroom.  That way you get the money you pay for Prime back from your Showroom sales and then the discounted making is all yours.  Bwahahaha!
Guitar makers can purchase Paul's routing templates from his showroom.