3d printed vocal tract update: We have audio!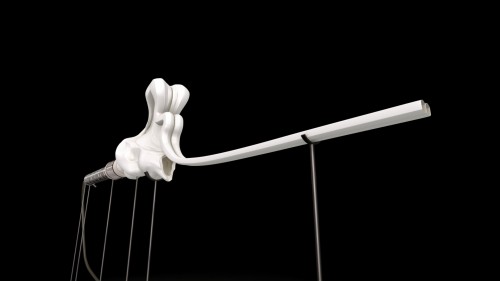 A little while back, we featured some interesting explorations from Marguerite Humeau as she uses digital manufacturing technology to recreate the vocal tracts of exctinct creatures.
The showpiece of the project is the Mammoth Imperator installation (pictured above, photo by Clifford Sage).
Pictures may tell a thousand words, but sound really is key in this one. So here we go – perk up your ears for the Mammoth Imperator:
Audio clip: Adobe Flash Player (version 9 or above) is required to play this audio clip. Download the latest version here. You also need to have JavaScript enabled in your browser.
We have it on good authority that the sound is much more powerful in person, to the point where you actually feel the vibrations in your chest.
The recording doesn't quite capture this – rather than shaking you to your very core, the mammoth's roar is perhaps more of a breathy sigh. Having said that, it is very, very cool to think that this sound – earth-shattering roar or not – has not been heard by human ears in over 10,000 years.
As Marguerite continues her research, more echoes of the past are sure to be revealed. What, or indeed who, will we be hearing next?