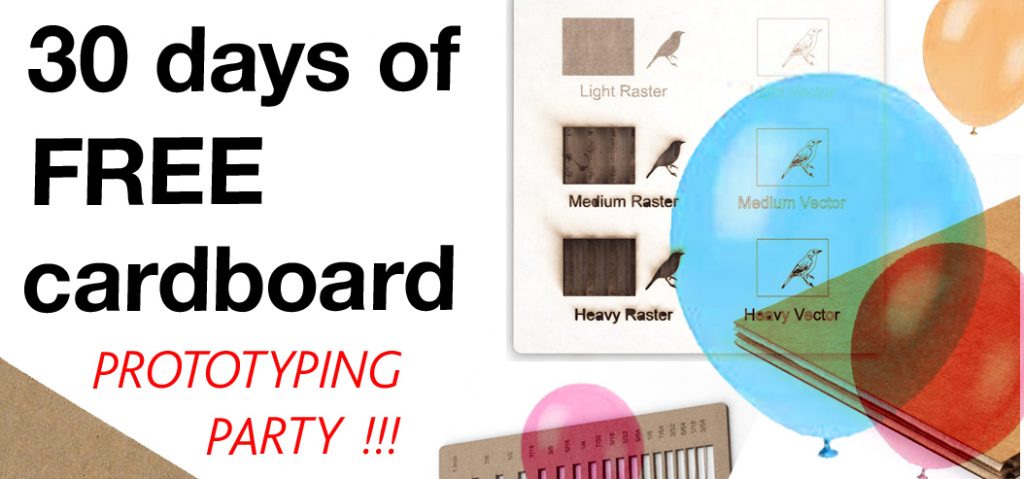 raise the roof

It's that time of year… Back to school, back to work — and back to making! Whether you've been brainstorming about your first Personal Factory creation or preparing to create a new product line for your business, now is the perfect time to start prototyping.
And to help you out, Ponoko is throwing a prototyping party!
Update: We realized it is lame to end a party on a Thursday night.
So now we're going to midnight on Saturday, September 24!
All card and cardboard materials are FREE from now until September 24.
There's nothing you have to do. No promo codes, no vouchers, no special instructions. Just upload a file to your Personal Factory, pick a card material, and your material costs will be zilch!
Free card and cardboard is available from both Ponoko US and Ponoko NZ.
(See the US card materials here. And the NZ card materials here.)
Aaannndd if you share your cardboard prototypes and projects in our Prototyping Party thread on the Ponoko forum, you'll be entered in a drawing to win a sample material pack of your choice!
(We can also make a similar sample pack of materials from the NZ catalog if you use the NZ hub.)
Join the party! Go crazy with the cardboard!
Show us your stuff in the forums!

A list of helpful links and resources to get your gears turning (after the jump):

• Corrugated Card was April's material of the month
• How much material does the laser burn away?
• an Instructable on getting a precise fit for your 2D designs
• Creating laser-cut 3D forms super easily
• FabBlab TV makes cardboard projects for the entire month of August
(all their projects include free files you can download btw)
Or get those gears turning literally:
• a how-to for toothy wheels — creating lasercut gears