Kickstarter campaign to make production local again


According to Jeffrey Matthias, founder of FurnLab, precision manufacturing is something we should all have access to.
As a part of their recently launched KickStarter campaign, the FurnLab team are unveiling plans to release a unique production-ready open source CNC machine. This device will complement the existing range of DIY CNC offerings, while taking manufacturing capabilities to the next level in terms of both scale and speed.
Check out this early incarnation (version 2) of the FurnLab design: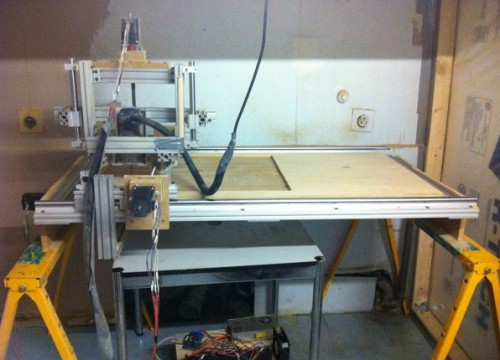 Jeffrey tells how the journey began when they discovered the prohibitive costs involved in setting up a DIY device with a full-size cutting area.
But that's not all…
I also want to reduce dependence on doodads that are made in one land only to be shipped way over to another land.

So how big is this thing going to be? It's no table-top device… FurnLab are getting serious here with three proposed units, each with their own very reasonable price point.
$2500 for a 2'x4' machine
$4000 for a 4'x4' machine
$7500 for a 4'x8' machine
All kinds of users and production requirements have been considered, with the machine plans offering a lot more than a just full-size cutting area.
How about this for starters –
Upgradeability: Designed for almost everyone to be able to afford a basic machine, it will be possible to upgrade to a larger size and better components without having to start over from scratch.
Professional Construction: The plans call for robust, all metal parts and quality components.
Detail Options: Limit switches, z-axis positioning system and an emergency stop button.
3rd-Party Systems Compatibility: Each machine will be upgradeable with affordable 3rd-party options for an automatic tool changer and a vacuum hold-down system.
Building a strong community around the open source plans should ensure that development continues, which means plastic extruders and laser or plasma cutters are well within reach, even for those with relatively modest budgets.
You can also catch an in-depth discussion from Engineer vs Designer, where Jeffrey is interviewed about his own distributed manufacturing story. There is a bit of techy software talk up until the Furnlab feature kicks in at 12:30. Keep listening for some insights not only on FurnLab but also a bit of industrial design theory and what it's like to launch a campaign on Kickstarter.