Prolific digifabbing is contageous

Jacob Roberts is probably familiar to many of you.  He's one of the guys behind the weekly FabBlab broadcasts, a show exclusively for Ponoko that's broadcast live from PBCastTV and then uploaded to the Ponoko Youtube channel.
FabBlab shows off the kinds of things you can make with Personal Factory, and Jacob is utterly mad about making stuff. 
He has used his Personal Factory to create objects ranging from quirky to practical. These include rubberband guns, cardboard shelves, camera holsters, and a back-light sign to name a few. 
Some of the objects are laser cut, some are 3D printed and some are a combination of both and include electronic parts. Jacob promises that it won't be long till we see something CNC'd in his showroom.
A 3D printing enthusiast, Jacob built his own 3D printer which he uses to make odds and ends. It was through the DIY 3D printing community that he learnt about Ponoko. Once he looked into Personal Factory, he was hooked. We are more than happy that he is comfortable with this addiction!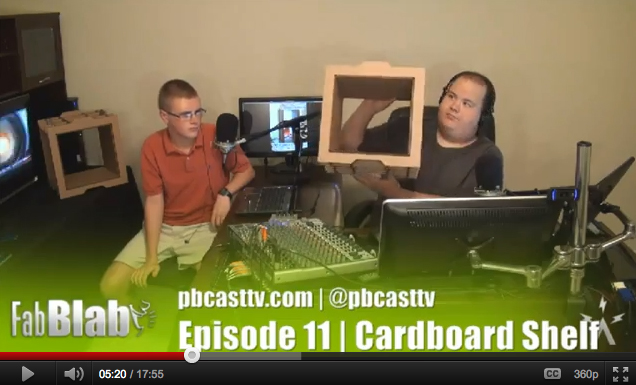 For Jacob, Personal Factory has replaced the traditional making method of printing out templates, tracing them and cutting material with a band saw. His list of creations is truly impressive. What's more impressive is that all of his design files are available for free from his showroom and come with video instructions via his weekly Ponoko blog posts.
Jacob has used laser cutting to make name signs for his newborn niece, a couple of rubberband guns, a FabBlab leather keyring, a 3D plywood dinosaur puzzle – massive version of one you had as a kid, Japanese inspired characters out of felt and the everyday necessity – the Useless Machine2.0.
There's also an example of combining laser cutting, 3D printing and SparkFun electronics in the form of a backlit sign. 
Some of the 3D printed designs proved a little challenging purely from the modeling perspective. Jacob decided to improve his 3D modeling skills by copying an existing object. Instead of a simple, every day object, he picked the well known Sporknife and set himself a challenge. 
Other 3D printed designs he created include the Awareness Ribbon and Flip Ultra HD Holster, which were both printed in white and later dyed.

More from Jacob:
How would you describe your creative process? I normally see something in my head and go with it. Sometimes I use other plans or products to spark ideas. Then it's to the computer to lay it out. I normally visualize my project in 3D if needed to make sure I didn't forget something.
Favourite making materials? I like the plexiglass for it's sleekness and finished look, but I also enjoy the look and feel of wood. I have just started using cardboard as another medium. When it comes to 3D printing I normally stick with the White Durable Plastic just because I'm use to how it works and it's durability.
What, if any, finishing is involved after you receive the parts from the Personal Factory? If it's 2D material, I normally assemble it by means of screws or glue, but I do like the friction fitting of materials because it is so much easier to put together. With 3D parts, I might dye them a different color.

Have you been surprised by anything in the PF process? I'm really impressed by the Customer Support Group at Ponoko. If you feel like you have been wronged or something isn't the way you were going for, they will work with you to make you satisfied with the solution to the problem. I also like the support feedback you get with the Prime account. If I messed up a drawing and something was weird about the file, they will email me almost instantly and offer a solution.
Do you have any tips for other makers? Fully visualize you project and always remember… Keep It Simple. A complex project can be fun, but it has a lot of room for error and failure.