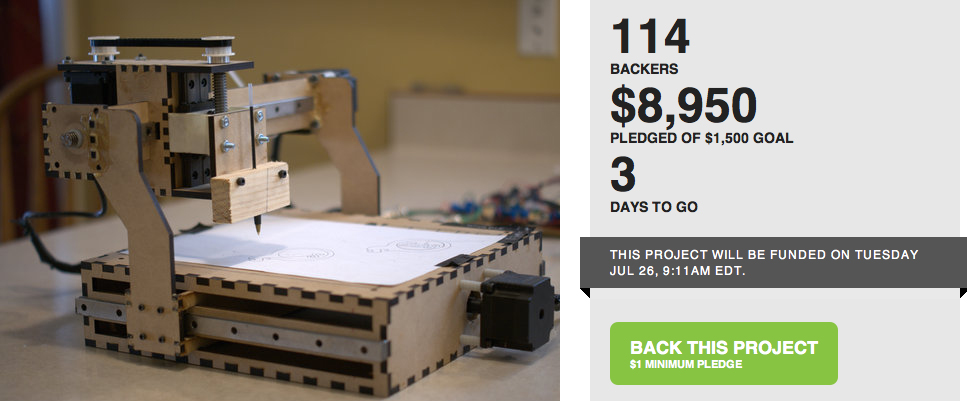 diy CNC kit for $300 raises $8,950 and counting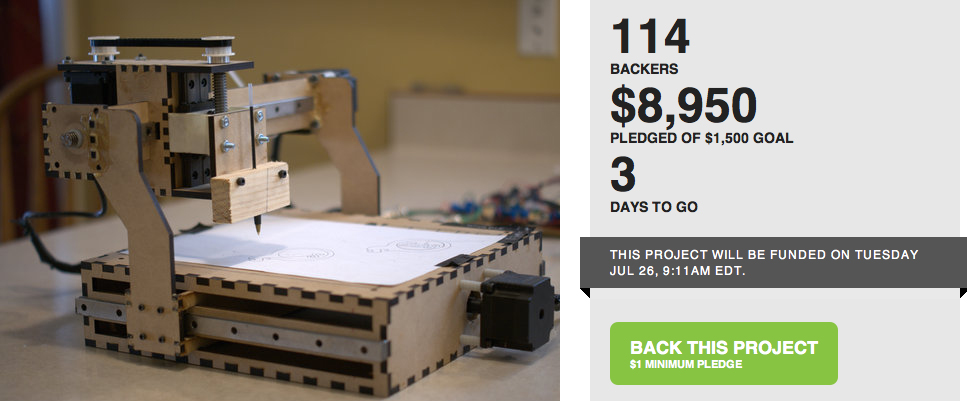 It's been almost one month since Illinois based maker Edward Ford launched his Kickstarter campaign to perfect his self-built CNC mill and come up with a complete CNC mill kit for under $300.
We loved the idea of what would really be the most affordable hobbyist CNC mill ever, so Ponoko decided to support this one from the get-go.
Ed's goal was to raise $1,500; but thanks to over 100 backers, the ShapeOko has raised just under $9,000. And we've still got 3 days left to go.
There are a lot of diy CNC mill kits out there, but one of the best things about this one (besides the price) is that it's as open-source as you can get.
From the ShapeOko Kickstarter page: "From CAD and CAM software to the CNC controller; every step has an open source solution. Did we mention the entire project itself is open source? Every nut, every bolt, every belt, fully documented with part numbers and vendor list. Do with it as you please!"

Ed's been keeping a blog on the progress of the ShapeOko, and most recently improved the Z axis clearance.
You can see lots of pics and get more info at the ShapeOko home page.
And you can still donate to the ShapeOko Kickstarter project:
$1 and $5 donations are very much appreciated.
$50 donations get you a $25 Personal Factory making voucher from Ponoko.
$100 gets you 3 stepper motor drivers + an Arduino pre-loaded with GRBL.
$200 gets you a complete electronics kit for the mill.
$500 means you just bought yourself a full-on ShapeOko!