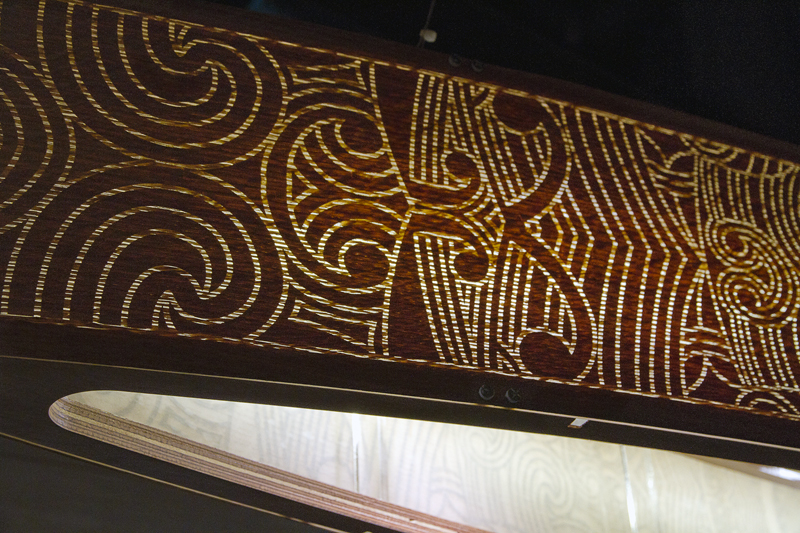 When New Zealand cultural heritage and digital manufacturing meet in a first of a kind eco-house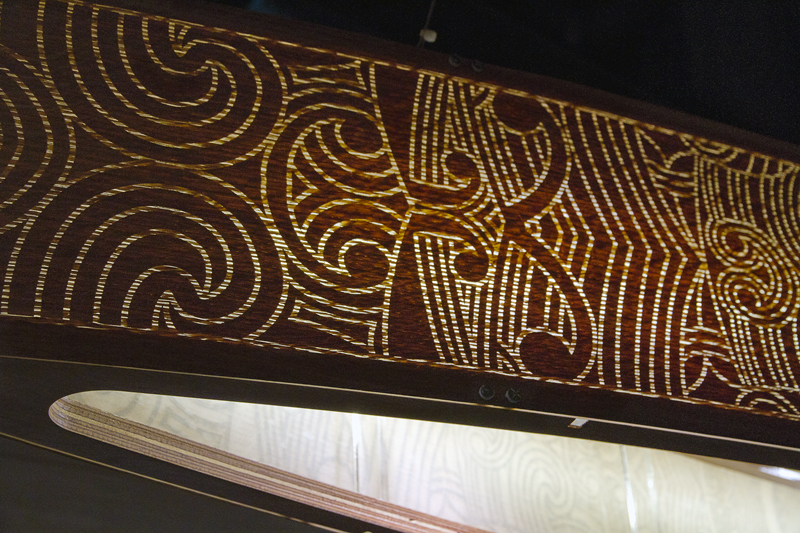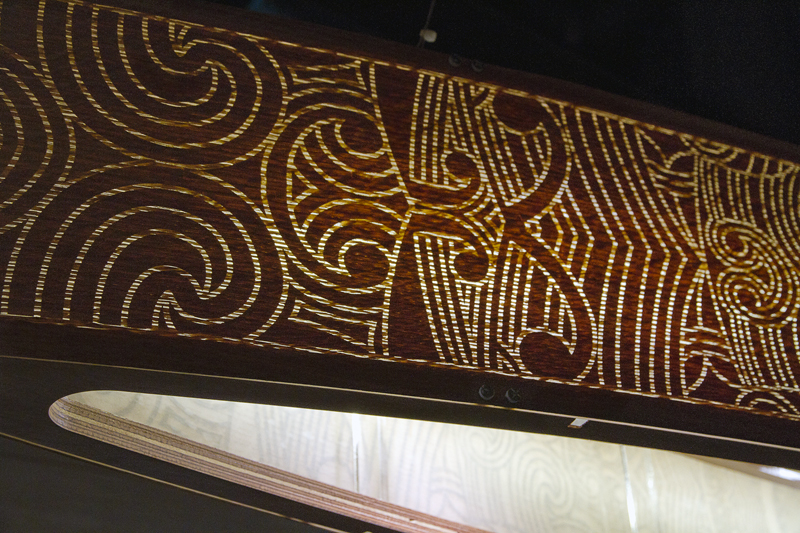 Earlier this year Wellington designer David Hakaraia designed a light for the solar decathlon house project.  The house was designed and built by a team of Victoria University architecture students – a group privileged to have been selected as one of 20 university teams to compete in the U.S. Department of Energy Solar Decathlon 2011.  This was the only entry, ever, from the southern hemisphere.  The house was named First Light, and this is where David, known to all as Hux, drew his inspiration.
Hux's light references the first waka – traditional Maori canoe that arrived to the pristine landscapes of Aotearoa.  The waka precedent is articulated not only through the overall form of the design, but through its use of Pacific binding techniques and Whakairo – traditional carving.  The Waka Roa light represents the heritage of many New Zealanders with its mixture of design elements from Maori, Pacific and European cultures.  It blends traditional motifs with contemporary technology and expresses Whakairo using digital manufacturing techniques.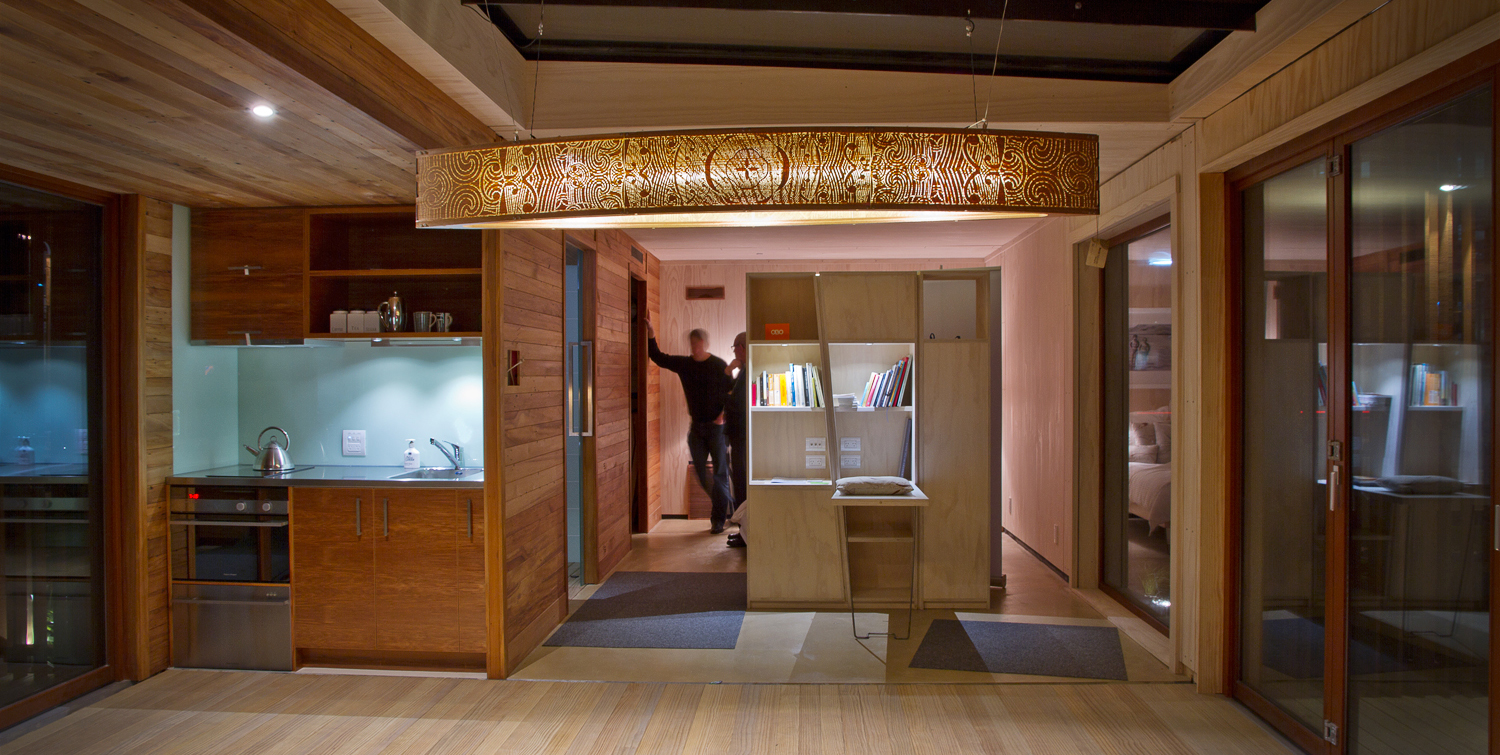 Hux talks about the project under the cut:
What materials did you use? I used American Oak timber veneer for the skin of the light this was chosen because of the beautiful sunburst of the grain. The veneer is then etched, the pattern left behind is only exposed when the light is on, and when off the grain of the timber is more prominent. This idea of revealing and concealing the pattern which adds a complexity to the material and there for the light. The frame is made of Kadumu Plywood. These are the 2 major parts of the light.

Is it laser cutting only or CNC routing also? The form was manufactured using the Cnc Milling machine and the laser cutter, from files created in Illustrator and Solidworks.
How is it held together? It's held together using a combination of stainless steel screws that have beef bone heads which were been turned on the lathe and then etched on the laser machine. At either ends of the light they are lashed together using a binding technique found in the pacific

What finishing did you use? I used a clear semi-gloss lacquer to seal the veneer
What type of lighting does the light feature? The lights I used were 3 cluster L.E.D spot lights that are used to light the table below it and a L.E.D strip that runs 100mm back from the veneer and round the inside centre of the light so that the pattern etched into the veneer is revealed.
Is it designed as a one off, or will you be making several? Because this was a prototype and I only had limited time to create it I am in the process of working on remaking it and redesigning some of the parts and processes so that it is a bit more durable.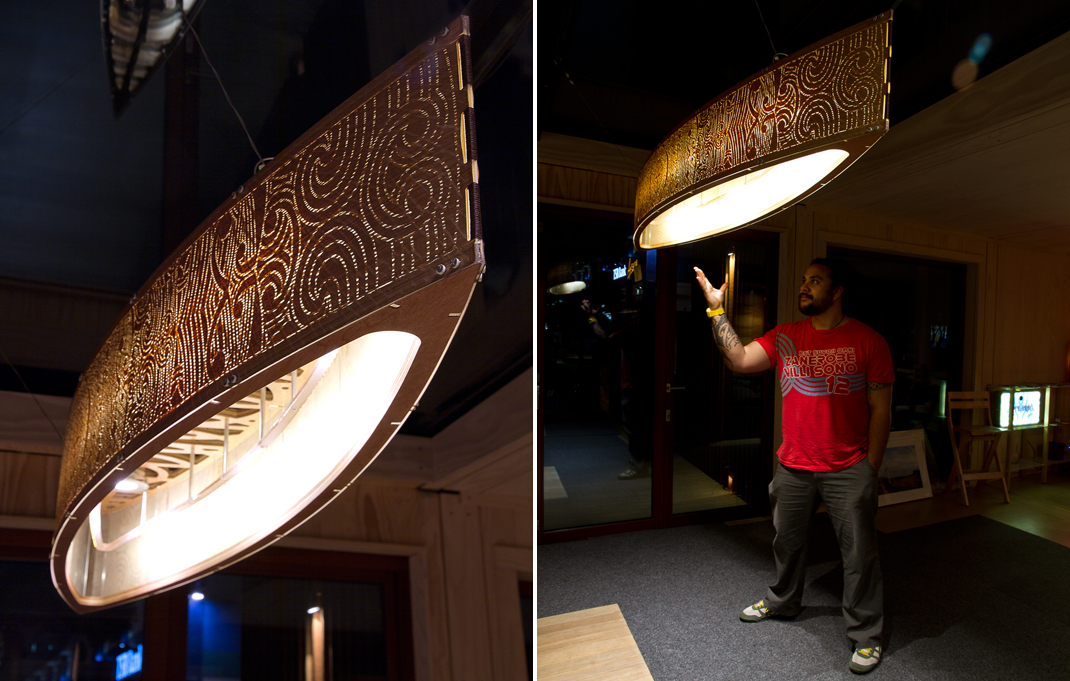 I had a great time making this light and I enjoy the cross overs between tradition of handmade craft and the contemporary manufacturing methods which are digital