Not all plywood is created equal.


Of course, this maybe stating the obvious, but there are great many varieties of plywood, all suited for different applications.  Only few types of plywood are able to be laser cut – the rest are unsuitable because the bonding glue used in their construction isn't laser friendly.  But even in the Ponoko materials catalogues there are plywood options for different purposes.  June's feature – poplar, especially the thinner stuff is great for prototyping and lightweight applications, particularly when the final product is to be painted.  If you are after something more durable or wanting to make a feature of the natural finish, there are still a few plywoods to choose from.
Alienology's Spore floor lamp is made from 5mm birch ply and can be assembled in 10-15min.  Skruff's herb markers are cut from very durable 4mm technoply beech, which is sturdy enough to make it suitable for furniture construction as seen in the Apollo table.

Technoply beech has a warm, reddish finish, and its tight grain makes this ply a wonderful choice for jewellery making.  Super Very's and MadeInTransit's raster and vector engraving show crisp detail, and Freestylen's intricate pendant edges won't disintegrate over time.

With the introduction of CNC routing, the potential applications of plywood have become even more universal.  So far we've featured a flatpack bicycle, a DIY rotational moulder and the first Ponoko made CNC product – the PonOcto stool.

Plywood (including the Eurolite Poplar) is a natural material, so it's prone to warping over larger sheet sizes, especially the thinner 4mm variety.  See how it can affect your design files here.  The flatpack, no glue, fruit bowl below is made from 4mm technoply beech.  This particular exemplar was cut from scrap, but you can make your own from a single P2 sheet by downloading a free design here.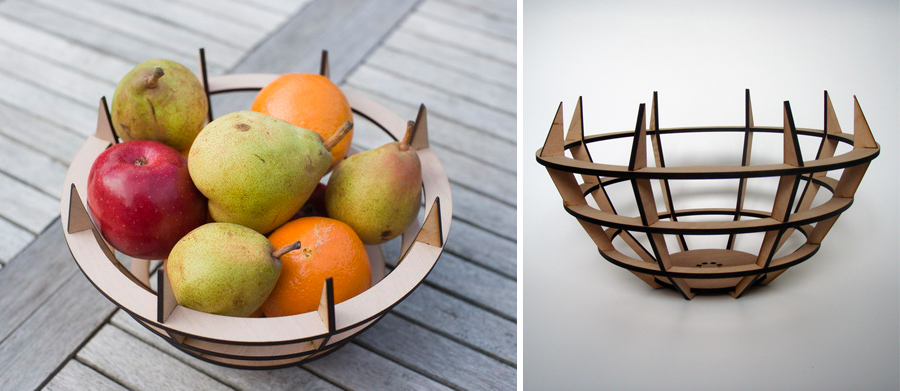 The plywoods are available from Ponoko US, Ponoko NZ, Formulor, RazorLab and Vectorealism