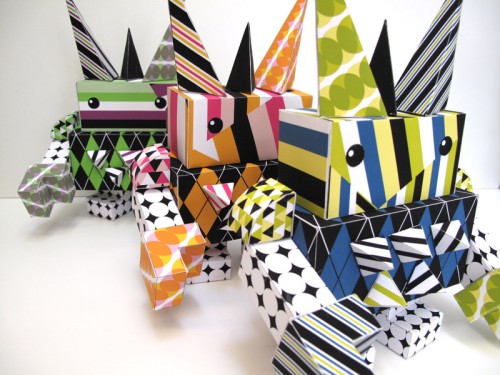 Paper building blocks for your imagination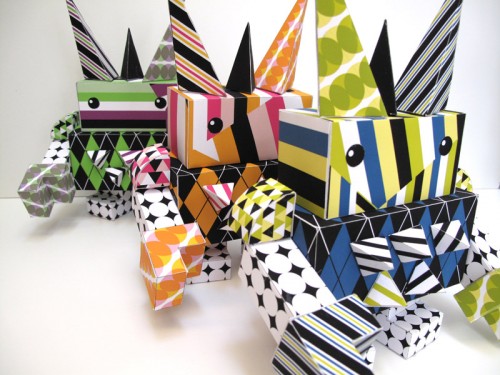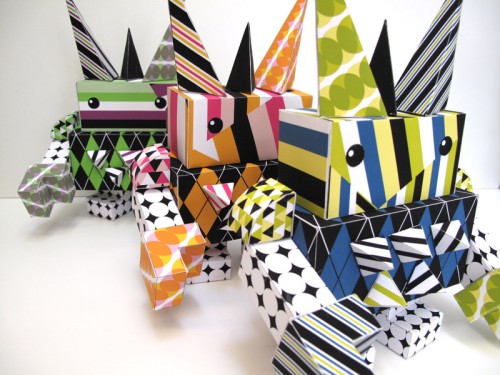 Grace Hawthorne is no stranger to fueling creativity and firing up the imagination.  She may already be familiar to fans of ReadyMade, and thanks to her latest Kickstarter campaign, a whole new playful and creative juggernaut is about to be unleashed.
Paper Punk is a system of patterns that are supplied pre-cut from cool retro-futuristic printed stock, and after a few simple folds they become building blocks that can be used to create toys, art objects and more.
Each set comes with patterns in gorgeous complementary colours, posters and instructions, and a plethora of quirky stickers to add character and individuality to your constructions.
Consider Paper Punk as building blocks for your imagination…
it is a creativity tool that's as much of and art form as it is a toy;
What I love most about Paper Punk is that it's beautiful and fun!
Follow the link for a short clip where Grace runs us through what it's all about.
So what do you get for pledging your support to Paper Punk? Well, the rewards are all pretty nice. From Robot, Vehicle and Pup kits to special edition creations, there are also posters and even a Paper Punk table lamp.
Discover more and be a part of the action with Paper Punk on Kickstarter.