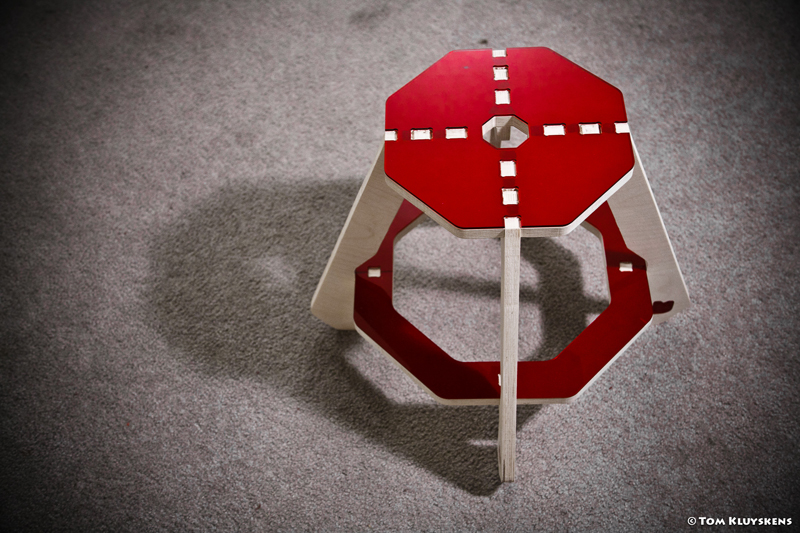 Not long ago, one fine day or one dark night, depending on your time zone, the Octo Stool met Ponoko.  They fell in love.  Out of their hi-tech union came PonOcto.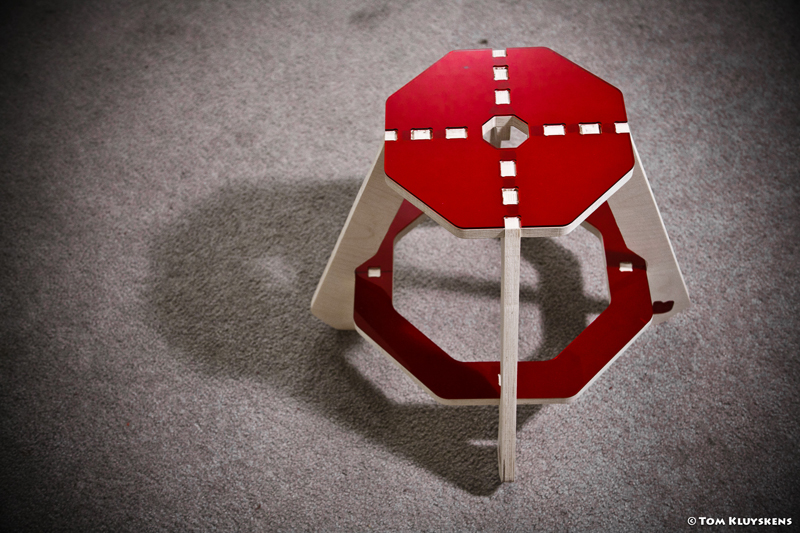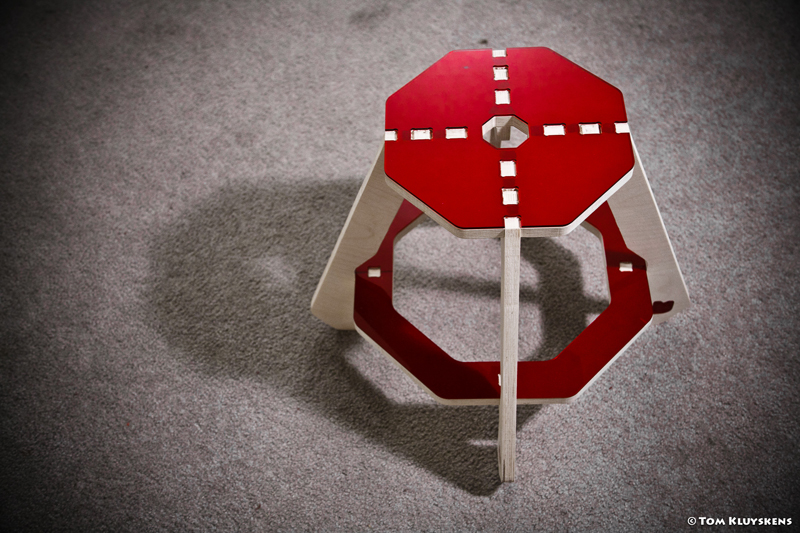 The PonOcto stool is hopefully the first in the new "Ponokofied" phase of Tom Kluyskens' plywood furniture designs.  Previously the New Zealand designer used more traditional CNC workshops to fabricate various plywood furniture and admits that his maximum yield layouts caused some friction between him and the fabricators.
At the mercy of NZ's two degrees of separation, Tom kept coming across people from the Ponoko community, which got him more and more interested in digifabbing.  At one stage he met Dave Ten Have and was a little star struck.  Tom's first project with Ponoko was a little lasercut felt container for candies that he sent out to people as a gift when his daughter was born.  The container is based on a geometric shape that folds on itself to make a perfectly contained volume.  Tom is now keen to write a customizer for it, so others can make their own using the Ponoko API.

The CNC cutting service was something that Tom anticipated with much eagerness, and as soon as it was announced, he redesigned his established Octo stool to work with the Ponoko system.  He couldn't resist the name PonOcto, probably not even realising that the stool was to be Ponoko's first CNC order.  Bonus points for symbolism.
Making with Ponoko meant that Tom was able to apply innovative changes to some of his processes, such as combining lasercutting and CNC routing.  Previously he used colour-laminated ply, or painted the cut pieces, but for the first PonOcto prototype he laminated feature ply surfaces with laser cut acrylic.  Tom is incredibly enthusiastic about the possibilities presented by precise control over laminate finishing and is looking at incorporating selective lamination, hidden joinery detail, etc in his future designs.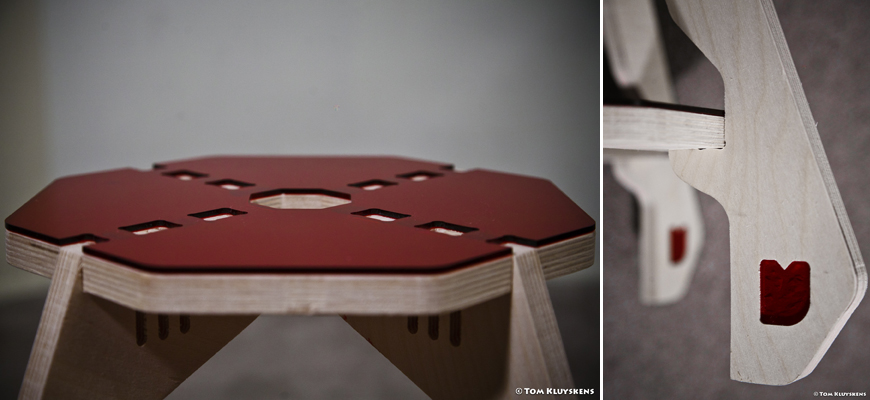 Tom's furniture material of choice is clearly plywood, which he selected for its durability as well as availability of sustainably harvested options.  His designs feature friction joints, so material stability is extremely important for precision cutting to ensure correct thicknesses and profiles.  Before assembly, all the CNC cut pieces require sanding, which means that, for the time being at least, PonOcto stools cannot be shipped from the fabricator directly to the customer, as they have to be hand finished by the designer.
More from the designer after the jump:
How would you describe your creative process? My process is inspired by my 10+ years of experience in visual effects.  Practically, it means that after a quick jot on paper, I pretty much immediately reach out for the digital tools. Rhino for modeling, and SideFX Houdini for the parametric stuff.  My pieces evolve while iterating digitally.  And I do everything to make that iteration process as quick as possible.  Whereas I was setting up digital rigs for spaghetti twisters and Balrog fire in my movie days, I now make parametric rigs for my furniture and other stuff.  The considerable difference being the immense satisfaction of seeing my creations turn to real objects!  I also deeply enjoy the physical work involved in finishing the pieces, though really, there isn't much finishing to do.
On a less practical level, still inspired by movie work, my pieces are a little whimsical, and the digital tools and interfaces I work on have strong cinematic influences: photoreal, dynamic, very polished visually, but also interactive and realtime.  I'm using Unity3D a lot.  Just like in movies, I'm interested in creating experiences rather than just products.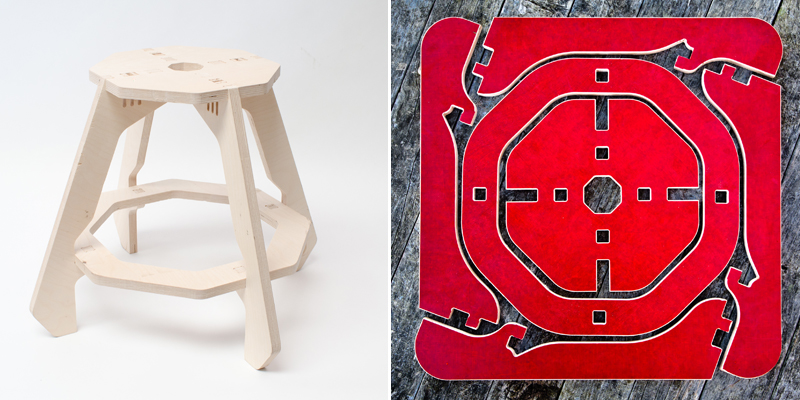 Have you been surprised by anything in the Ponoko process? I am a fervent supporter of this manufacturing paradigm that's – let's be honest- still very much in its infancy.  I find it amazing Ponoko somehow finds a way to keep going while still being so much ahead of the curve that there really isn't a market to speak of yet.  I deeply deeply respect Ponoko for leading the way, time after time, towards what's clearly a better and more relevant alternative for making things.
The manufacturing side of the service is viable for only a limited (yet growing) set of products, but these are the limitations of any new paradigm.  Tools and materials will undoubtedly evolve, but more importantly, services like Ponoko force us to rethink the way we make things, to fit into a new, and ultimately better manufacturing framework.  In my specific case, my joinery becomes more and more intricate, to the point of being engineered, so I can use flat sheet type materials that are cut based on 2D shapes.  Pieces that slowly but surely start to compete with products from more traditional but less and less relevant manufacturing models.
By realeasing their API, it opens up the business to one of the major upsides of the digital fabrication paradigm: apps that allow parametric customization of products.  As such, in my eyes, Ponoko instantly became much more true to itself, and prepared for a very bright future indeed.  I certainly plan to develop a few of those apps in the near future.
http://www.ponoko.com/design-your-own/products/2-ponocto-stools-5972