Let's get together and talk shop

If you've been hanging around at Ponoko for long, then there is a fairly good chance you've already come across Jon Cantin.
Not only is he the man behind the most prolific personal collection in the Ponoko showroom (280 products and counting), Jon also heads up WoodMarvels, 3dMarvels and has just launched his next venture: ShopMarvels.
The idea behind ShopMarvels is to form a hub where creative people from various related fields can get together to discuss ideas, businesses, services and more.
There are forums for traditional woodworkers, forums for gadget
makers etc… but not one bringing them all together under one roof.
Opening up the conversation in this way will hopefully bypass some of the hurdles and pitfalls of localised forums, and also gives rise to the potential for people to be exposed to ideas, resources, products and techniques that they may not have previously considered or even been aware of.
ShopMarvels is a directory.
ShopMarvels is a knowledge base.
ShopMarvels is access to designers, engineers, machinists and manufacturers.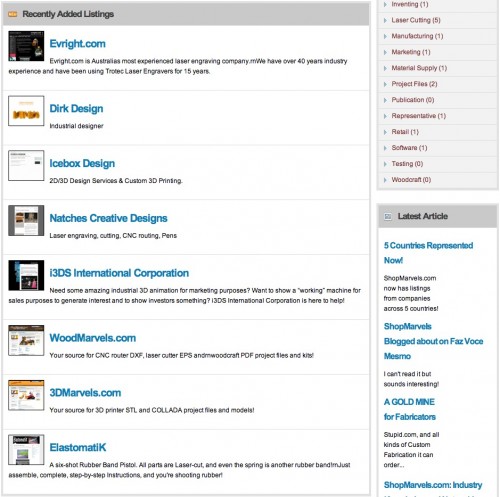 The experts become accessible in this open environment – and who knows, maybe there is someone out there who could benefit from your expertise!
Add your business as a resource, if it fills a particular niche. Join the forum, introduce yourself and start engaging in the sharing of knowledge with others.
Read the story behind ShopMarvels.com