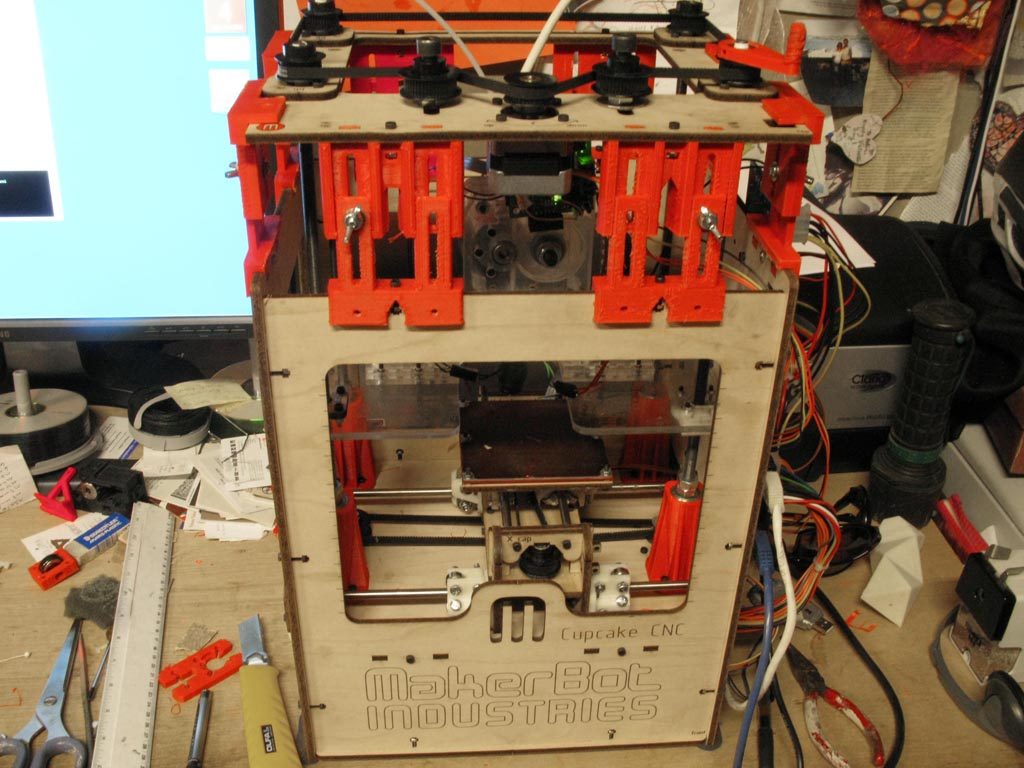 Enhancing a 3D printer using a 3D printer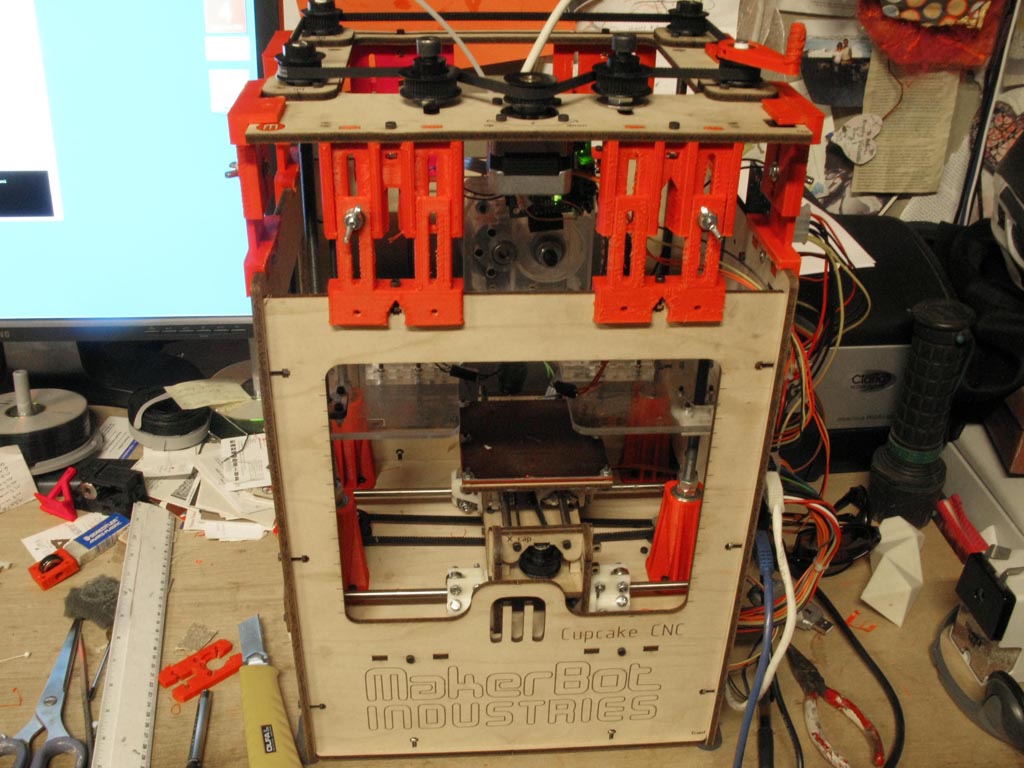 One of the things I like best about 3D printers is the meta sort of hijinks that you can get up to with them. Printing parts for other 3D printers, printing a full MakerBot chassis, and especially printing upgrades for the actual device that you're sitting at.
Z-axis adjuster knob by Stefan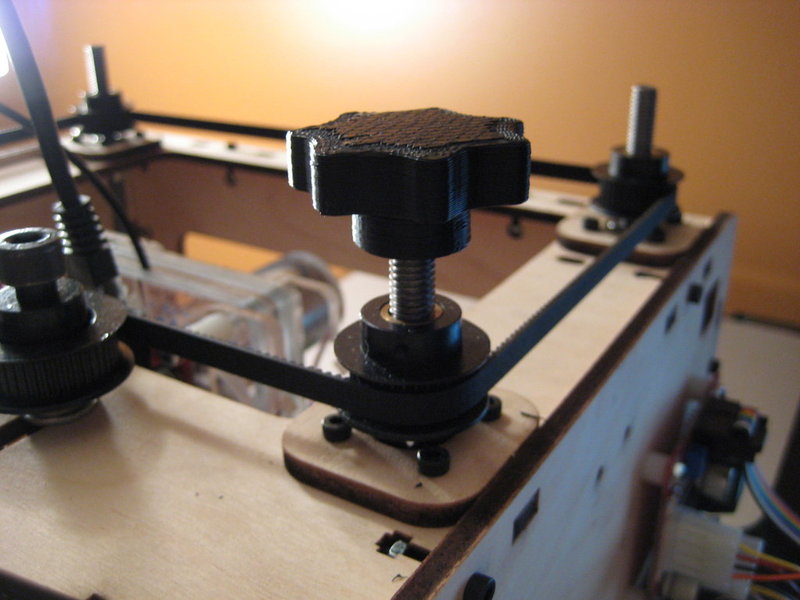 This printed part makes manual adjustment of the Z-stage easier. There are other versions that use a crank design but with all of the cables and filament hanging around at the top of my MakerBot I prefer this design. Object source: http://www.thingiverse.com/thing:3234
Z-wobble floats by MakiYoshida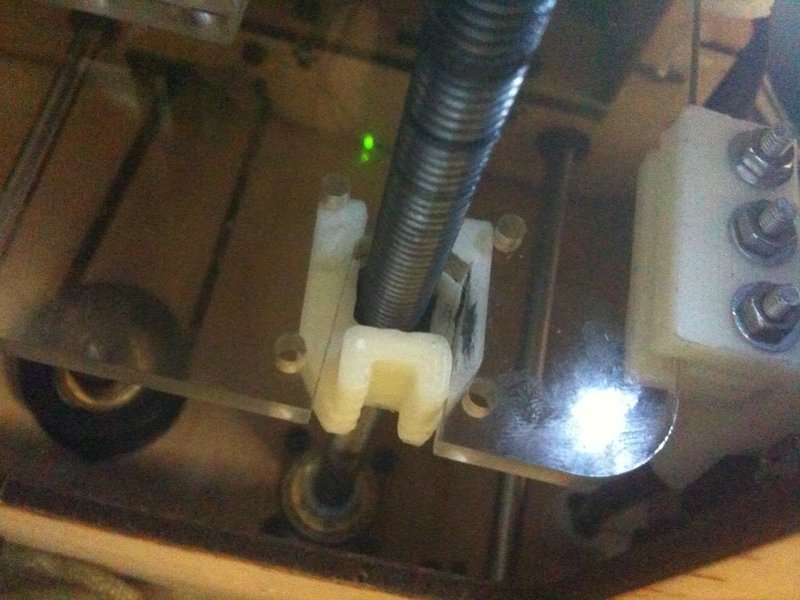 The threaded rods that came with the MakerBot Cupcake often had imperfections that could lead to a wobble effect, negatively affecting print quality. Like the adjuster knob above, there are several different solutions to the problem. This part by MakiYoshida however, is one that can improve your prints without any extra fasteners, and even on its own without a full wobble arrester kit. Object source: http://www.thingiverse.com/thing:3091
Brutstruder replacement extruder by Spacexula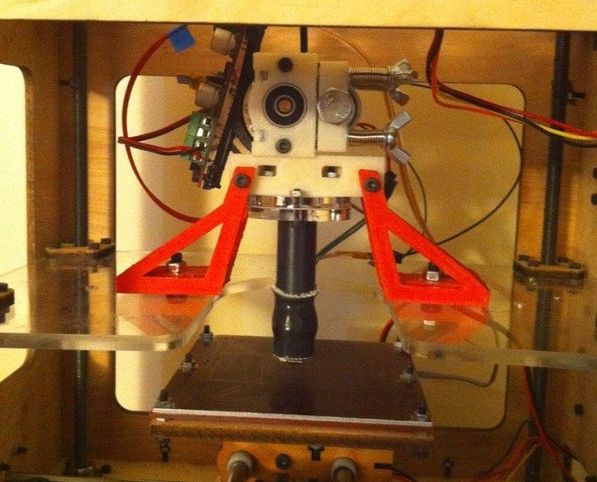 The MK4 extruder on most MakerBot Cupcakes uses a design with an acrylic "idler wheel" that is sometimes prone to breakage. Newer extruders are much more reliable, but if you don't want to lay out the cash for one you can print one on your own. This replacement extruder by Spacexula is made with strength, reliability, and printability in mind. Object source: http://www.thingiverse.com/thing:4036
This is my favourite upgrade of all. I'm nearly done printing the necessary parts for my own MakerBot and can't wait to finish. Basically, this kit raises the starting points of the threaded rods and the height of the roof so that taller prints can be achieved. Keep an eye on my Thingiverse profile for results this week. Object source: http://www.thingiverse.com/thing:4716
This one is just for fun. 🙂 The empty "M" logo on the MakerBot is the perfect spot to add this printable letter! Object source: http://www.thingiverse.com/thing:4537
There are just a few of the many printable upgrades available for the MakerBot. Thingiverse user carmiac has started a comprehensive catalog of them, available here: http://www.thingiverse.com/thing:8636
---
Derek Quenneville is a 3D printing evangelist who posts weekly on the Ponoko blog. Follow him on Twitter @techknight.