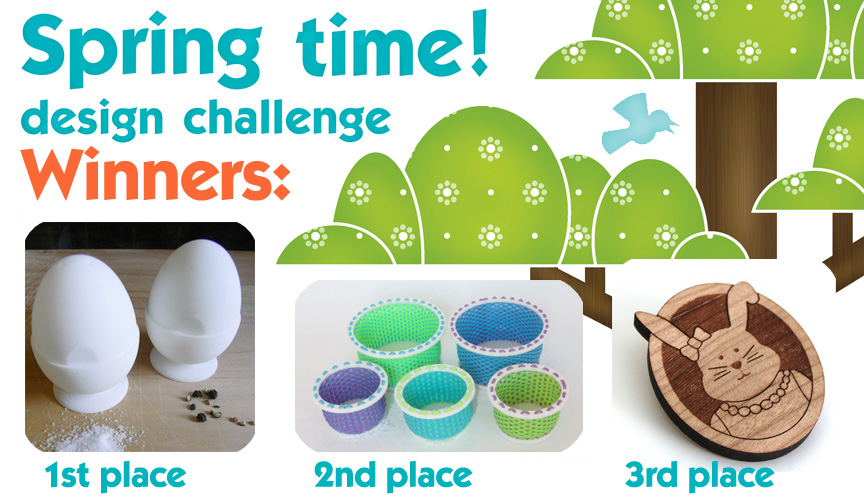 Winners of the Spring Time design challenge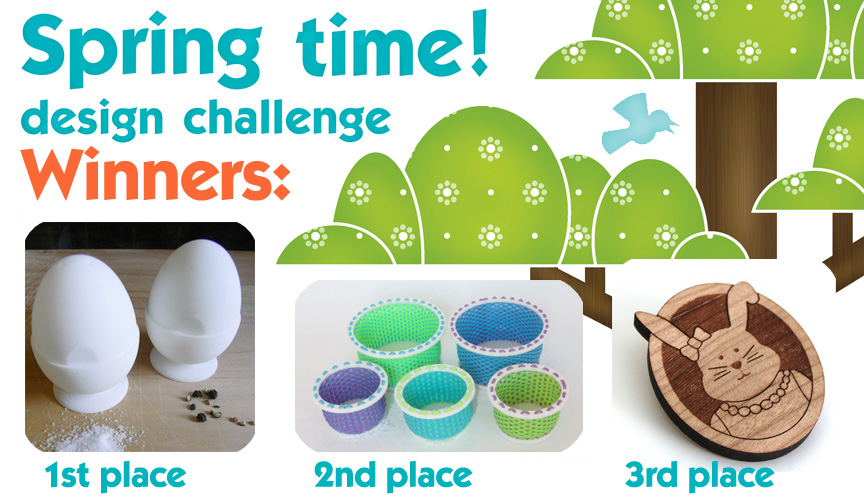 We received some excellent entries to last month's Spring Time design challenge. Old school customers and Ponoko newbies used their Personal Factory to 3D print and lasercut some super cool spring themed designs.
A 3D printed egg-shaped salt shaker and pepper grinder (with a surprise) took first place. A kid-friendly DIY basket design scored second. And a charming bunny broach scored third. Take a closer look at each of our winners after the jump!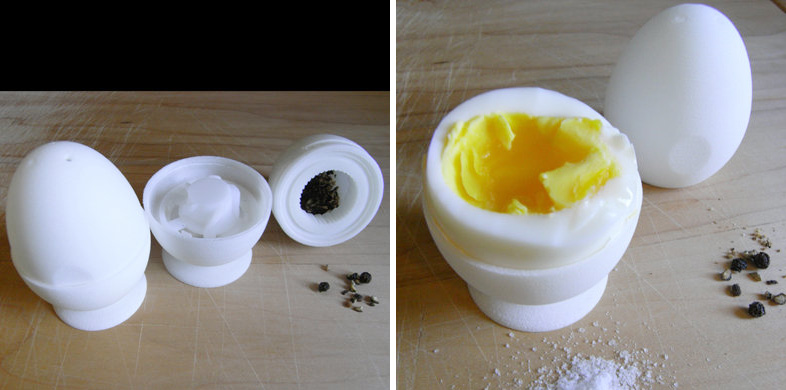 This 3D printed salt shaker and pepper grinder set from first time Ponoko customer Karolina, took first place. We loved how sophisticated yet simple the design was and how it used 3D printing to such great effect — both functionally and aesthetically.
Karolina Walichiewicz calls her design "Three Good Eggs." Each shaped like an egg sitting in a cup, the pepper grinder snaps apart for filling with peppercorn while the salt shaker has a rubber stopper in the bottom of the egg. So where's the third egg?
"The salt shaker itself can be removed from its stand that also doubles as a utensil for holding a hardboiled egg—completing the third "good egg," says Karolina.
This clever breakfast set won Karolina a deluxe Egg-Bot Kit from Evil Mad Science and a $100 making voucher. When asked about her new toy, she said "It was a fun challenge to assemble the Egg-Bot and get the printing program calibrated. It was all worth it in the end, and I had a great time making easter eggs with it!"
Learn more about Karolina and her Three Good Eggs in Yana's recent interview with the designer, "Egg in a magic cup".
And you can buy your own 3D printed good egg set for $50.

Our second place winner used laser cutting and some hand finishing to create these adorable spring baskets. Created by Luster, "This set was cut from white acrylic and woven with plastic lanyard lacing for that ultimate 80s nostalgia, but" adds the designer "they could just as easily be made from wood and woven with ribbon or yarn, or, better yet, woven with licorice and made edible!"
We love the DIY aspect of this design and think it's a fantastic kit for kids. And we hope Luster enjoys the $50 making voucher!
And you can order a set of 5 basket frames for just $22.50.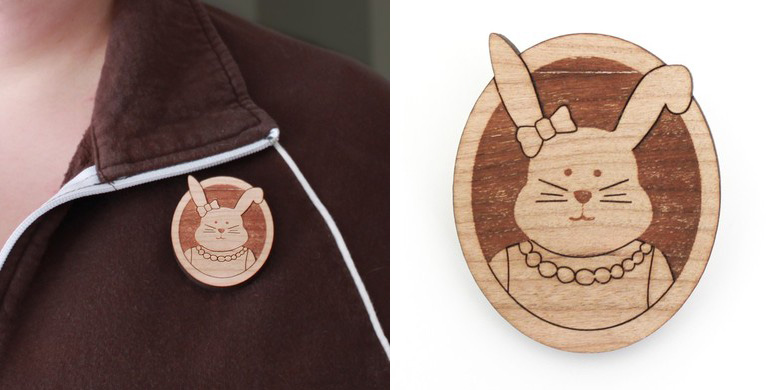 Designer Jen Pepper of peppersprouts won third place with her Bridget the Bunny broach.
The Bridgit pin went from  pencil sketch to lasercut cherry veneer, part of a series of lasercut pins featuring cute, personified animals.
We like the idea of Easter jewelry and can't wait to see what long-time Ponoko customer peppersprouts does with her $25 making voucher.
You can order a Bridgit the Bunny broach for $16.