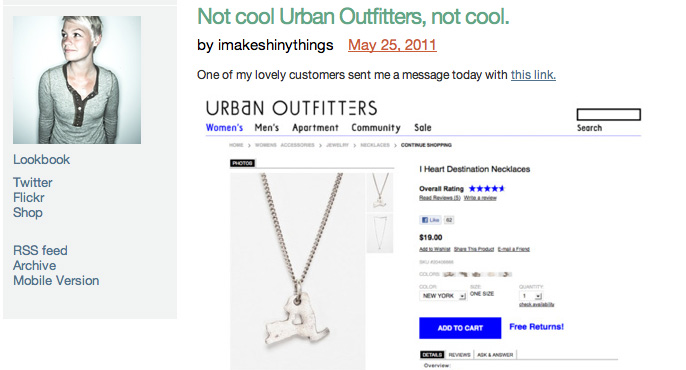 A simple tumblr post goes viral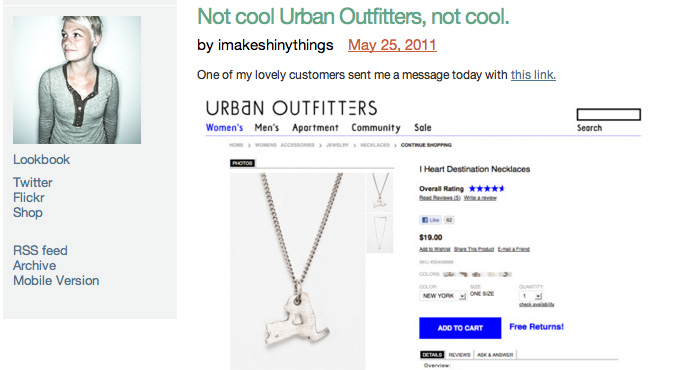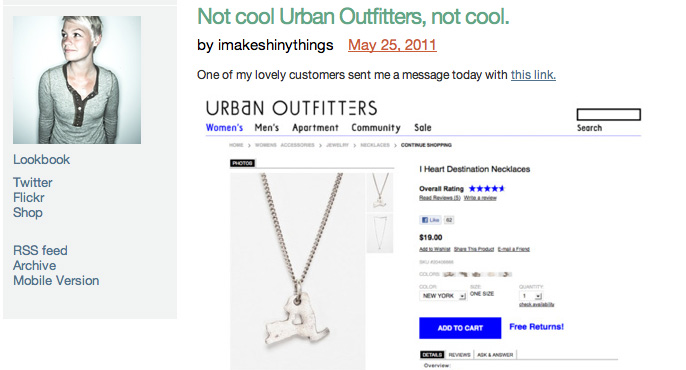 It's currently a trending topic on twitter from New York to Chicago to San Francisco. Urban Outfitters is selling a knock-off jewelry line originally created by independent designer Stevie Koerner.
Koerner's own label tru.che is well known for its United/World of Love necklaces, silhouettes of states and countries with a single hollow heart inside.
Yesterday, Koerner published a screenshot on her tumblr I Make Shiny Things of her exact designs being sold on Urban Outfitters online store and wrote:
—
My heart sank a little bit. The World/United States of Love line that I created is one of the reasons that I was able to quit my full-time job. They even stole the item name as well as some of my copy.
I'm very disappointed in Urban Outfitters. I know they have stolen designs from plenty of other artists. I understand that they are a business, but it's not cool to completely rip off an independent designer's work.
I'll no longer be shopping at any of their stores [they also own Free People & Anthropologie], and I'm going to do my best from here on out to support independent designers & artists.
Please feel free to pass this link on. I really appreciate all the support & love I've received today.
xo,
Stevie
—
And people are indeed passing the link. The issue is exploding over twitter at this moment, and I wanted to share the story here on the blog in support of Stevie and all independent designers and makers.
The panic and furry over copyright infringement alway seems to be about people ripping off corporations, and it's important to remember that it happens the other way around a lot more often than people realize.
The Urban Outfitters website has reported that the item is no longer available, and it's likely only a matter of hours before it is removed from the site.
As a former in-house designer for a similar retailer, I know a bit about how something like this happens. You can read my thoughts on that in part 3 of my article, The Truth and Future of Design Copyright.
UPDATE 27 May: A post a Regretsy takes a harder look at the copyright claims, pointing out that the state-with-heart design has been sold by many designers for several years.
UPDATE 28 May: Urban Outfitters denies stealing the design.