Additive manufacturing throws down in Minneapolis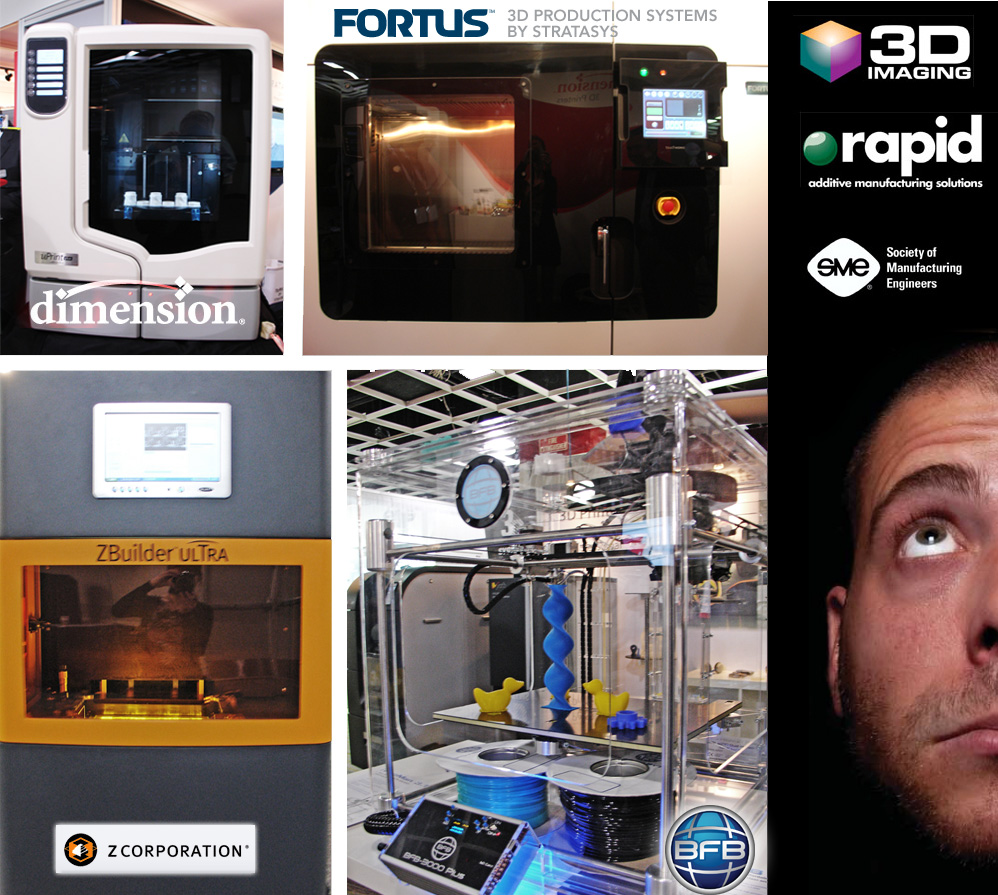 Yesterday, I found myself surrounded by nearly every commercially available 3D printer and some of the incredible things they can print, or "grow" as this industry seems to say.
I was on the exhibition floor of RAPID 2011, an annual conference and exposition on additive manufacturing organized by the Society of Manufacturing Engineers.
This year's event was held in Minneapolis and just a mile from my house. But attendees, speakers, and exhibitors came from all over the world to discover, discuss and demonstrate how 3D printing is changing a wide range of fields — from medical devices to aerospace to fine art to motor vehicles and more.
In addition to checking out what the B2B world of 3D printing and 3D imaging had to offer, I was also honored to be a conference speaker.
This is the first of 3 posts on my experience at RAPID 2011. An overview of the exhibition is after the jump.
Check HERE for selection from the Contemporary Art Gallery of 3D printed art works on display during the expo.
And lastly, I'll post a review of all the Consumer Products talks including a link to download my presentation, How Digital Fabrication is Democratizing Product Design.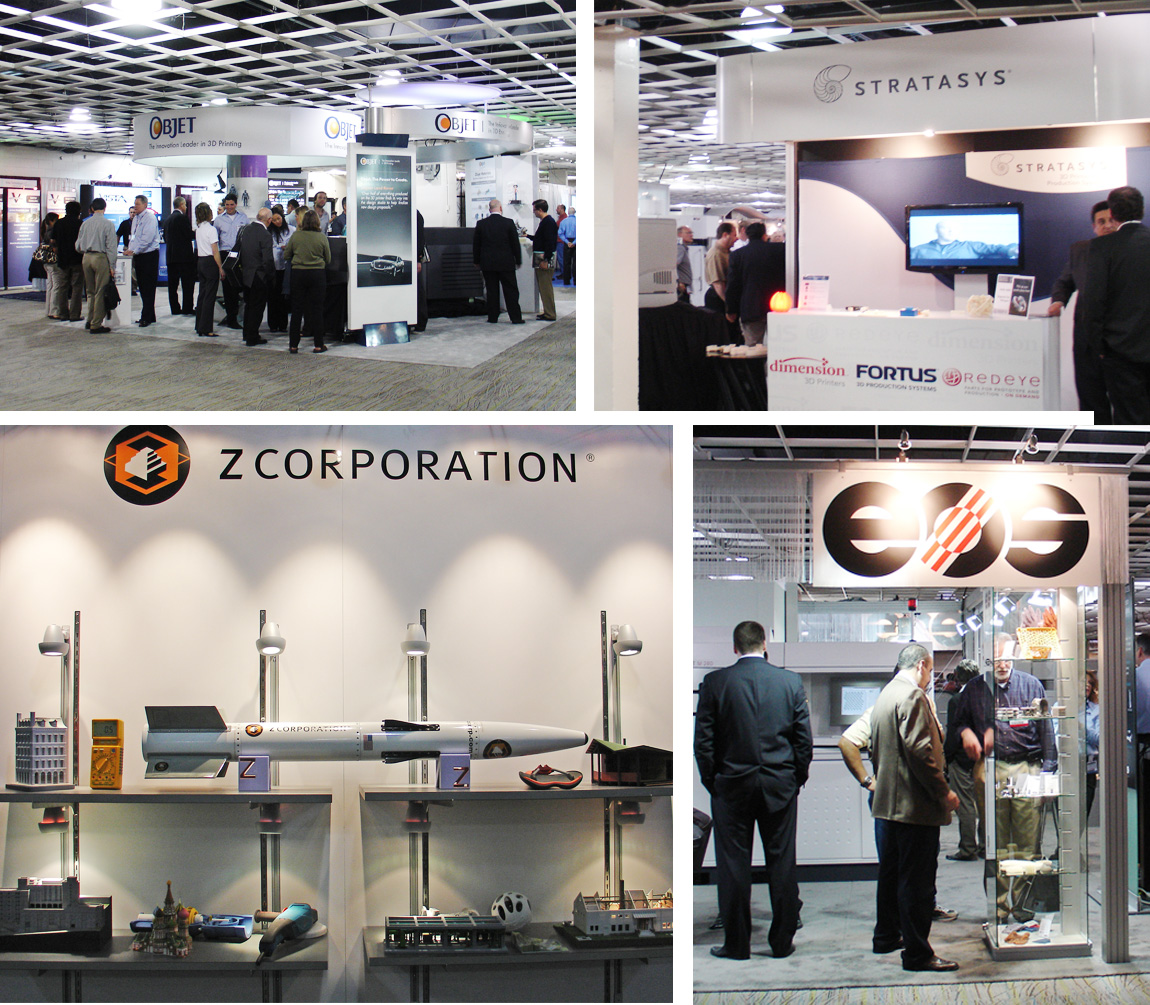 Over 80 exhibitors lined the exhibition hall, anchored by AM (additive manufacturing) industry heavyweights Objet, EOS, Stratasys, and Z Corporation — the latter which Nick Pinkston of CloudFab described as "the most heavily armed booth at Rapid".
RAPID is a manufacturing expo and quite different from the design trade shows I've attended like ICFF. So this event isn't as visual; it's really more about information than objects. And of course getting new business.
But I'm a bit object-oriented so after a quick survey of the floor, my first stop was the netfabb booth so I could squish the 3D printed meshes they had on display. (Yes, that's right. I'll come back to the world's greenest car and the amazing prosthetic noses later; I want to squish mesh cubes.)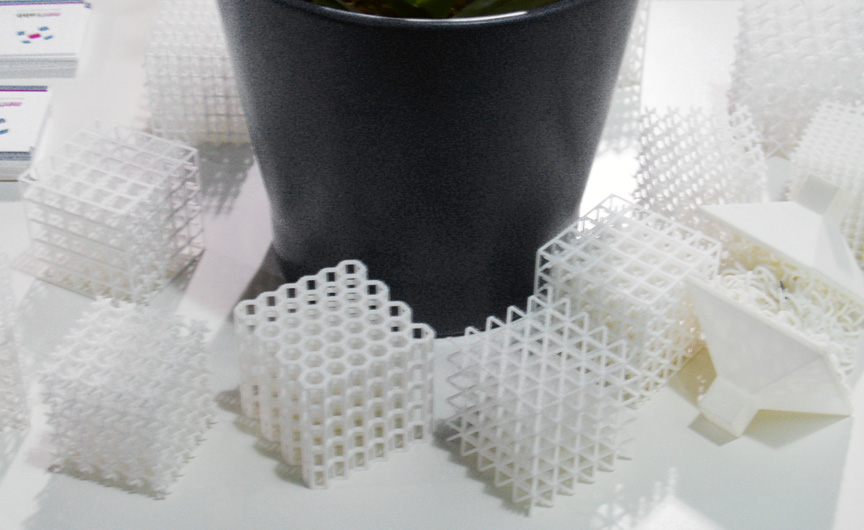 NetFabb is the creator of several software products including 3 nifty resources which are totally free.
One is a cloud-based web service for analyzing, checking, and repairing STL files. Another is an iPhone app for viewing and managing STL files. And the third is called Studio Basic, a 3D printing software for mesh edit, repair, and analysis.
Most exhibitors at RAPID offered 3D printing services to businesses. I noticed that the phrase "3D printing" is much more of a popular consumer term.
The industry mostly refers to 3D printing as "rapid prototyping" if the printing is seen as just a step in product development or "DDM" (direct digital manufacturing) if the printed object is to be the final product.
Below is a photo of the SolidConcepts booth, one of the many "rapid prototyping" services at the expo.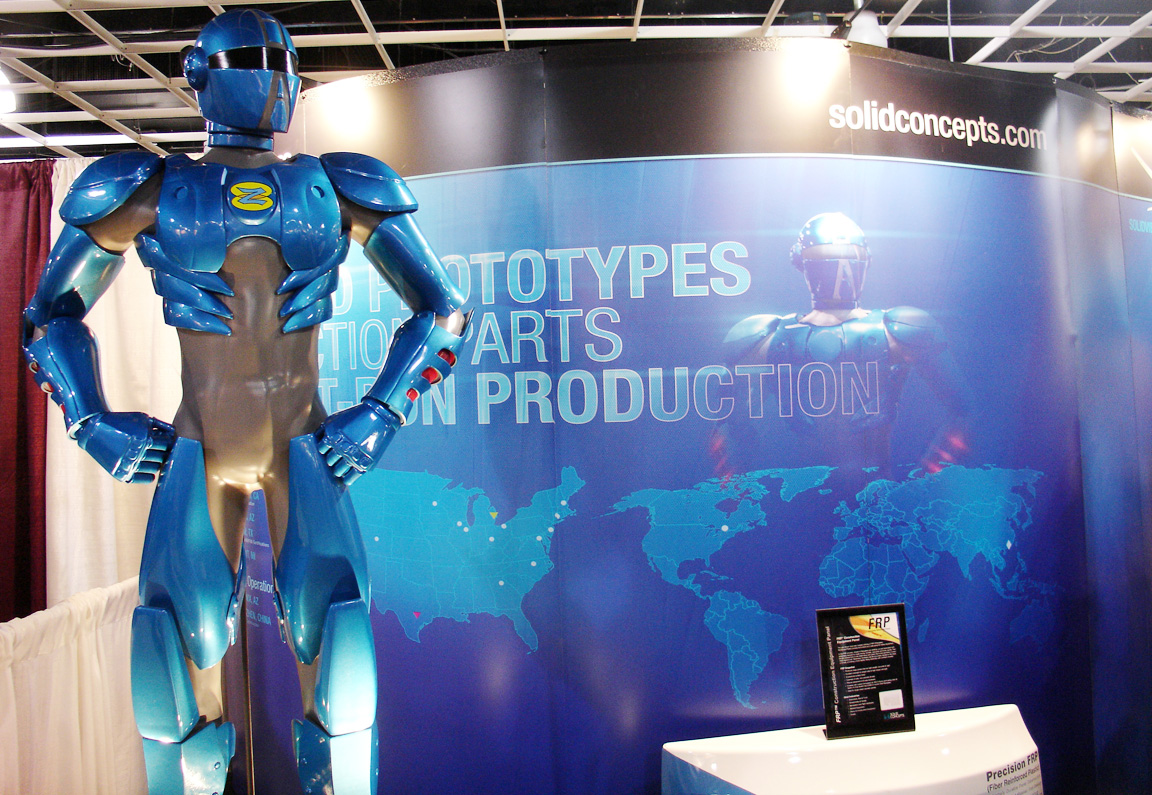 Although all the exhibitors were involved with additive manufacture in some way, there were still lots of traditional manufacturing processes on display.
Wisconsin based Schmit Prototypes offers rapid prototyping, CNC machining, urethane casting, injection molding, painting & finishing as well as in-house design and engineering. You can see some of the results of these processes pictured below.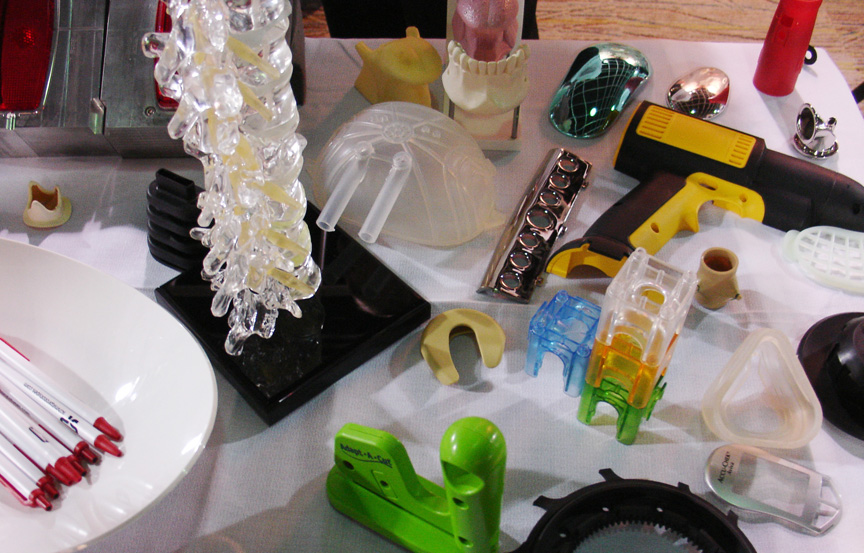 Minneapolis is home to several medical device and technology companies and the renowned Mayo Clinic is nearby, so there were lots of medical related applications on show.
Below left are the 3D printed bones of a foot and a hand. (I cannot remember the exhibitor; so if anyone knows, please tell me and I will update!) Below right is a prosthetic nose created with the help of some new 3D software and haptic devices created by Sensable.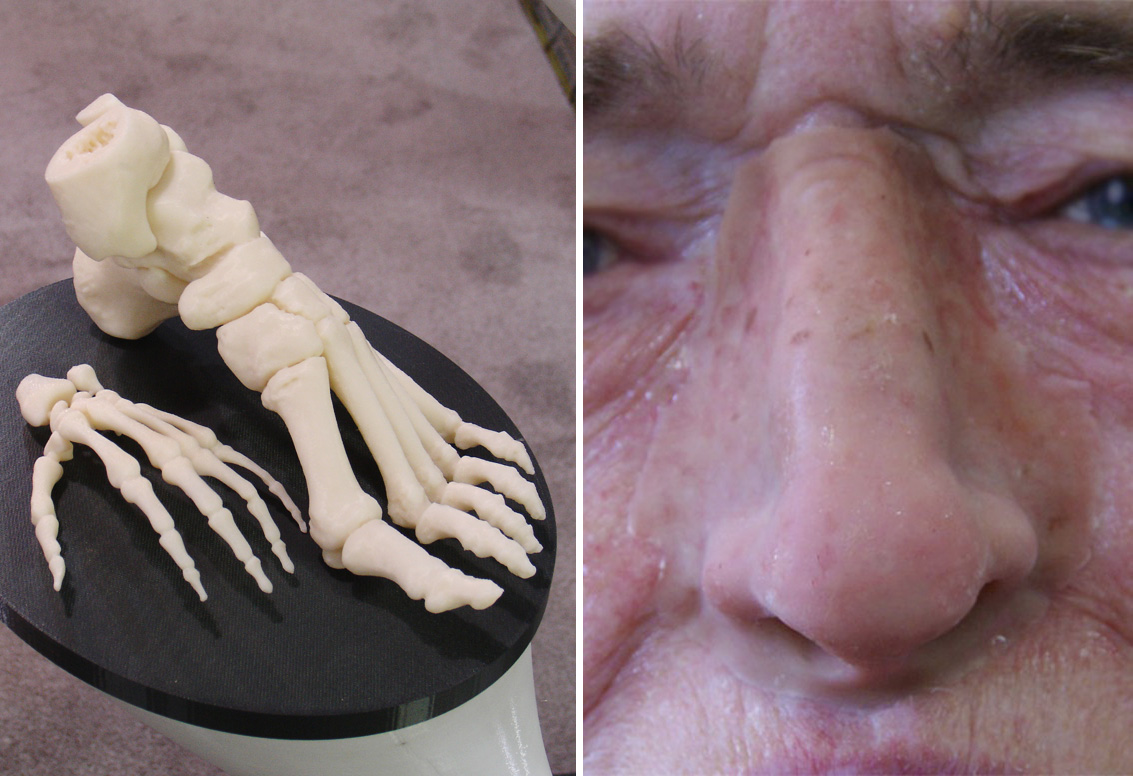 For more info on the nose, check out SolidSmack's recent article, The Prosthetic Nose Traditional CAD Just Can't Blow.
RAPID will continue through tomorrow afternoon. You can follow the event virtually on twitter with hashtag #RAPID2011.