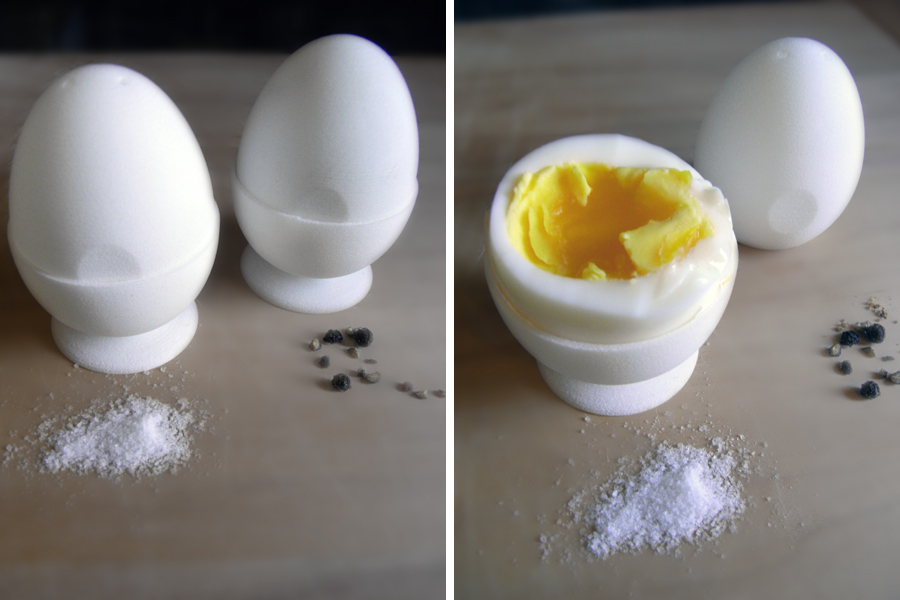 3D printed breakfast utensils with a dual purpose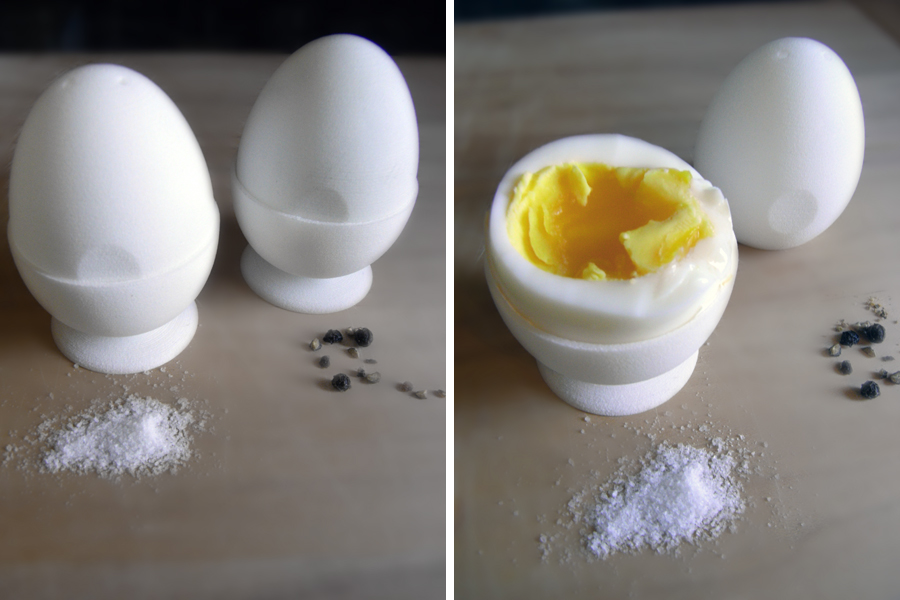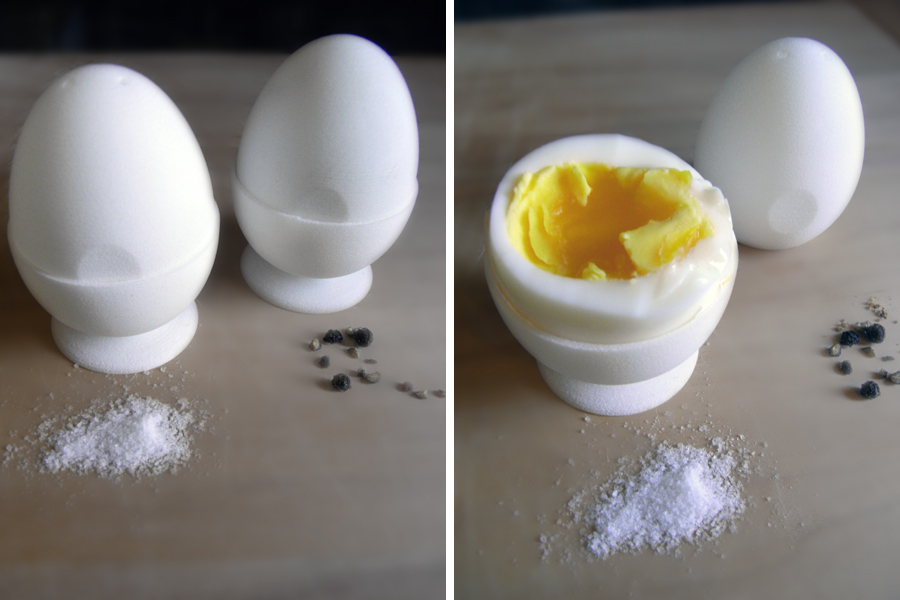 A good design idea must be fuelled by a healthy breakfast, and Karolina Walichiewicz's Three Good Eggs salt shaker and pepper grinder set is a combination of both.
""The set consists of a matching salt shaker and pepper grinder, both shaped like eggs resting in small cups. The pepper grinder snaps apart for filling with peppercorns and the ground pepper falls out the bottom, while the salt shaker is plugged with a white rubber stopper recessed into the bottom surface. The salt shaker itself can be removed from its stand that also doubles as a utensil for holding a hardboiled egg—completing the third "good egg".
This kitchen set is simple and minimal in its design, with only the sprinkling holes overtly distinguishing the salt from the pepper. The oval geometry of the eggs is slightly flattened on each side to provide a subtly integrated gripping surface. The color, light weight, and slight texture of the 3d printed surface enhances the egg-like look and feel of the pieces."
The Californian's design experience predominantly comes from a background in architecture and model making, as opposed to product design.  Her interest in all sorts of manual and digital materials and processes has enriched her various craft projects.  Karolina has experimented with woodworking, casting, sewing, welding, vacuum form, lamination, wire bending, origami, laser cutting, 3d printing, and others, giving her an insight into a wide range of fabrication methods.  She was first introduced to the world of digital making at the University of Michigan, where she was a grad student of architecture.  Karolina's course allowed her access to the digital fabrication lab that had a 3D starch printer, which inspired her to further explore digital fabrication.
Eventually she came across Ponoko via the Evil Mad Scientist Laboratories technology blog and decided to enter Ponoko's spring design contest.
Read about Karolina's design process after the jump:
How would you describe your creative process? I am a very hands on person, which i think translates even in digital modeling. By working directly with your hands you learn to have an awareness of how parts go together into a whole, as well as a strong ability to think spatially and to understand the geometry of 3d forms. I did start with a few concept sketches, but I would say, because i wanted my product to be shaped like an egg, the real first step was just to take an actual egg, draw it, and measure it. I used those specific dimensions to make the 3d digital model [in Rhino].
What material/s do you use/ have you used/are interested in using and why? I love all range of materials, whether its concrete, plaster, metal, wood, or paper. They each have their own interesting expressive qualities due to their innate physical properties.  Now with ponoko i have an added repertoire in plastic, which has its own unique weight, look and feel.  The fact that the layering of the printed plastic creates a slight texture and that the durability of plastic allows you to make a thin lightweight shell really contributed to the delicate egg-like feel of my pieces, which is something I was really pleased with.

Have you been surprised by anything in the Ponoko process? I really appreciate the web design of their site.  It is very intuitive and easy to navigate. I like how all steps of the process are broken down for you.  The best feature was keeping track of the progress as my product was being made!