The world's easiest making system just got a whole bunch easier.



Announcing the all-new Personal Factory App Gateway, a directory of 'making apps' for creative consumers to design, customize and make individualized goods.
And it's where app developers can create and distribute their 'making apps' without the need to invest in the required digital, manufacturing and distribution infrastructure.
The App Gateway is perfect for non-designers
This is where you find, customize, and make your custom goods — clothing, home ware, lighting, jewelry, furniture, toys, electronics, car parts, and much more.
You do not need 2D or 3D software design skills.
You just search the directory for the product you want to customize, choose it's size, color and materials, then click 'Make it'.
All apps are quality assured, so you know you'll get a quality experience.
The App Gateway is also for designers
If you prefer to work with 2D and 3D design software, this is where you'll find market leading product design apps you can use to make things.
You can use these apps to create customizable product designs for non-designers to start from.
Awesome apps coming soon!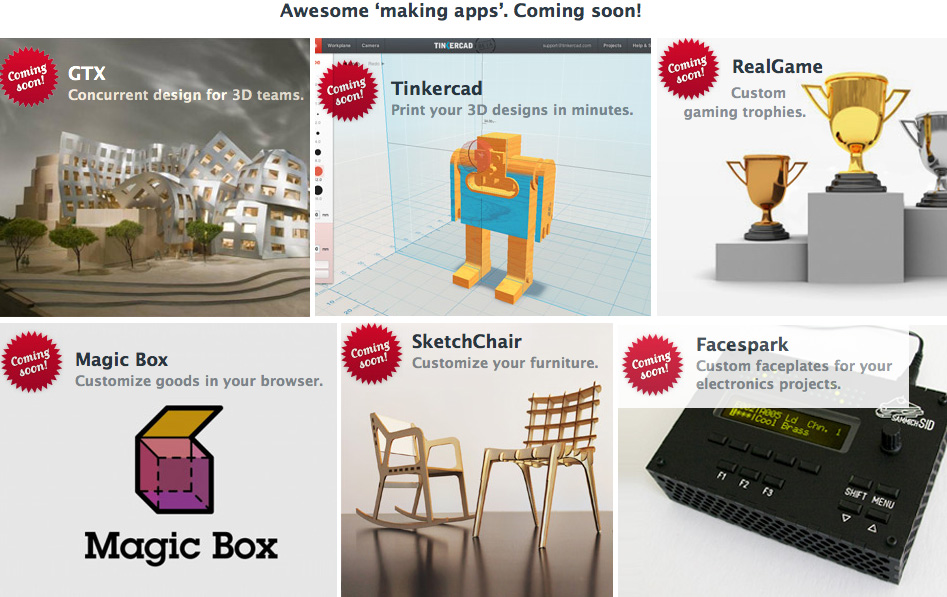 The App Gateway directory of apps is not fully open for business just yet. (But the Personal Factory API to create 'making apps' is).
So at the moment, we've put together a small sample of 'making apps' that are mostly coming soon.
For non-designers, there are apps like SketchChair, Fabripod, Housifier and Magic Box to customize a designer's products.
For designers, there are apps like Autodesk 123D, GTX, TinkerCAD and Magic Box to create customizable product templates for buyers.
And for games developers there's apps like RealGame, and Facespark is perfect for your electronics projects.
These 'making apps' enable anyone to customize products for 3D printing, CNC routing, and laser cutting to be made on demand and delivered to your door.
Creators of 'making apps' — this is your time

The App Gateway is currently open for submissions of 'making apps'.
Autodesk 123D is the first app to go live using the Personal Factory platform. And more are coming soon.
To submit your apps for distribution on the App Gateway, join the Personal Factory Developer Program, get your Personal Factory API key, and get creating a great app!
The Personal Factory Developer Program gives developers of product design and customization tools access to the world's most advanced platform for the mass customization of goods, eliminating the need for you to set up your own digital, manufacturing and distribution infrastructure.
What apps do people want?
Makers and creative consumers are voicing their ideas about the kinds of 'making apps' they would like to use by submitting their suggestions to our 'making app' ideas forum. Feel free to add your own and vote for your favorites.
Time to get cracking
The Personal Factory API is live for you to create, test and run your apps.
The App Gateway is ready to distribute your apps and will launch soon.
Now it's up to you to create and submit your apps to us to be a part of the biggest launch event ever for making apps.