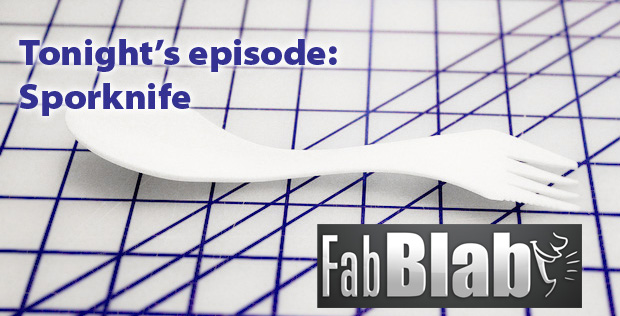 LIVE premier tonight at 7pm Eastern Time!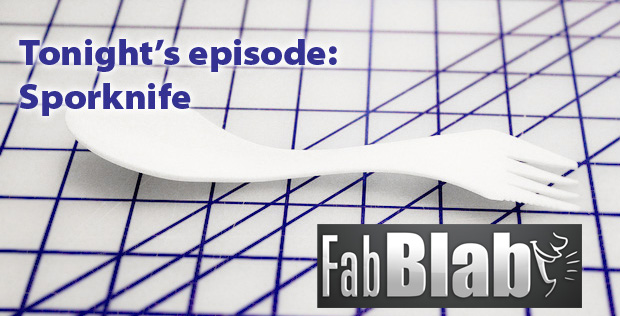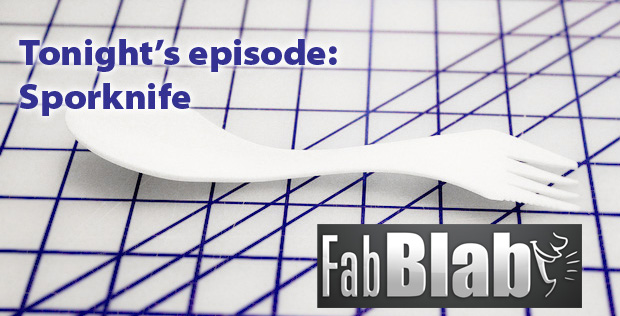 Hey guys, we are pleased to announce a new weekly feature called Fab Blab.
We have partnered with Ponoko to show off what kinds of cool stuff you can make with Personal Factory.
Every Thursday evening, we'll have a new project to show off. The design files for each project will be available for download in the FabBlab showroom, so you can make whatever we're making too.
Our first episode of Fab Blab is TONIGHT at 7pm Eastern Time.
You can watch the show LIVE and chat with us online as we show you how to create a 3D printed Sporknife!
The show will also be uploaded every week to Ponoko's YouTube channel.
Project: Sporknife (click here to download the free design file)
Materials: 3D printed durable plastic
Description: What do you get when you combined a Spoon, Fork and Knife? Jacob and Nick show you with this week's project. This project shows how you can make a pretty complex 3D object into something real and useful!
Wondering who "we" are? We're Jacob Roberts and Nick Jones, the guys from  PBCastTV. We've been doing podcast style shows on the internet for a year and a half, and we're really excited to start FabBlab. You can read more about each of us after the jump.

Jacob Roberts:
A maker from birth, Jacob is always "jerryrigging" everything, whether it is in the studio or in his own workshop. Jacob owns a Makerbot Cupcake CNC, and is experienced in 3D and graphic design. He is going to be the main man on Fab Blab. His passion and experience coupled with his willingness to teach others makes him great for the job.
Nick Jones:
Nick is the co-founder (along with Jacob) of PBCastTV, he enjoys running, SEC football, Linux, photography, and technology. Nick has little to no experience in 3D design, so he is going to be the newbie. We are hoping that Nick will be able to bring some thoughts to the show that Jacob may not think about, maybe bringing the talk down to a level that everyone can understand.