When CNCing gets you down, try 3D printing

Taylor Alexander is no stranger to 3D making.  His job involves running a CNC machine shop, where he can make pretty much anything he wants, provided he has the time and energy to program the equipment and machine the parts – something that can take all night or even multiple nights.  At the end of last year Taylor had a light bulb moment when he realised that this Ponoko platform thingy he kept reading about in Sparkfun! had a US hub which would conveniently service his San Jose location.
With Ponoko 3D printing Taylor can take design shortcuts that aren't a possibility with machined parts.  The time saving is made even greater when the only other task to be done is uploading, ordering and waiting for the part to arrive, so no more depressing "late nights spent getting dirty running the CNC machines".
One of the pleasant surprises Taylor came across when his first order arrived, was the quality of the print.  He'd tried 3D printing in college seven years ago and found the process pretty neat, albeit expensive.  However, time certainly advances technology, and Taylor was amazed by the improvement in the fabrication result.
More from Taylor after the jump:
What have you made/are you making with Ponoko? The big ticket item I ordered from Ponoko was a big housing for a project I'm working on. I'm designing a prototype for a [light based game] startup I'm trying to get started, and I spend enough time on everything else that I didn't want to machine any more parts myself. I also designed some neat finger rings for fun, because they were only $1 apiece, but they were too big. I should have payed a bit more attention to their size.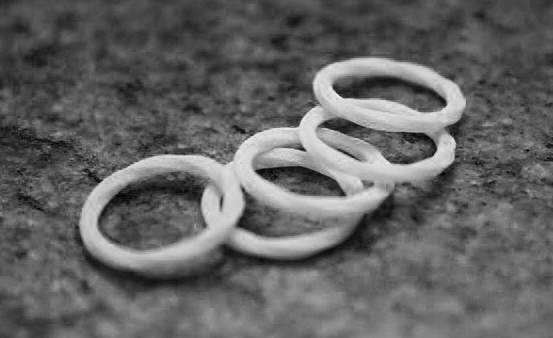 How would you describe your creative process? Oh, I'm not even sure how to describe that! Its haphazard, to say the least. I design when I can. I'm always working on something, but only a small portion of the time is mechanical design. Other times its PCB design or programming. Whatever I'm designing, I usually put on Cosmos in the background and let Carl Sagan's soothing voice guide my creativity. 🙂
What material/s do you use/ have you used/are interested in using and why? I've used the durable plastic. Its durable! I'll probably paint my housing to eliminate the dust. I'd like to try the superfine plastic, but if I remember correctly my part was too big for that. I'm really excited for metal, but its still
pretty pricey. If the volume limit were lower I'd play with making metal jewelry just for fun.