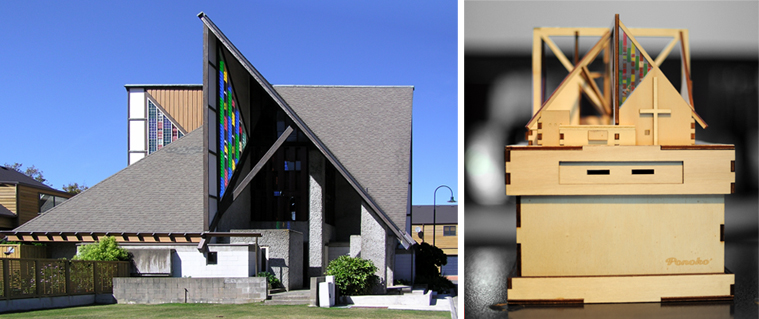 Lasercut scale models of the Futuna chapel commemorate its 50th anniversary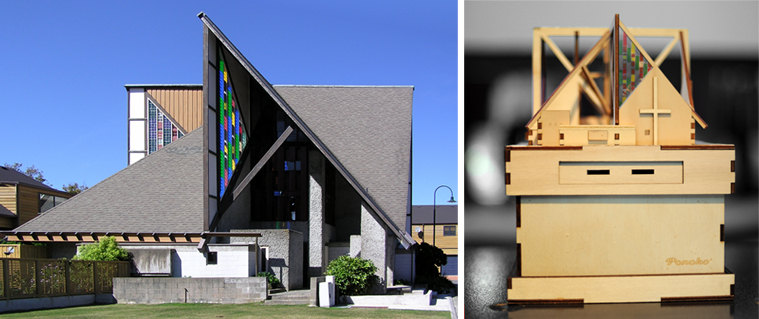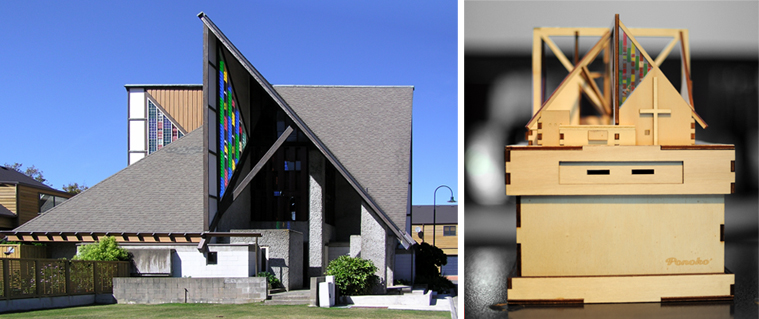 New Zealand has no lack of natural beauty, but when it comes to built environments, there is a distinct deficit of heritage value.  Wellington's Futuna chapel, hidden away in suburbia, has been described by architects as "New Zealand's most significant building of the 20th century."  The dignified sculptural splendour of this structure betrays its underprivileged history.  Futuna was born from unskilled labour, and in its fifty years of existence has been subjected to neglect, theft and disregard by those responsible for its surroundings.
In 2010, Friends of Futuna Charitable Trust approached Ponoko about creating commemorative models of the chapel to celebrate its 50th anniversary, which took place last weekend.  Over several months, the plywood model and its plinth/box were prototyped and continuously refined in Inkscape.  Tony Richardson – the model's designer, specified 4mm Eurolite Poplar which is a low density, fast cutting ply.  The final order was for fifty individually numbered kits to be assembled by the visitors to the chapel during the anniversary celebrations.
Ponoko got invited to attend the event and talk about our Personal Factory4.  We went, we talked, we brought along material samples and a range of projects as examples of 3D objects made from lasercut parts.  The Futuna model was on display, surrounded by the visitors who were trying to figure out how it was constructed.   This wasn't simply a case of curiosity for the sake of curiosity: many were trying to work out their own assembly methods to turn a whole bunch of parts from a flat sheet into a 3D representation.  Most were working in groups of two or three people.  Armed with the instruction manuals, little clamps and tiny bottles of glue, the model makers took over the whole chapel, including outside.  Not even the altars or the pews were spared.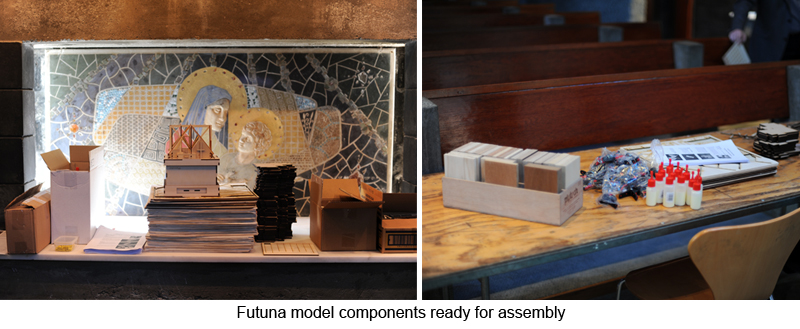 By the time we left, which would have been about an hour into the build, it was obvious that this exercise was going to require a whole lot of patience.  The most progressed mini-replica only had two standing walls, but there was no evidence of anyone giving up.  Ultimately, as the model makers would have been aware, a few hours of playtime is nothing compared to the two toiling years it took to build the original Futuna chapel.