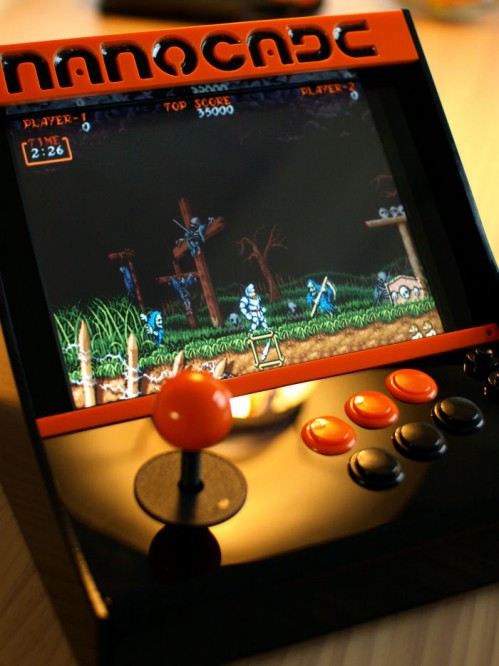 Retro gaming is well and truly a passion for Danish maker Rasmus Sørensen. For some time, he has been building MAME cabinets… and his latest project has been receiving well-deserved acclaim far and wide.
The Nanocade is a "micro bar-top" unit specially designed to house a small computer or netbook with a 10 inch screen. Load up the system with your favourite ROMS, and you'll soon be blazing away in authentic pixellated glory.
Rasmus is a learn-by-doing kind of guy, and he's known for sharing his process with the retro gaming scene. Not only is the Nanocade available to purchase from the Ponoko Showroom, today we also feature a special interview to discover some of the mysteries behind this micro marvel.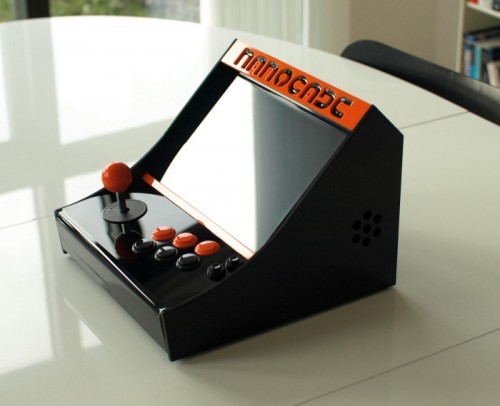 How would you describe your creative process?
My creative process starts with pure pratical considerations, like size and ergonomics.
The ergonomics is my main concern. It just has to feel perfect between your hands. This part is done in Autocad. When I got that part nailed down I start to shape the product with pencil and paper. My goal is to make it both modern and retro. I think this is more or less my "brand".
Have you been surprised by anything in the Ponoko process: positives/negatives?
I was surprised that it was so easy to start selling (time consuming, but easy). But then again I was also surprised that the process of selling couldn't be more automatic at the back-end. I know you're looking into that part in the next revision…
How was the process different from earlier projects such as the Weecade… Did you learn anything new about laser cutting when working on the Nanocade?
I learned much about laser cutting and much about thinking three dimensional, when making two dimensional laser cut items. It's really hard when you have no experience in industrial design at all.  Now I am totally hooked on designing new projects and can't seem to focus on my studies… That's actually a bad thing… But I'm having so much fun with it.
How would you change this design the next time around… is there going to be a Version 2; or a SuperNanocade…

There is going to be much more of this type. Actually I just ordered a prototype for a new Arcade Stick Kit I am going to sell as well. It's totally sleek. More products are also on their way.
I just became a dad 10 days ago and I also study, so that takes up too much time. I really would like to be a full time designer some day.
Your goal was to build a unit that is lap-friendly. Now that you have the project completed, how is the actual gameplay? Does this format work well at the reduced size?
Of all the arcade cabinets I have made, this is by far the nicest one to use. I don't know why, it just has that authentic arcade feel. Everyone who's tried it agrees that it just plays so well.
Do you have any tips for other Ponoko users?

I'm a total newbie when it comes to designing a product meant to be manufactured and sold, so maybe they can give me some advice, I hope!
I really am clueless.
Well, we think that although Rasmus may be new to laser cutting he's certainly off to a great start. Thanks for these insights and also many congratulations on becoming a new father!
If all this wasn't enough; he has posted a
full worklog
where you'll also learn about this awesome custom front-end that really completes the gaming experience: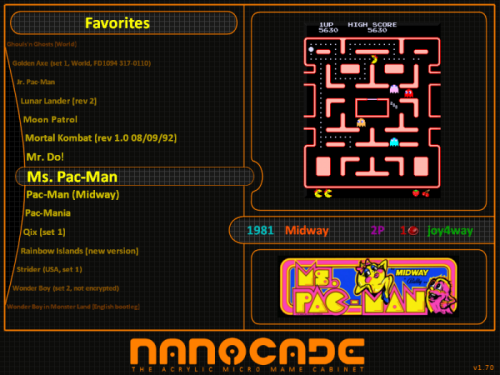 For those with an old netbook collecting dust in the corner somewhere, here is your chance to revive that neglected technology.