Flat sheets transformed into beautiful 3D forms


Gilbert Riedelbauch is the Design Arts coordinator and Head of Foundation Studies at the Australian National University School of Art, so as you'd imagine he knows a thing or two about digital fabrication technologies.  In fact, Gilbert has been using digital technologies since the mid 90's together with his craft/design practice.  His current focus is on creating light objects that feature various materials and use a range of fabrication processes, such as rapid prototyping and laser cutting.


Gilbert found out about Ponoko from a colleague and has been fabricating his designs using the Ponoko system since 2009.  Having worked in 3D as a silversmith and as a designer, he was very interested in creating 3D forms out of flat lasercut sheets or flexible material.
More about Gilbert's process…

How would you describe your creative process? From the idea to do sketches – both manual and digital – then build a mock up or scale model and if necessary a CAD simulation. The initial design, assessed on the first fabricated prototype, is usually improved further by one or two alerted fabrications.


What materials do you work with? I used some wood, acrylics, polypropylene, felt, aluminium and brass. Whatever the most suited material is for a particular element of the design I will use. The 'Obrut' light for example uses three different materials, all cut and engraved through Ponoko.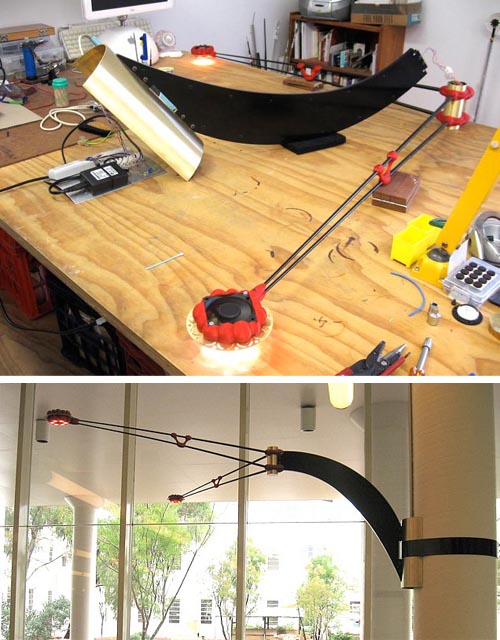 Have you been surprised by anything in the Ponoko process? Extreme ease of use of the well supported process that Ponoko has created. As result I have now included a Ponoko based design project in my teaching of our Design Arts students.
Many materials available in small quantities or on demand.
Cutting and engraving combined
Do you have any tips for other users? Be open to experiment and think of more then just one design using one material only.
http://virtualterritory.wordpress.com/category/technology/
http://www.flickr.com/photos/virtualterritory/