Meet designer and stockist of jewelry – Corky Saint Clair



Most Ponoko makers we talk to found out about the service via some blog or an online article, or in a few instances, word of mouth from other makers. But not Chris Bril. The owner of Melbourne's Corky Saint Clair subway shop spotted a wooden brooch on someone, was told that it was made with Ponoko, and decided to join. The timing was pretty fortunate, as Chris' friendly local laser cutting business that he'd been using, no longer stocked the necessary range of materials.
In the three years of making with Ponoko, Corky Saint Clair have produced their own shop signage and released a variety of acrylic and wood brooches and necklaces. In addition (it's a small world after all), Corky Saint Clair features works by other designers that make with Ponoko. Melanie Gray Augustin and Louis Italiano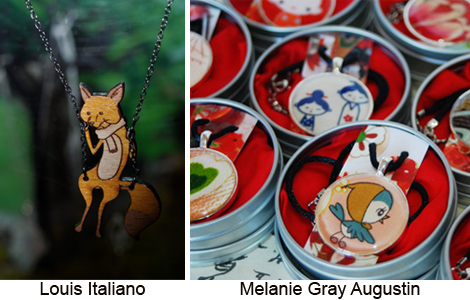 How would you describe your creative process? We usually design a collection to meet a certain price point, out of a certain material. For example last christmas we made a range of characters that we laser cut out of coloured acrylic that could retail for under $15. That doesn't sound very creative but I have run my business for over ten years and have a library of images that we apply to different mediums.

What materials do you work with? We use 3mm acrylics and 5mm colour rimu. I have tried most of the wood possiblities and the colour rimu has the best 'wood' look. We tried bamboo but that it was too uneven for engraving.
General Ponoko experience? I have been surprised at the amount of customer service I have received – emails being answered quickly and tips being given. I read the Ponoko blog regularly – it's interesting to see what other people are doing with laser cutting.
I always recommend Ponoko when people are thinking of trying out laser cutting as it's an easy way getting into the medium as all the materials and cutting/engraving options are clearly spelled out for you. The Ponoko cutting guide is a fantastic resource.
http://www.supermarkethq.com/designer/60/products
www.corkysaintclair.com
www.corkysaintclair.blogspot.com