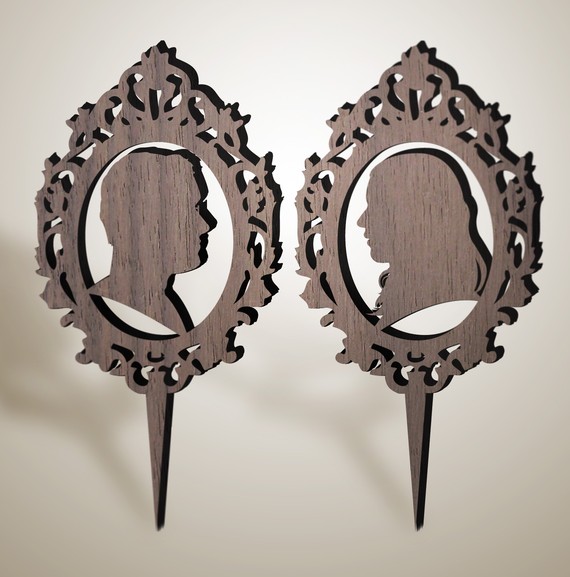 Making "I Do's" more memorable with decorations from Blimpcat Studio.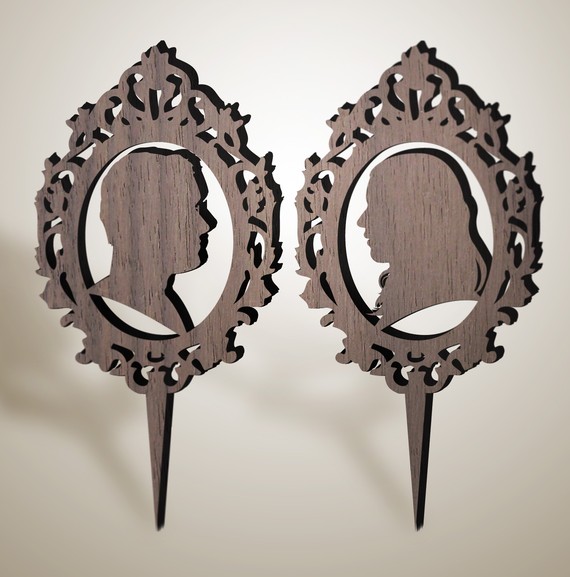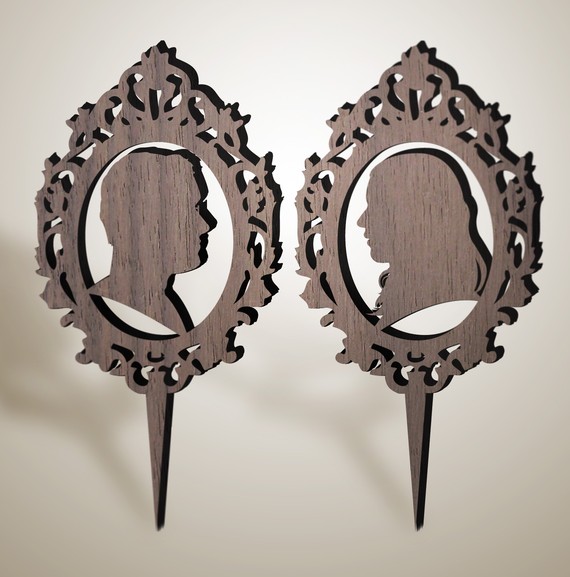 Textile arstist and graphic designer Kate Moore of Blimpcat Studio used to sketch, digitize and then screenprint and sew her designs before Ponoko appeared on her radar. Kate's interest in woodworking was a challenge to realise without the tools and the know-how, especially considering all the experience required to create something with her preferred sinuous Art Nouveau aesthetic.
Several years ago, while in her dentist's waiting room, Kate stumbled on a magazine article that mentioned Ponoko, which was then a brand new company. As inspirational as the article was, anaesthesia got the upper hand, and Kate forgot the name of the business. Luckily, the pull or creating beautiful things was hard to shake off, and several months of Googling every imaginable combination of P's, O's, and K's finally yielded success.
Kate's Ponoko journey under the cut…
When did you start making with Ponoko and what type of products do you make? After graduating art school in 2009, I could not for the life of me find a job, with the economy being hit so hard. I decided to support myself by making. I started with a small group of products I could hand-make: purses, scarves, and shopping bags. However, by luck, there was a promotion on Prime subscriptions that month. I decided now was the time to give Ponoko a try, so I signed up for a Prime account, designed an Alphonse Mucha-inspired bamboo wine rack, and took it to the weekly art fair with me. I only sold two; I had priced it high and I didn't yet have the structural skills I have now, but it gathered a lot of interest, and I was absolutely hooked on the thrill of submitting a computer file full of blue lines and then receiving an honest-to-goodness product in the mail.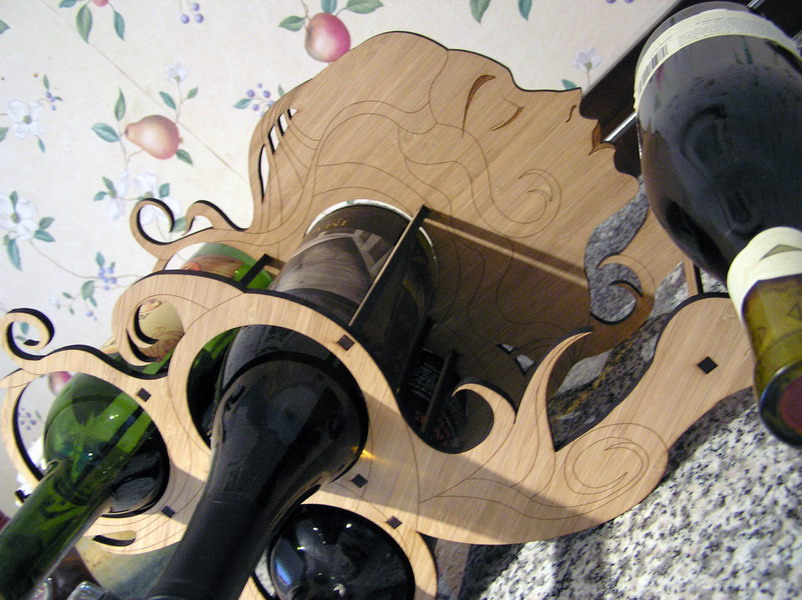 Nowadays, I design a lot of wedding stationery through my Etsy shop, and making other wedding products with Ponoko seemed like a natural fit. Cake toppers in particular were pretty lacking (I can't stand those bride-dragging-groom figurines and that seemed to be all I could find) so I began designing those. They were flat, elegant, wood or acrylic monograms, and they went absolutely crazy on Etsy. I also had the opportunity to use Ponoko to create many items for my own wedding earlier this year (monograms in various sizes, my table numbers, etc.) and my friends and family were absolutely astounded at the kinds of things it's possible to do!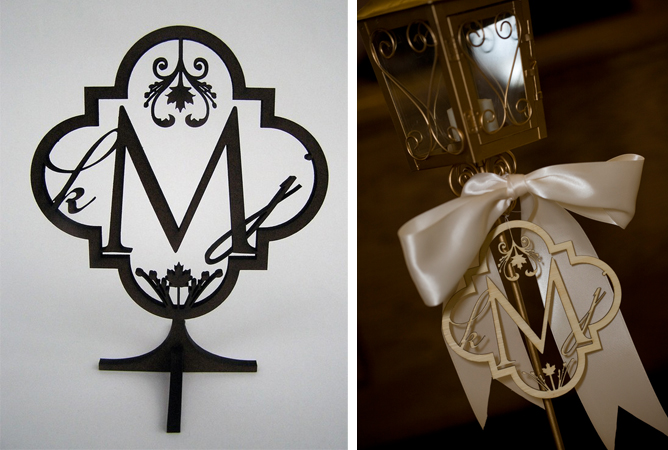 Describe your creative process. Usually, I am inspired by something unrelated to the product–like music, or a movie or something I see out in the world. I'll form an idea in my head and begin to obsess over it, tweaking and solving problems in my head on my drive to and from work each day (my most productive time!). Eventually it will swell to the point that I can't keep it in my head any longer, and that's when I hit the computer. In the past, this would have been the point when I would then take my Illustrator ideas and begin rendering them in fabric in real life…today, usually I just have to outline everything in blue and send it off to Ponoko!
What materials do you work with? I definitely use the wood veneers the most, particularly walnut, since sort of rustic/natural weddings are in right now. I love to use bamboo because it's so versatile and environmentally friendly, and I think acrylic is beautiful when somebody wants something a little different. I am absolutely dying to use felt, especially with all the new colors, and I've come up with a series of tableware. I'd also love to try the 3D side of things, particularly for some home items like lamps, but first I have to learn to 3D model!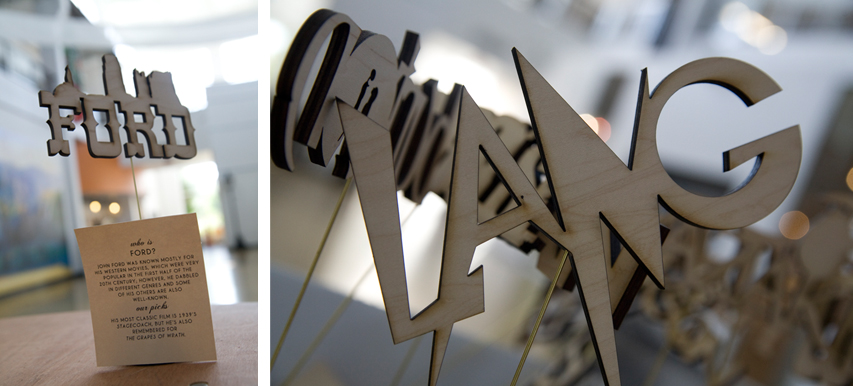 How would you describe your experience with Ponoko? I continue to be amazed at the level of individual attention each project receives. I have no idea how many products Ponoko makes a month, but every time I have submitted a file and had questions or concerns, someone was right there to talk to me. The only thing that could possibly work better for me is that I work with brides every day; they are not the most patient people in the world, understandably, since they're always on a deadline and the cake topper is often the last thing to be ordered. I wish there was an [automatic] option to expedite a product, obviously for an additional fee, but I can't complain because the Ponoko team has always been more than willing to work with me and expedite shipping, etc.
Do you have any tips for other users?
Get a Prime account–it's absolutely worth it and you'll make up the cost of the subscription if you do only one or two jobs a month. Plus, the lowered cost of making will free you up to make prototypes even if you aren't 100% sure they will work. Also, if you have concerns about a file you submitted, ask! The Ponoko team is incredibly friendly and helpful, and you'll feel much better about your final piece.

http://blimpcat.etsy.com