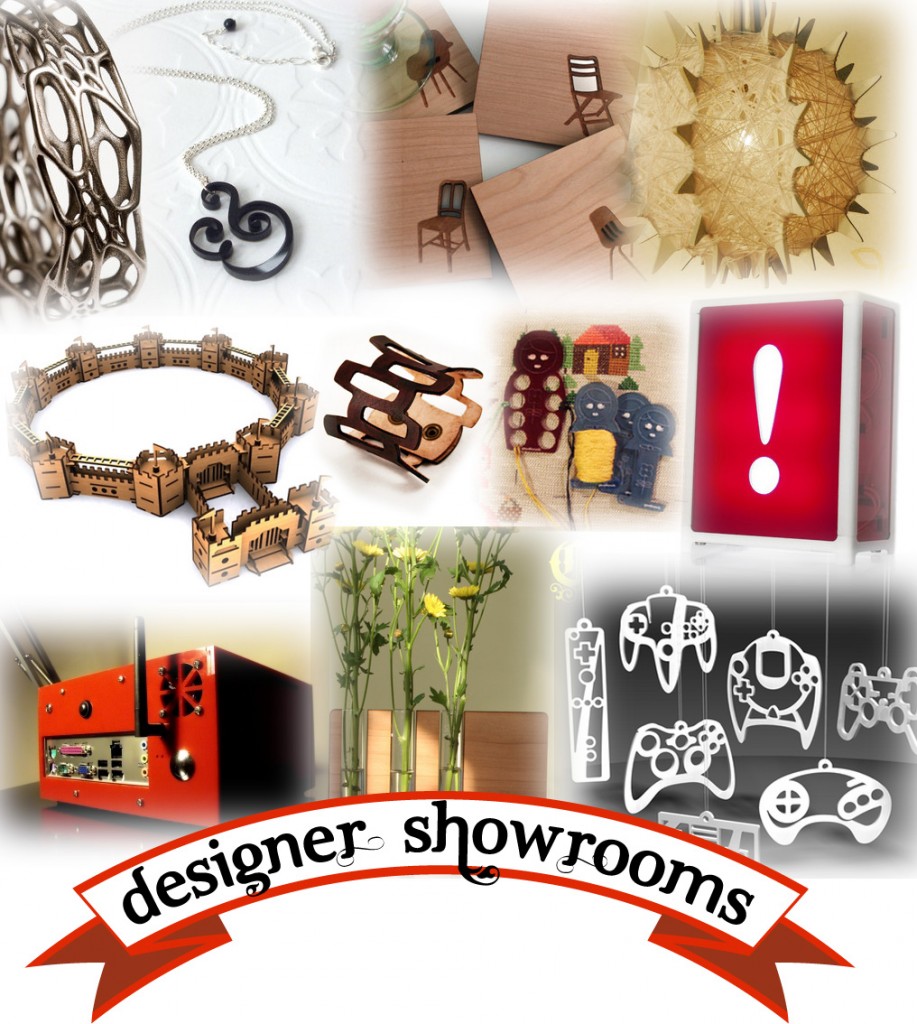 Ponoko Showroom Extraordinaires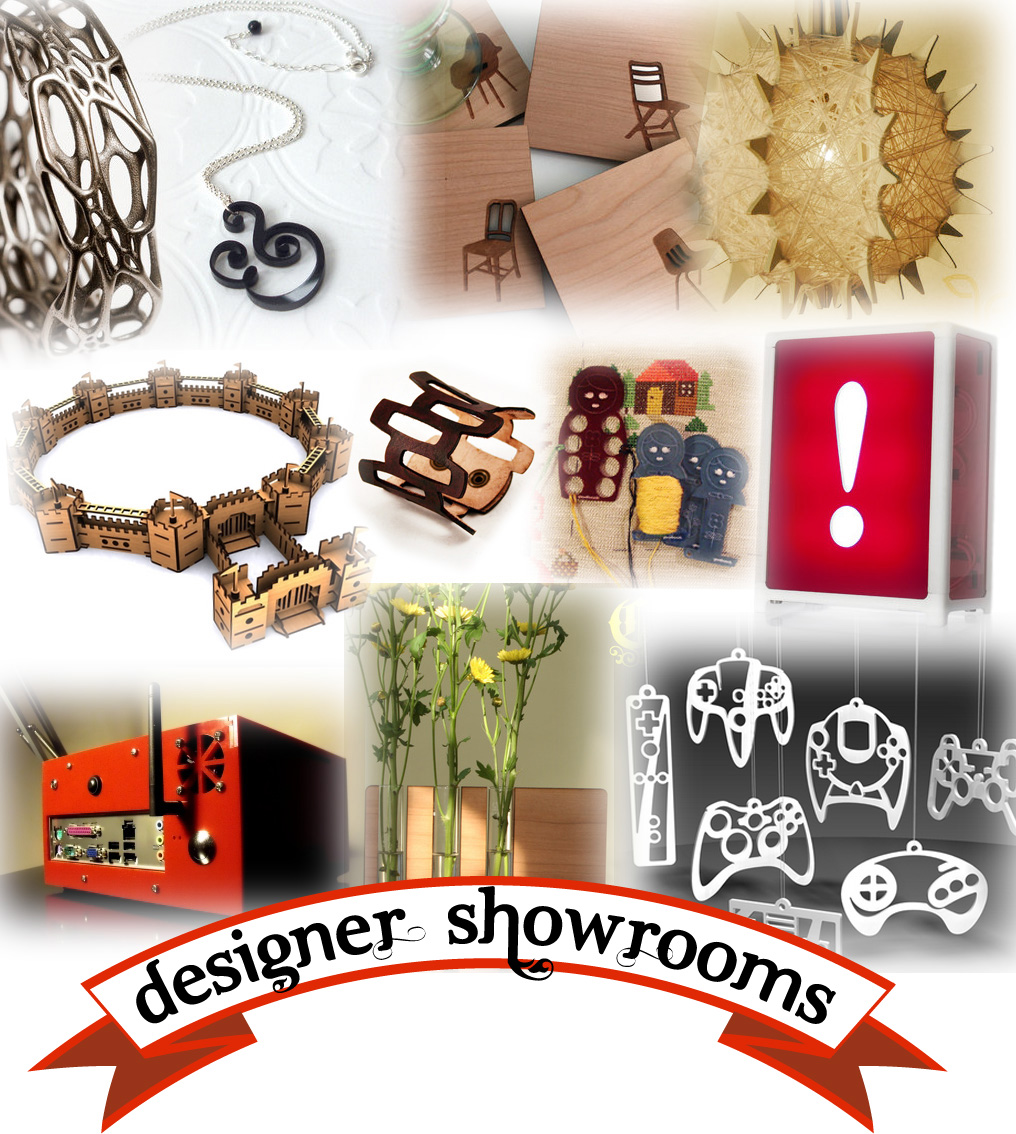 It's the time of year for Top Tens!
The Ponoko blog team will be rolling out Best of the Blog posts throughout January, but I wanted to start our Top Tens off highlighting the most important thing at Ponoko — our awesome customers.
This is a Top Ten of Ponoko product designer heavy-weights and showroom extraordinaires — boys and girls who are rocking indie & digifab design. Without further ado and in ABC order…
Mr. Francis makes personal and home accessories that are both sophisticated and a little edgy.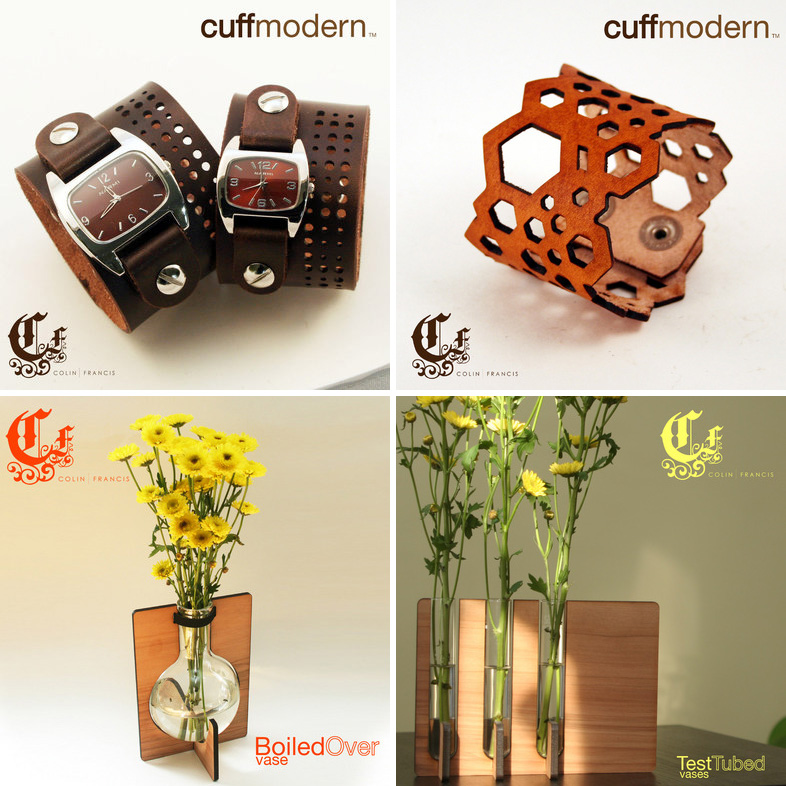 The cuff watch is the showpiece in his cuffmodern line of lasercut leather jewelry, and his flower vases are possibly the chicest flatpacks I've ever seen.
Throw in a gorgeous logo and some fantastic product photography, and you can see why Colin Francis makes the list.
—
Digits designer Dave Rollins mixes up the concepts of digital and analog in his focused collection of Uncrate worthy designs.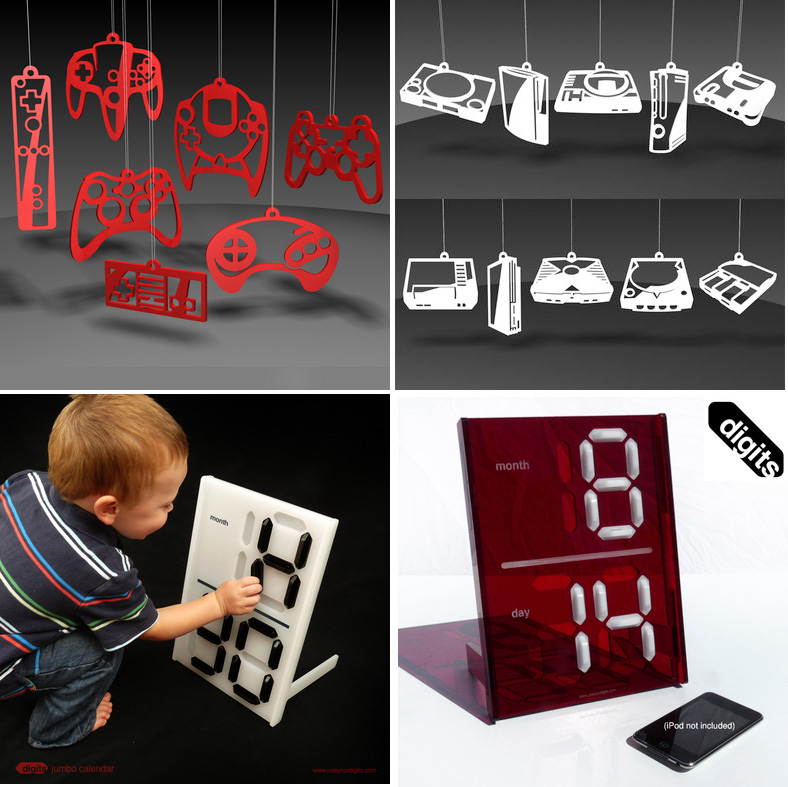 His controller and console ornaments were holiday smash hits. And in addition to gaming hardware decor, Rollins also has a line of calendars and clocks that, while digital in appearance, require a little DIY.
—
Girl on the Rocks makes supplies for knitters, stitchers, and anyone who loves a beautiful skein.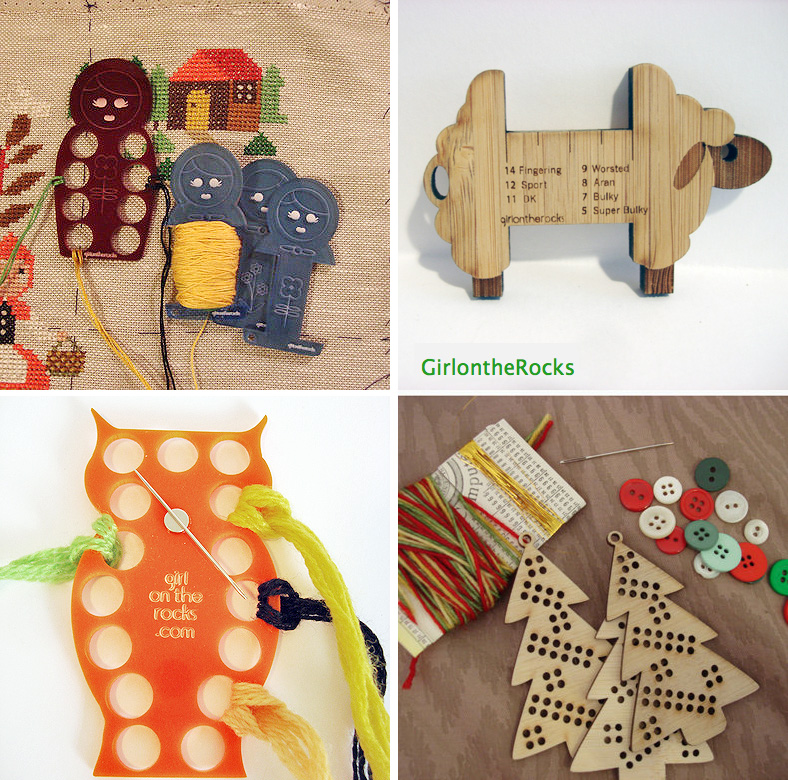 From tools for measuring your wraps per inch or needle gauge to adorable cross-stich kits and floss bobbins, the Girl on the Rocks showroom is a fibers delight.
—
Isette shows off just how pretty proper can be with her penchant for typography and ladylike jewelry.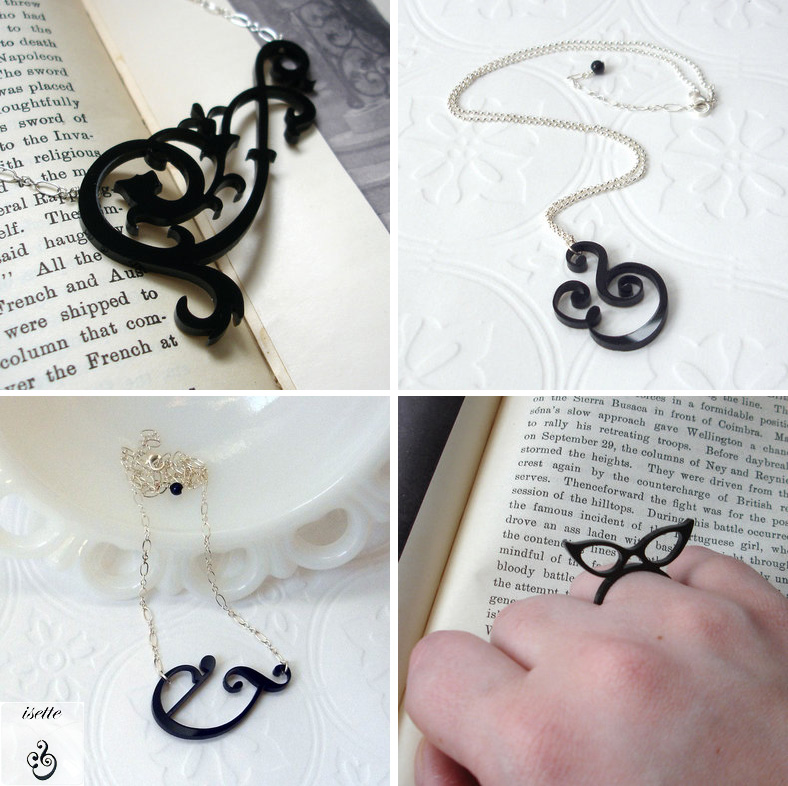 Designs range from Victorian swirls to elegant ampersands and ets keeping with a strict, typewriter-ink-black acrylic.
A little silver hardware to finish off the designs, some milky white glass and a slightly yellowed book for photo-props, and you've got the Isette style — respectable and whimsical all at once.
—
Made by Dan is the showroom of Ponoko's own industrial designer Dan Emery. In times between lording over the lasercutter, Dan has uploaded over 25 designs — most of them available for free.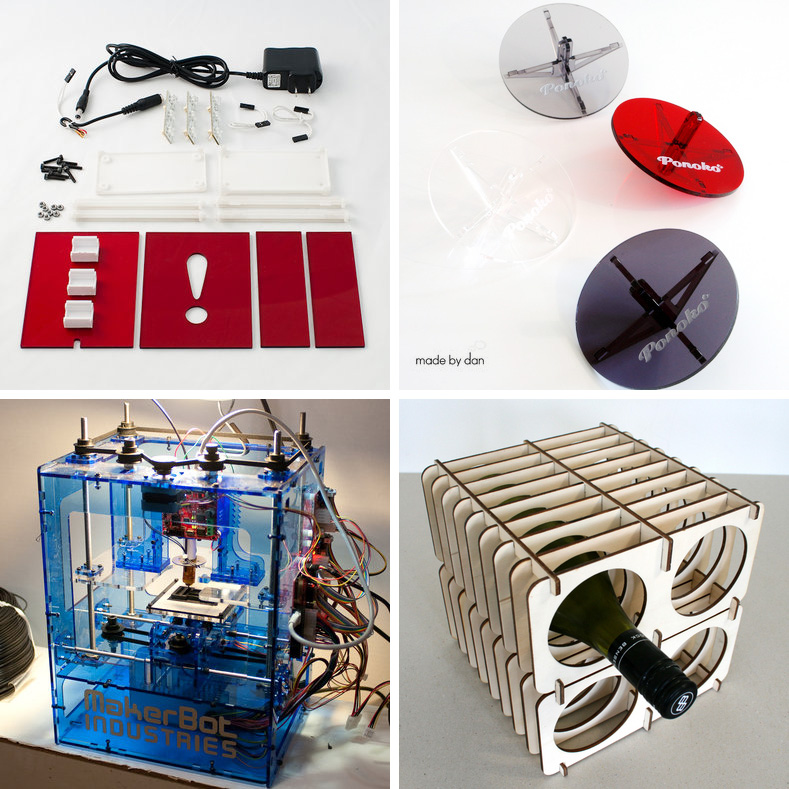 Dan's the man behind the 3D-printing-meets-lasercutting-plus-electronics Exclamation creation, the clear blue acrylic MakerBot CupCake, the show-and-tell wine rack, and a wonderful little spinning top.
—
Nervous may cause you some stress. You may find yourself with a major product design business inferiority complex when it comes to their wildly successful line of digitally fabricated, sci-art-tech-nature bling.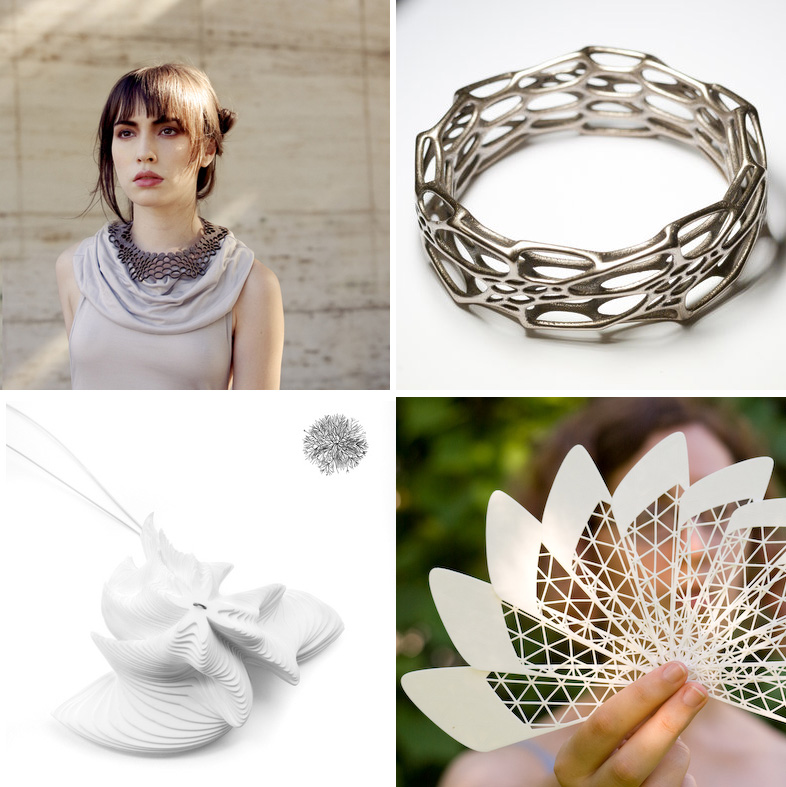 But just remember that Nervous design duo Jesse Louis-Rosenberg and Jessica Rosenkrantz went to MIT, and that their incredible cellular jewelry and housewares are probably a decoy-slash-funding project distracting everyone from their experiments to digitally fabricate a brain superior to yours, mine, and even theirs.
So really, a little business envy is the last thing you should be worried about.
—
The Niridia Laboratory makes the Austere Hexahedron line of cases and complete computer systems.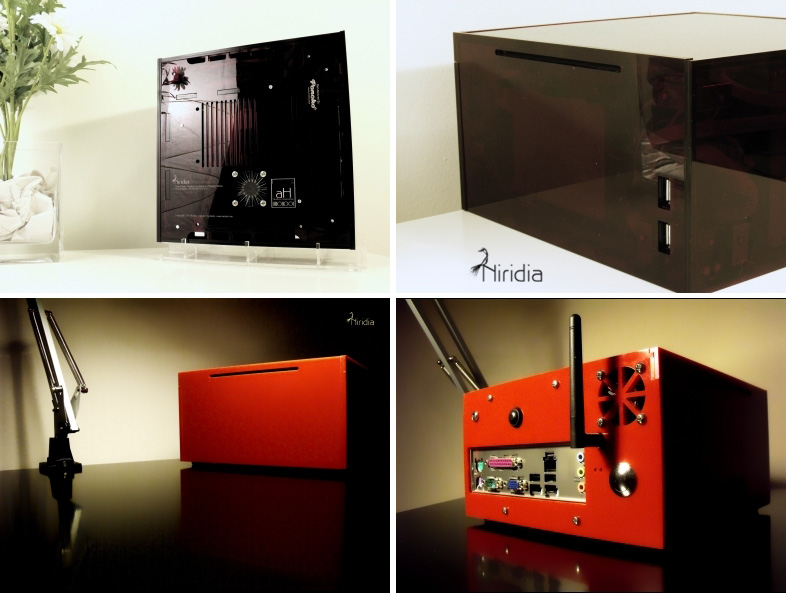 They've got over 30 products and product packages of custom built computers with sleek designs so minimal they make Apples look Rococo.
And anyone with the hexahedrons to take on the computer industry gets to be in our Top Ten list of Ponoko designer showrooms.
—
Pepper Sprouts turns typical household imagery into "Why didn't I think of that?" home goods.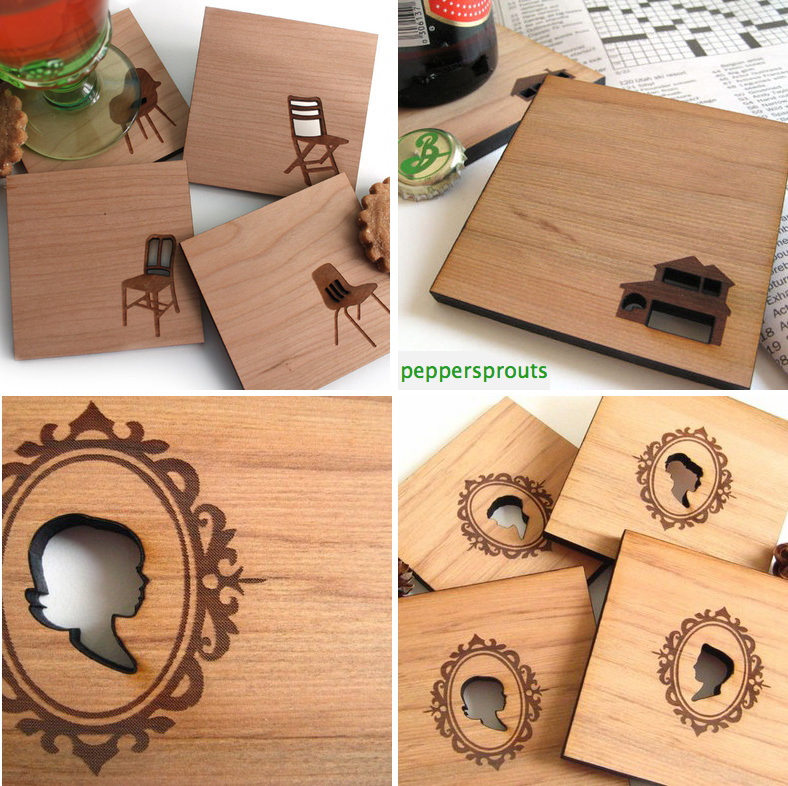 You'll want to protect your Ikea furniture just to use her wooden, lasercut and engraved coasters featuring classic chairs, houses, and silhouettes.
Pepper Sprouts just goes to show, it's quality not quantity that makes a great designer showroom.
—
Carolina boys Zach Thomas & Corey Daniels of Relative Design make some of my personal favorite designs to come through Ponoko. Their inventive approach makes their designs truly special.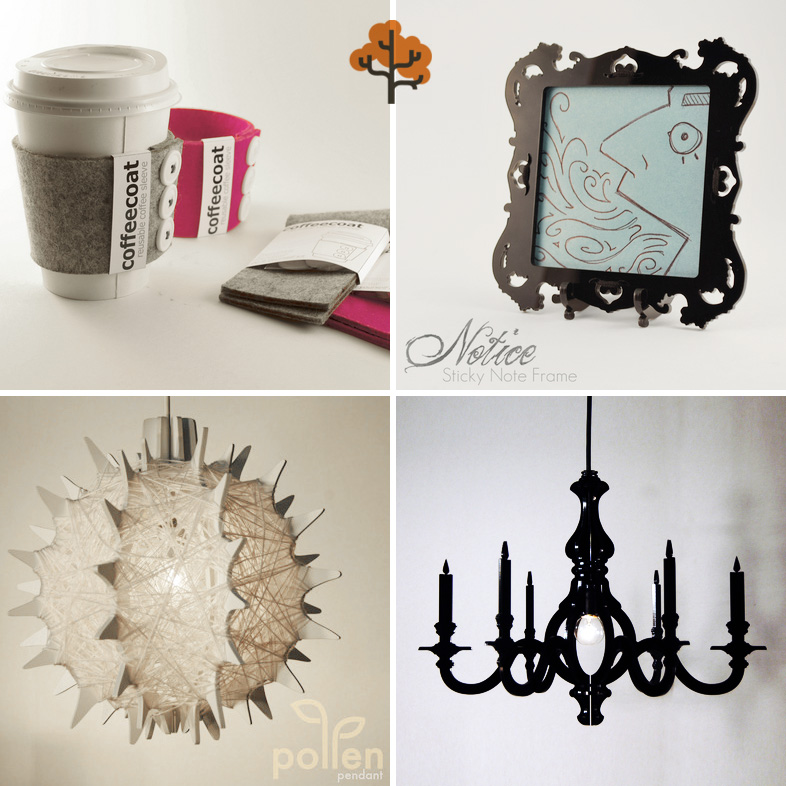 Take the Coffe Coat. Sure, lots of people are making eco-friendly coffe cup sleeves, but Relative Design had the brilliance to put buttons on it. It's not just a decorative accent; it makes the felt sleeve really feel like a substantial product that's been thoughtfully designed.
Or the Notice sticky note frame. Of *course* your Post-Its deserve an ingeniously designed little frame. How are these not in every are museum store?
The Nocturne Chandelier and Pollen Pendant go beyond clever to flat-out (literally at first) impressive. RD, I love you.
—
If there was ever a Ponoko pro, it's Jon Cantin aka Wood Marvels. Cantin has over 270 designs in his showroom, and his company name really says it all.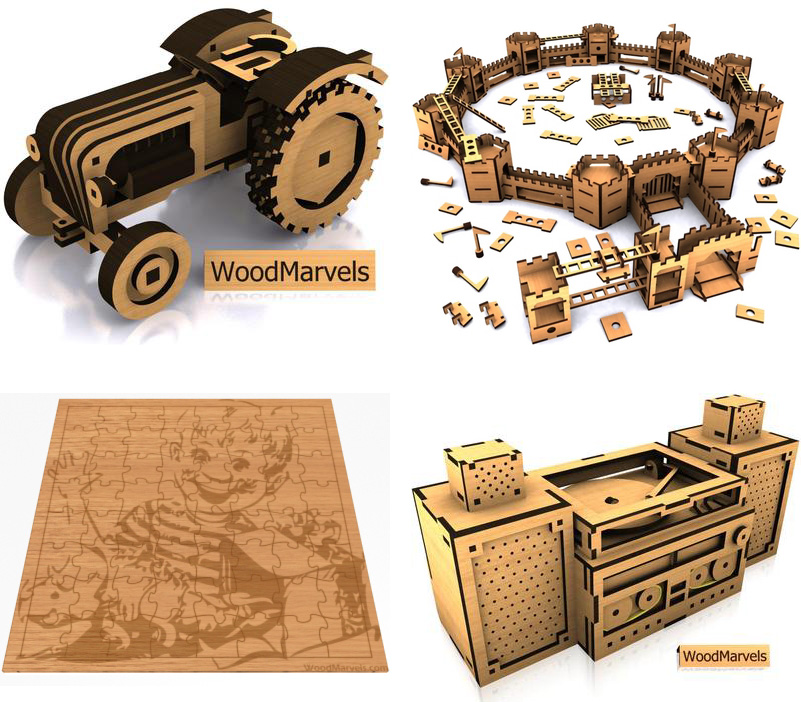 Wood Marvels creates amazing wooden kits of just about everything. Transportation? There are tanks, planes, trucks, tractors and more. Architecture? Pick out a bridge, monument, or castle. Animals? He's got hippos, rhinos, and elephants — on wheels!
And if you're 3D assembly challenged, there are also lots of flat puzzles to choose from.
—
People are making amazing things with Ponoko's Personal Factory, and we cannot wait to see what y'all come up with in the new year with all our new making services and materials.
For those of you making with Ponoko, get those showrooms glossy for next year's list. And if you don't have a Ponoko showroom yet, just sign up for an account and become a seller.