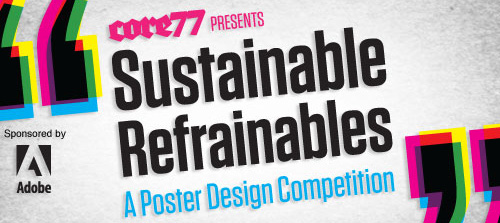 22 design competitions worth your time
Every month I sort through weekly Google alerts on "design competition" and "design contest" to bring you — no lie — the best design competition list on the Internet.
P.S. All of these competitions require you to design stuff. But we've got a competition going on that only asks you to *think* about designing stuff. Check it out HERE.
EDITOR'S PICKS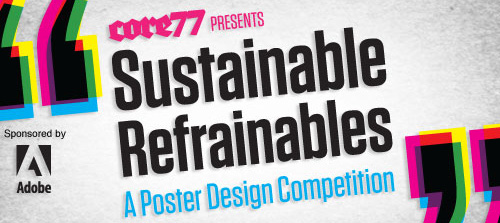 • Sustainable Refrainables — 3 January 2011
Create a poster with the phrases that move people toward sustainable design and business solutions. Win $500 + a legit copy of Adobe CS5!

• Powers of 10 — 10 January 2011
Create a 2-minute video response to the Eames Office's seminal film, Powers of Ten. Win two grand, a bunch of Eames videos, and an Eames chair!

• Roskilde Festival Structure Design Competition — 1 February 2011
Rock out in Denmark in an awesome installation YOU designed. Maybe hang out with The Raveonettes. Open to everybody, everywhere."We are looking for an architectural design that engage people, something that make them stop and think. A place to rest, hang out or a place to have fun with your fellow festival guests."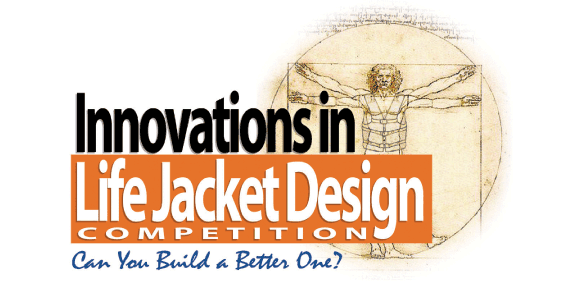 • Innovations in Life Jacket Design — 1 February 2011
According to Boat U.S. Foundation, "Each year drownings account for 70% or more of all boating fatalities. Of the people who drown, over 80% were not wearing a life jacket."
So why don't people wear life jackets? Discomfort seems to be the number one reason, but they also look lame.
Change the life jacket and save lives! The winning prize for the most innovative new design is $5,000. Best of all, your design is not required to meet US Coast Guard requirements to qualify or to win!
via Nuze.Me
DEADLINES
• Re-Invent the Goose — 30 December 2010
The once revered Canadian Goose's image has become tarnished by its very own excrement. Save the Canada Goose's image by designing your own clever re-launch solution. Your solution could be a re-branding, an interactive video, a marketing piece or a product. Any solution you feel effectively saves the image of the bird is relevant.
via Creative Cultures Scotland
• Artec/Onboard Snowboard Design Contest — 31 December 2010
Design a graphic for a snowboard.
• Radicalize the Porsche Caymen — registration deadline 1 January 2011
Create graphics or a repeat pattern "that enhance the visual appeal of the sports vehicle." Winner gets a full ride scholarship for a masters degree in Visual Design at Scuola Politecnica di Design in Milan.
• National Stem Video Game Challenge — 5 January 2011
Kids in grades 5-8 are encouraged to create their own videogames. Kids can either make a playable game "playable on a browser or personal computer" or submit a written description of their game.
via Nintendo World
• Kitchen Tools Design Competition — 7 January 2011
World Kitchen invites you to redefine the kitchen tools for preparing, cooking and serving food, making them more space-efficient, time sensitive and versatile for today's home chef and their cooking needs.
• Jump the Gap, Roca International Design Contest — registration closes 14 January 2011
The competition offers talented designers across the world the opportunity to showcase work based on innovation and design within the bathroom area. The winning project will receive a prize of 5000 Euros which will be presented at 100% Design 2011.
via Despoke
• Becker Contest — 31 January 2011
Students and young designers within two years of graduation are invited to submit designs that include moulded wood. Prizes include serious cash and the making of your design into a prototype.
via Dexigner
• PZFlex Student Design Competition — 31 January 2011
Students are invited to submit a proposal for investigation of a technology using PZFlex®, Weidlinger's 3D virtual prototyping simulation software package. The competition is intended to inspire novel uses for PZFlex® in solving complex engineering problems. The winner will receive a personal Dell laptop computer, while the student's academic institution will receive a year's free license of PZFlex with which to conduct his or her research.
via Edageek
• Fujitsu Design Award — 31 January 2011
The award is composed of two categories:  the LIFEBOOK category which studies what PCs will be like in 2013, the near future, and the LIFE-DESIGN category which studies what ICT computing will be like (including service concepts) ten years from now in 2020.
• International Design Award 2011 — 31 January 2011
The International Design Award 2011 is looking for furniture concepts and systems as well as interior designs that best meet the requirements of the future. Students in any country enrolled at an educational institution with a faculty of furniture design and/or construction are eligible to enter.
• 8th Annual Next Generation — 31 January 2011
Students and designers with 10 years or less in the profession are invited to submit ideas for transforming a typical 1960s federal building in Los Angeles into a model for green design. The goal is to take this office building down… to ZERO ENVIRONMENTAL IMPACT.
HEADS UP
• Living City Design Competition — 1 February 2011
The international living Building institute, in partnership with the national Trust for Historic Preservation, invites the world's most talented and daring designers, planners, artists and animators to create a new global vision: a breathtaking, compelling model for the future of civilization.
• ICFF Studio — 1 February 2011
ICFF Studio invites submissions of product prototypes from designers working on any and all the product categories exhibited at the ICFF: furniture, seating, carpet and flooring, lighting, outdoor furniture, materials, wall coverings, accessories, textiles, and kitchen and bath. Selected designers win a spot to display their prototypes on the ICFF exhibition floor at ICFF Studio, a group area with individual booths designed by TRUCK Product Architecture. Winners will be assisted in making connections with potential manufacturers, retailers, and the press.
• Surtex Student Design Competition — 24 February, 2011
Students are invited to create a collection (minimum of 6, maximum of 9) of original surface designs to be used in a commercial interior in the year 2020.
• 500 Gourds — 1 March 2011
If you happen to be a Gourd artist, prepare for your 15 minutes of fame. Lark Crafts is looking for art gourd images to publish in a juried collection as part of their stunning 500 book series.
• Redesign the Globe Cafe in Seattle, Washington — 15 March 2011
"The primary goal of the competition is to create a shareware reference collection of design solutions for sustainable restaurants and cafes that will serve as models, in Seattle and other cloudy places. [It] aims to collect a broad variety of design solutions for low carbon restaurants by any means possible, including but not limited to reduction in the need for electricity, food product choices, localized power generation and waste energy capture and reuse." Open to everyone, everywhere. Prize money is $10k.
• Futuristic Water Competition — 15 May 2011
This design competition is as interesting as it is shoddily written. I think the idea is to design the expansion of London architecture based on bimimicry of undersea creatures. Here's a quote: "As a rule your designs should explore the city image as a biological coral ecology…" and "We share 70% of our DNA with sea sponges and corals, they are our great ancestors, origin and future too. we are now only starting to bridge that reality gap."
• STM32 Microcontroller Design/Development Competition — 15 September 2011
Make something awesome with an STM32 microcontroller and win a Harley Davidson. Register for the competition and get a free STM32 Discovery Kit. Open to residents of Europe, the Middle East, and Africa.
via Hack a Day