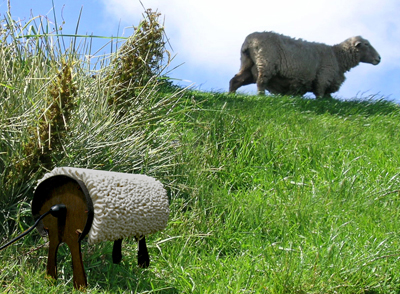 Sheep + Lamp = Shlamp from a New Zealand designer.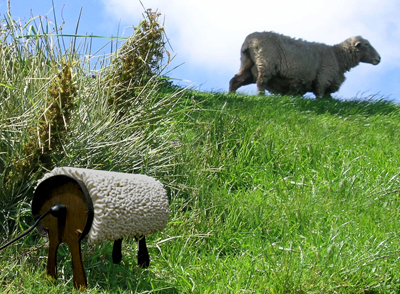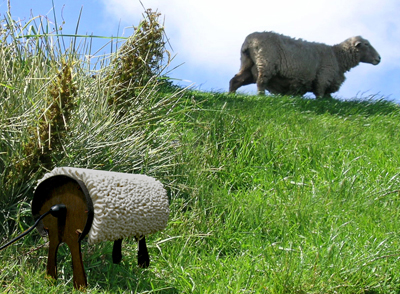 New Zealand furniture and lighting designer Jenny Keate was introduced to laser cutting as a student at Victoria University of Wellington School of Design.   There she also learnt about Ponoko as part of the Industrial Design course.
Until last year her products were hand made from fibreglass, then she started testing out some light shade ideas using Ponoko to laser cut the frames for her new woollen lamp design "Shlamp".  Shlamps are constructed from Eurolight Italian Poplar and NZ wool, the latter being an amazing material abundant in this sheep-swarmed country. So if you ever wondered whether lamps can be cuddly, the answer is "yes".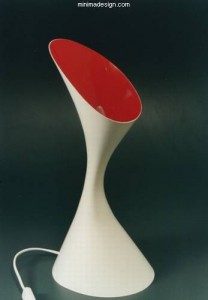 How would you describe your creative process? I try out lots of initial ideas in quick ways such as experimenting with materials, modelling and sketching. If I think an idea is worth taking further I usually make a full-scale model. This can be pretty rough – just enough to communicate the idea. Then I get feedback from a couple of fellow designers. If I still like it, and if I get good feedback, I keep refining it until I think I have something I can reliably reproduce at an affordable price. It's not very often that an idea gets to this point – affordability often rules an idea out at an early stage.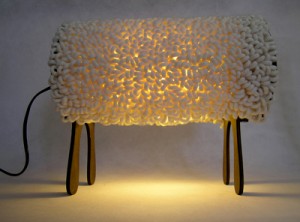 Have you been surprised by anything in the Ponoko process: positives/negatives? Positives: Great communication, great email support, great information on the blog, and great quality. I recently had a piece of ply laser cut elsewhere because I needed a fast turn-around. The quality was so bad I couldn't use it. Some pieces were totally charred and others weren't anywhere near cut through. It really made me appreciate the quality of Ponoko.
Negatives: It would be better if I could pay in $NZ than $US. That way I could set my pricing without having to factor in changes in the exchange rate. Also, the courier fees are a bit steep. Every dollar counts when you're selling things on.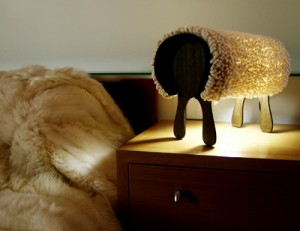 Do you have any tips for other users? Read the tips on the Ponoko website – they're really good. For example I recently followed the tip to print a job out before submitting it, and found that my scaling had indeed gone wrong somewhere along the way.