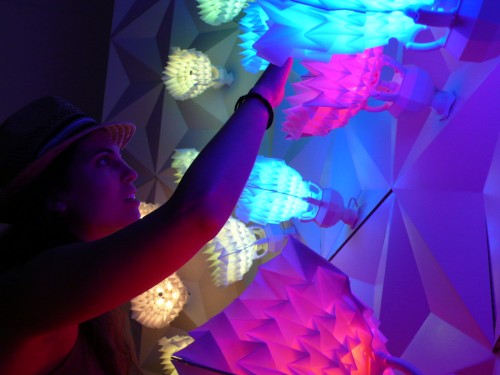 A beautiful combination of nature, origami and robotics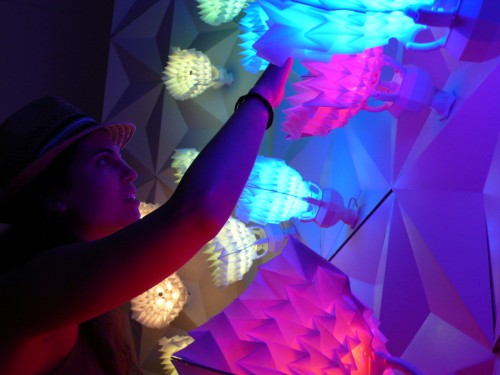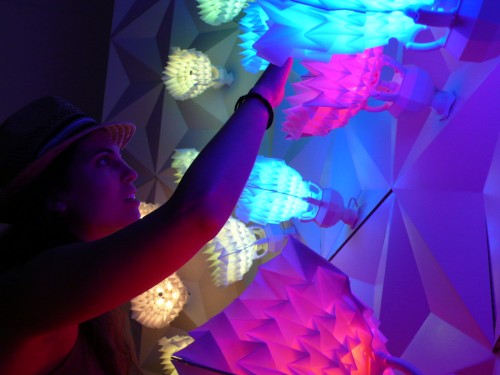 This mesmerising interactive installation is the work of Matthew Gardiner, one of the clever minds over at Australia's Airstrip.
Matthew has a thing for origami. In his own time, he tours the globe as an origami evangelist… helping to coax paper folding fanatics out of their shells to share some of the brilliance that we know and love from this distinctive artform.
A recent residency at Ars Electronica FutureLab in Austria enabled Matthew to explore a combination of 3d printing and polyester fabrics to create these stunning networked robots. They not only respond to each other, but also to the proximity of any fleshy humans who happen to be nearby. An ultrasonic sensor at the centre of each Oribot responds to a nearby figure by gently opening the folds and changing colours.
Having 3d printers on site meant that Matthew could revise the mechanism for his design and then replicate it once the desired outcome had been reached.
Watch the following video for a run-through of the Futurelab exhibition.
There's also another clip from Oribotics on Vimeo
Under Matthew's careful guidance, the Oribotics continue to evolve. I recently caught up with Matthew and his Oribot swarm at the Linden gallery in StKilda, where the installation will be on display until December 12.
They are not able to reconfigure themselves, or reproduce, or have any effect on the world other than being beautiful. Their nature is in their crease patterns, and the robotics simply reveals that. The crease pattern, the pattern of folds, is the core of their being, their program, their DNA.
I can't wait to see what happens when Matthew gets his hands on some of this stuff. Hopefully his head doesn't explode.
Oribotics via Makedo blog