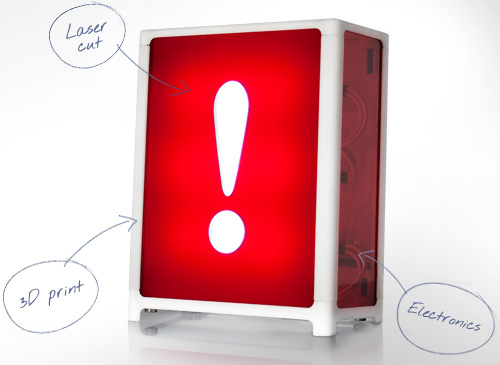 and the origins of Dan's Exclamation Lamp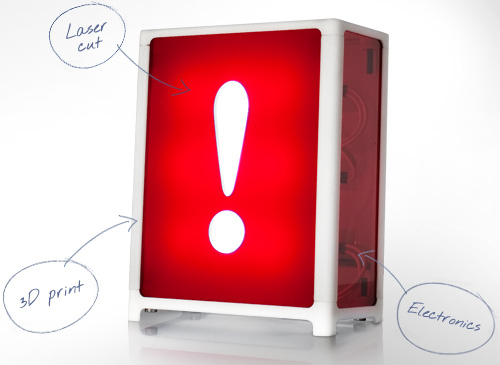 Ponoko Personal Factory 4 opens up a new world of possibilities by combining more than one digital fabrication method as well as open source electronics.
Dan's Exclamation Lamp on our home page is a fantastic example of this fusion, and we cannot wait to see what other designers will do with it.
We talked with Dan about how his lamp design came about, and why it is such an ambassador for the combining of fabbing methods:
Each fabrication method has its own strengths and weaknesses.
You can make a lamp using only laser cutting, but you are constrained by having to try and interconnect flat materials. You can make a lamp using only 3D printing, but you are limited in the material charactaristics available to you and the cost may be prohibitive.
Combining the two gives you the best aspects of both techniques.

Inspirations and experiments
Dan started experimenting using 3D printed connectors and laser-cut parts earlier this year. This was initially inspired by seeing photos of a 3D printed Dome Connector developed by Thingiverse users c60 and EFFALO.
Then viewing the results of gianteye's Steampunk Goggles really confirmed for him that combining multiple making technologies is going to allow the next wave of digitally fabricated products.
Using MakerBot-printed parts and laser-cut cardboard, Dan began developing early sketch models to explore the possibilities – such as the one below.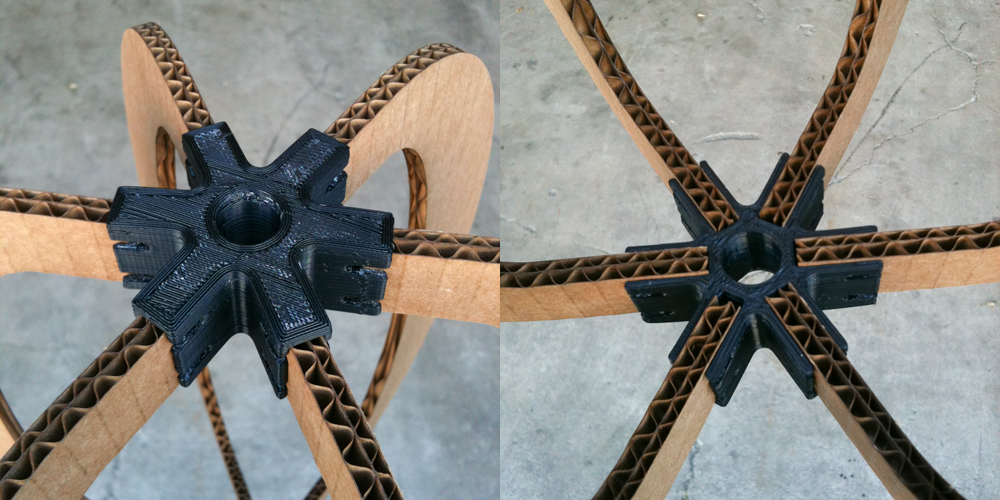 First lamp prototype
The first stage of designing the Exclamation Lamp was focused on the 3D printed elements. Dan started by modeling an initial prototype using a 3D design software package.
He took the laser cut components into account from the start by ensuring the channels which they would slot into accommodated 3mm wide sheets – allowing the greatest number of material options later on.
Once the full 3D design was complete, Dan exported each of the individual 3D objects as an .stl file and had them made out of Durable Plastic. Alongside this he laser-cut the other pieces out of bamboo, using a design inspired by skruff & deleifd's 'Greetings' design.
Having not made a lot of 3D printed interconnecting parts before I was impressed how well they fitted together first time out. The printed parts were slightly smaller than designed due to shrinking during manufacturing, but overall this didn't affect how they fit together.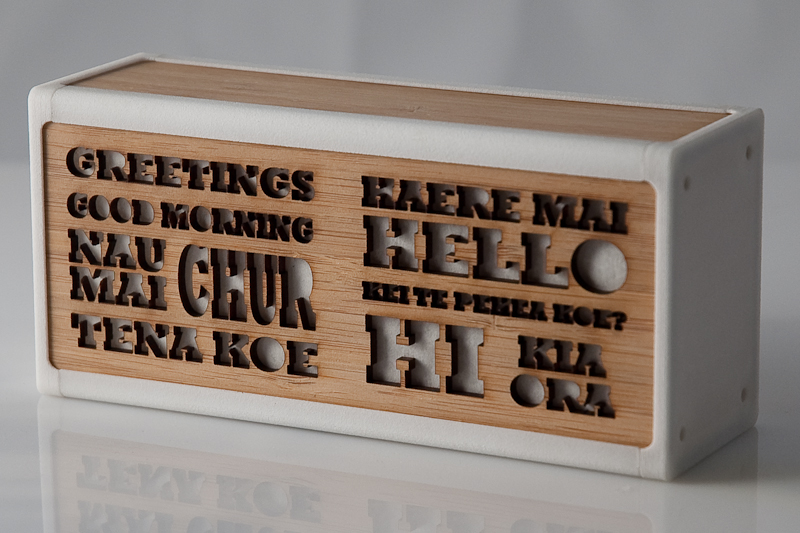 Having the complete physical prototype in his hands also made it clear to Dan what had to be fixed, and started the process of working out the ideal complimentary laser-cut materials.

Developing the final design
Dan fixed the small errors in his 3D parts, changed the overall dimensions and added feet. With this done the revised 3D parts were ordered and he turned his attention to the laser cut panels.
He created a bunch of tests to see how the light would look if part of the surface was raster engraved vs vector engraved vs cut lines. He also experimented with different options that showed off the electronics inside to a greater or lesser degree.
To finish this process he enlisted the graphic design help of his friends Erik and Priscilla. Together they produced a number of final options, and in the end the simple Exclamation point was the best fit for the homepage.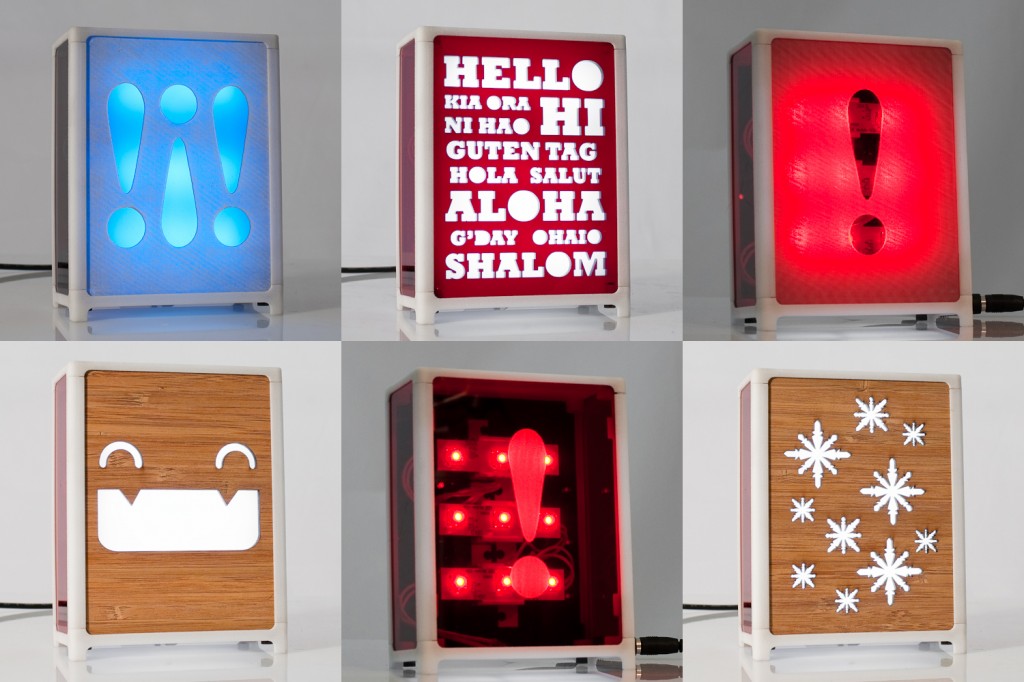 The end-product
The resulting product is a easily personalized lamp, which can be made through Ponoko for $71.69 + shipping with Prime Personal Factory 4 (including all the electronics).
A number of Ponoko users have already adapted the design and placed orders for it, and Dan is already looking ahead to what's next.
I'm really excited about what this means for the future of digitally fabricated products. I've already begun formulating my next designs using the combination of 2D, 3D and electronic parts, and I cannot wait to see what others will produce with it too.