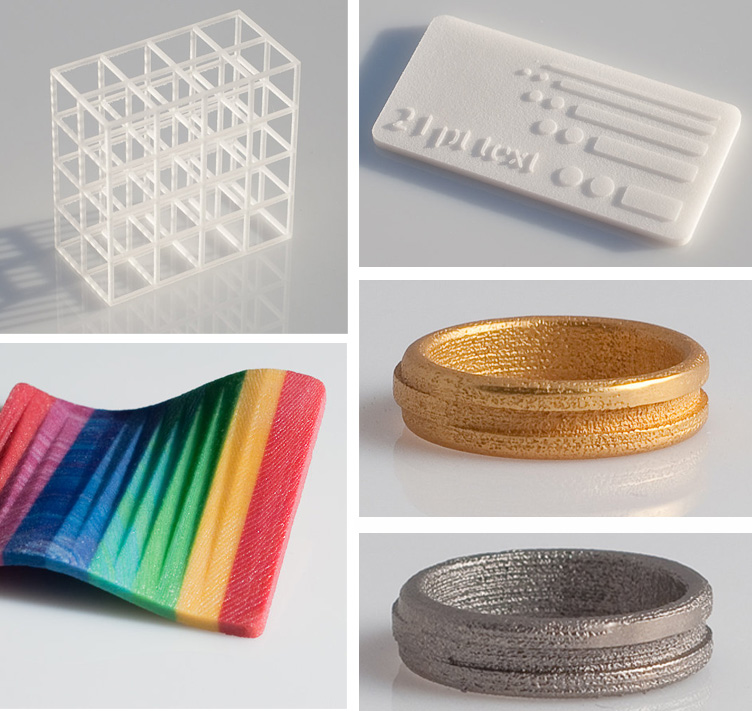 Material Monday: Durable plastic + Superfine plastic + Rainbow ceramic + Stainless steel + Gold plate
You may have heard, thanks to the new partnership between Ponoko and CloudFab, 3D Printing is in the house.
So here's a look at the five materials available for 3D printed designs.
Durable plastic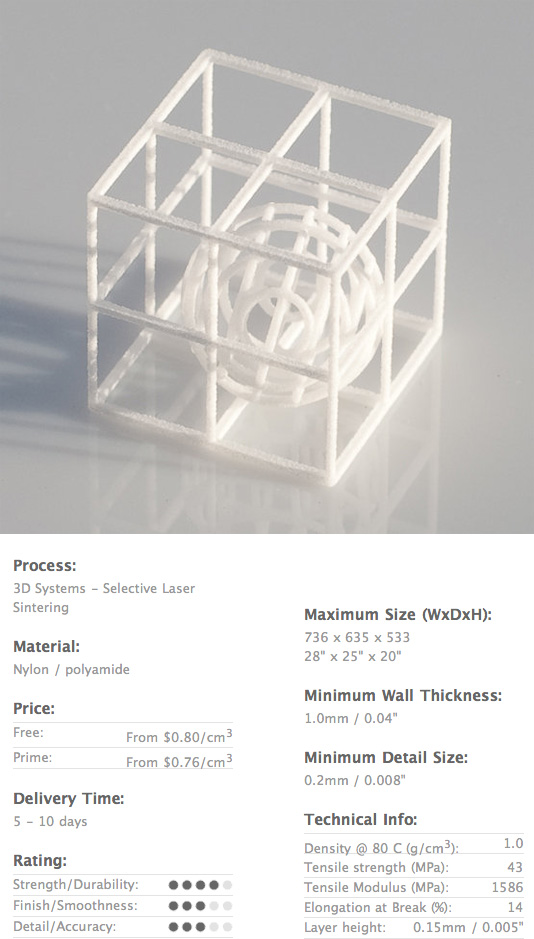 This snow white plastic is made from polyamide (nylon) powder. It's printed with SLS (selective laser sintering) on a 3D Systems 3D printer.
The result is a porous material with a textured finish that can have a powdery residue. It's pretty strong and will give you decent detail.
You can see more photos and all the specs for Durable plastic right HERE.
Superfine plastic
This translucent plastic is made from UV curable acrylic resin. It's printed on a 3D Systems Projet 3D printer by depositing the resin and then curing it with UV light. Wax support material is printed alongside the plastic and is melted away in post production.
Superfine plastic will give you a smoother surface than Durable plastic, and excellent detail and accuracy, but isn't as strong.
For all the specs and pics on Superfine plastic click HERE.
Rainbow ceramic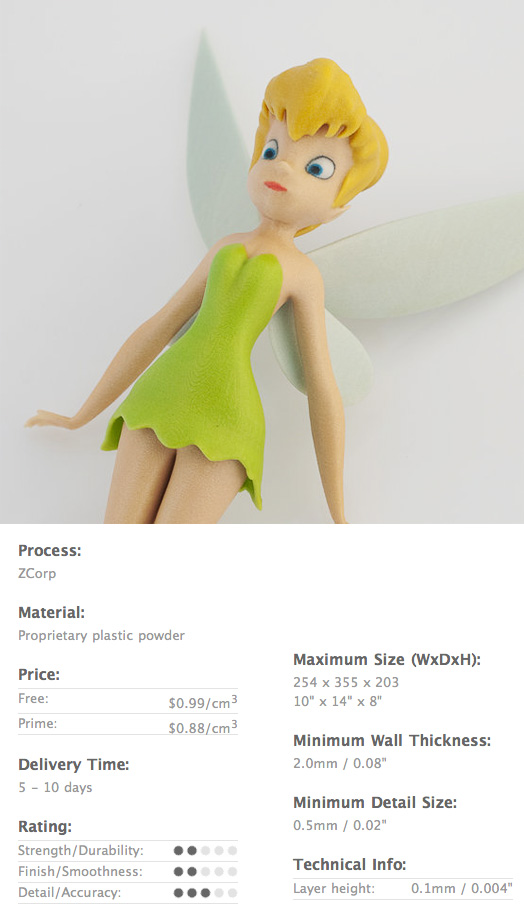 Using Rainbow ceramic, objects can be printed in full multi color. The materials is a proprietary plastic powder from ZCorp and has a textured, plaster like finish.
It's printed on a ZCorp 3D printing machine by depositing binder onto a bed of compacted powder which is cured and finally coated in elastomer.
It has decent accuracy and detail, but it's rather fragile and the finish is fairly rough. (But its *color* ya know?)
Get all the details on Rainbow ceramic right HERE.
Stainless steel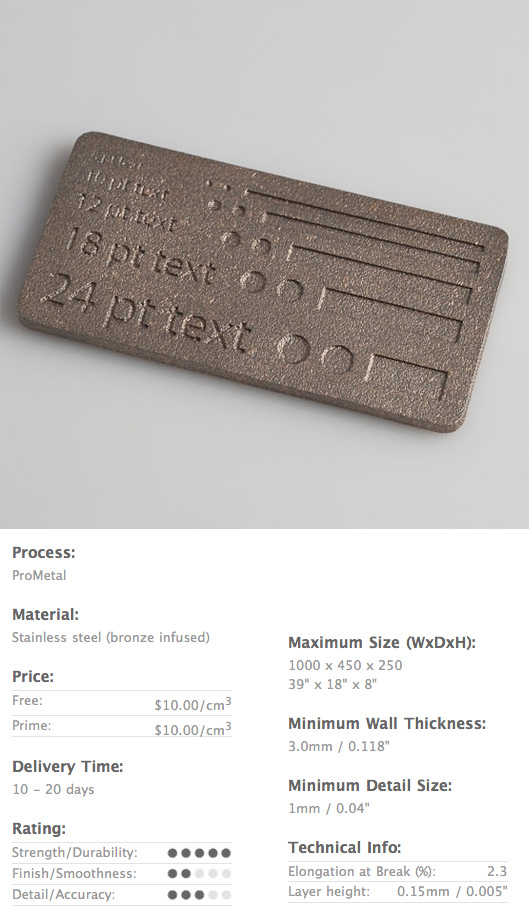 The Stainless steel is a material hybrid infused with bronze. A Prometal 3D printing machine uses an inkjet head to deposit an organic binder onto a stainless steel powder surface. Once the object is formed, it's put in an oven to cure. Then, the object is put into a furnace and the porous stainless steel is infused with bronze. Finally, the object is is bead blasted to smooth out the surface.
The final result with this material is a full, solid metal object. It has the sheeny, grey color of stainless steel but the surface is quite rough. (It will not look like your every-day stainless steel fork and knife.)
It gives you decent detail and accuracy, and is super strong.
Everything you need to know about Stainless steel is HERE.
Gold plate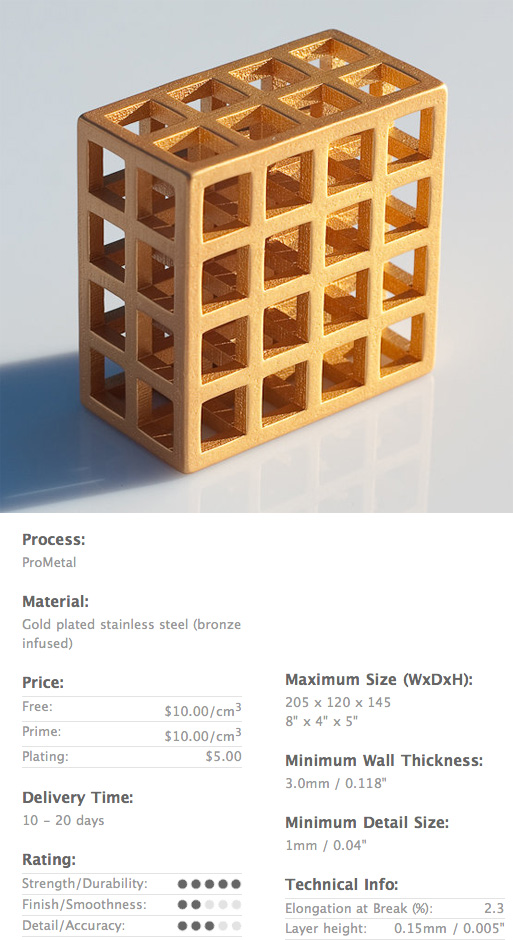 Gold plate is the Stainless steel material featured above, but with a gold plated finish. Gold plate objects are made on a ProMetal 3D printing machine, just like the Stainless steel.
The Gold plate finish is a matt gold with a slight sheen. Underneath the plated surface it's dark grey, just like the Stainless steel.
It is also super strong, and gives the same level of detail and accuracy as the Stainless steel. The surface is fairly rough.
All about Gold plate right HERE.